15 Best Tips to Build your Own Home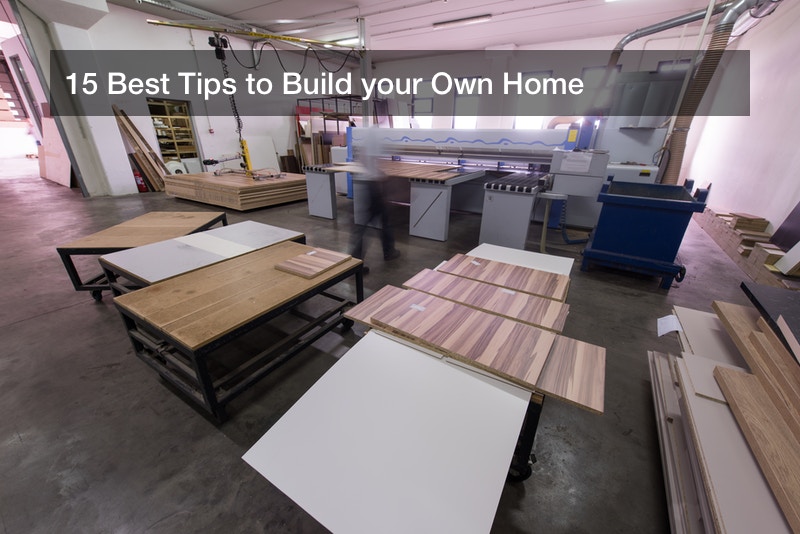 Buying a house is an exciting part of adult life, and with it comes the liberty to finally move out, live an independent life, and even make money on your new property investment. Though buying your own house is exciting, it can still be very difficult to settle on what you want your dream home to look like. Choosing a home involves choosing different aspects of it such as square footage, number of bathrooms and bedrooms, the overall look such as modern or rustic, and the location just to name a few. This isn't even considering all the modern amenities you might want to include. Because of this, many times we find ourselves settling for the best and cheapest home option, rather than what we truly want.
Why Build a Home?
For some people, buying a home is a permanent investment, and the home they choose to buy is the home they want to settle and retire in. Some other home buyers choose to buy a home and then remodel it and sell immediately, or buy a home and then wait for equity to build up on it before selling it. However, choosing to embark in a new homes construction can make it easy to do all of these options easily. You can choose to design your dream home to retire in, buy an old plot of land and construct a luxury home to sell, or build on a plot of land that you are confident will increase in value over time. Considering this, it's important to know the best way to build your own house by looking at the process of buying land, choosing a location, building your own property, and finally looking to sell that property. If you want to know the best way to build your own house in order to maximize your options, here are 15 tips to get you started. Make your dream property a reality by choosing to build and following these tips!
1. Choose a Great Location for Land
The best way to build your house and ensure maximum profit is to choose a great location of land to start with. Whether you choose to live indefinitely in your home, or choose to sell it later on, it's important to choose a great location from the start. Not only will a location that has entertainment nearby, great schools, great weather, and a strong chance of increasing equity benefit you, but also make a built house easier to sell later on. A great real estate agent can help take you to different plots of land that have a great location, are easy to build on top of, and have the potential to be part of a valuable neighborhood later on.
2. Save for Bigger Up-Front Costs
Buying a home is many times cheaper than buying a plot of land and then building your home on top. However, don't let this discourage you from making your dream, custom-built home a reality. Though buying an already built home sometimes requires no money down, you must still save for possible renovations and maintenance. For plots of land, you must save for these also in addition to being prepared to pay up to 20% on the lot of land. For example, if a lot costs $100,000, you must have enough to pay $20,000.
3. Check all Proper Licensing
Using renewable energy including solar panels, micro-hydropower systems, or even small wind electric systems is one of the best ways to build your own house. Keep in mind, however, that though renewable energy and other custom features on your home might have to go through proper licensing before becoming a reality. Some communities and local ordinances can prohibit what someone does with their land or home. These can include prohibiting the use of renewable energy systems for aesthetic or noise-control reasons. Check with your local housing authority, city, or county for regulations and permits needed before starting any major construction. In addition, let your neighbors know about any future additions, color changes, landscaping, and other plans you might have for your future home.
4. Choose a Great Design
Before starting construction, choose a great design that's easy to work with, aesthetically pleasing, and is the best way to build your own house. Hire a well-reviewed architectural firm ahead of time, and discuss with them the design and non-negotiable features of your home. This includes the number of bedrooms and bathrooms, and the layout of the house, as this will determine where plumbing and electrical wiring goes later on for appliances. Consider things such as a laundry room, a studio for your projects, a detached or attached garage, floors of the house, and other aspects of your dream home.
5. Choose the best HVAC Systems
HVAC systems are incredibly important and should be at the top of your list when figuring out the best way to build your own house. HVAC, or heating, ventilation, and air condition systems, are integrated into your home from the start and can save you thousands if you choose to use energy-efficient designs. These energy-efficient systems might cost more upfront, but will save you thousands later on. Consider the climate you are in, and whether you will need to have a reliable heating system such as furnaces or heat pumps for cold, winter nights. Will you be using an air conditioning unit as well? A ductless system can help customize air conditioning in every room of the home. Also, keep in mind that ductless HVAC installation is a great option for building a home, as adding on top of the initial construction is easily doable with this option.
6. Consider Modern Amenities
Your budget will determine what amenities your home will have, and keeping track of it is the best way to build your own house without a hassle. Take your budget into account when choosing amenities, and be careful not to splurge too much on things such as heated floors. However, spend on your must-haves and choose luxurious lighting, stainless steel appliances, and sleek designed bathroom appliances such as sinks and bathtubs just to name a few! After all, building your own home is hard, so spoil yourself!
7. Have Room for Parking
No one wants to walk far from their car to their front door after a hard day of work, so keep this in mind when considering the best way to build your own house. Add a parking garage if space allows, or simply use gorgeous paving that can fit your vehicle. Having at least 2 parking spaces in a garage or elsewhere in your home can be a big selling point for your home if you choose to sell, and can be the difference between a hard-working homebuyer saying yay or neigh to your home.
8. Choose Great Foundation Specialists
Your foundation can make or break your home (literally), so it's important to hire great foundation specialists to lay the groundwork on your lot. From clearing out debris, including 25 feet from any proposed property, to making sure all plumbing and electrical lines are installed correctly, and finally smoothing over a final slab, foundation specialists can ensure your home is safe and structurally sound.
9. Call in the Best Plumbers
We've mentioned plumbing throughout this article, and for good reason. It is incredibly important to have clean and functional plumbing, as This not only affects the health of everyone in the household directly, but it also affects the value and future of your home. Problems in plumbing, such as clogged drains, faulty water heaters, and perpetually running toilets can not only make you feel uncomfortable, but when left untreated can cause disastrous problems later on. Don't sell a home with inadequate plumbing, and hire the best plumbers to construct your new home.
10. Have Strong Framing
The initial frame of a home might look like just a bunch of wood and sticks at first glance. On the contrary, the best way to build your own house is to use appropriately sized wood framing. As we mentioned earlier, a good architect and engineer will be able to design the home with all the proper sizes. It's up to the carpenters and home builders to follow these sizes to their exact specifications. For instance, thicker wood beams are needed when used in a garage or large window to prevent sagging. Intricately interlaced beams must also be done properly to support a roof. Don't take a chance, and hire the best carpenters to ensure your home has a strong frame.
11. Choose the Best Roofing Materials
Your roof is one of the most expensive costs when building a home, and even to renovate an already existing home. The best way to build your own house is to build it with a reliable and strong roof using only the best roofing materials and the best help from roofing contractors. Ensure your roof not only uses the best ice-water shielding and underfelt possible, but also has all shingles or tiles nailed and sealed properly. Also, watch out for proper flashing and sealant on all plumbing vents, and extra flashing placed on the valleys of your roof where more water gathers and leaks are prone to happen.
12. Seal all Windows and Doors Properly
Door, windows, and glass and mirror installation are all crucial in not only ensuring your home is properly insulated, but also gets proper lighting and looks fantastic. Though windows and doors can last for 20 years when properly maintained, they must be properly sealed to ensure no air escapes causing your home to be colder than it is. This can cause your energy costs to go up, and can also pose a threat to your new home by allowing would-be burglars to find an easy way in.
13. Choose Great Electricians
It's important to wire your home using the best electrician that don't take shortcuts during your building project. Electrical wiring, when not done right, can cause everything from lighting to the internet to be faulty and prone to accidents such as sparks, power surges, and even fires! Electrical lines and outlets must be placed properly, in easy to reach and convenient areas, and must be bountiful. An electrician that doesn't know what they're doing can cause you to shell out between 200 and 800 dollars later on. Avoid this costly mistake from the beginning, and wire your home with all appropriate outlets to ensure proper lighting.
14. Lay Floors Properly
Improperly laid floors such as wood can not only end up looking ugly but they can also end up warping and buckling with even the smallest changes in humidity. Without ensuring your floors are laid properly by a good building contractor, you might find yourself having to pay for floor replacements after various seasons and damaged floors. Don't take the chance, and ensure your flooring is properly placed, even if it is just the final touch.
15. DIY Finishing Touches
Of course, the best way to build your own house is to get professional help. However, you can save some much-needed money by utilizing your skills in various projects. This can include adding an exterior or interior paint to your home, insulating your own home using cheap and properly R-Rated insulation, and even doing your own landscape and gardening projects. Leave the big construction to the pros, but see what projects you can easily take on and leave your own mark on your home.
Take Time and Budget
In all, the best way to build your own house is to take the appropriate time, effort, and cost to do so. Beware of speedy renovations and building, and don't be afraid to bring in several inspectors to look at your home. Always consult with the best professionals in the housing business, and feel free to enjoy every inch of your custom home while complete. You deserve it!