Add More Functional Space with a Prefabricated Backyard Studio or Office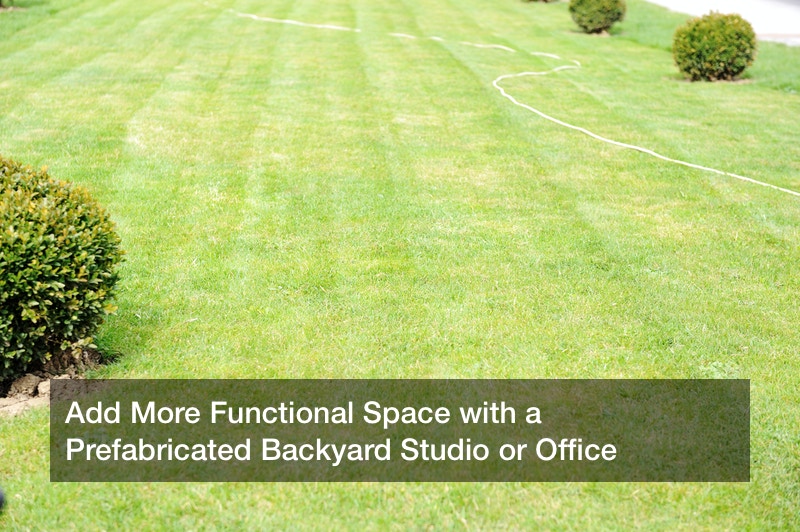 With improved technology and the rise of creative jobs, more people are loving the prospects of working from home though it's still a far-fetched wish for other career options. Working remotely from your home, however, can be a challenge especially if you have family around — the distraction points are just too many to get work done.

You need an ideal working environment with a quiet atmosphere where you can focus — something like a backyard prefab shed.

The increased need for modern and efficient construction has seen the introduction of advanced prefabs, which are becoming a suitable alternative for home addition projects such as building a backyard studio or workshop.

Adding a backyard structure made from prefabricated materials is a simple way of making the most of your property while adding it's overall value. The good thing about prefab studios or sheds is that most of them won't require a building permit to install and their practical uses range from simple storage space to a full-fledge quaint studio, yoga studio, music room, or just a home office

Prefab backyard studios are a creative way of making proper use of your available space. This is often a costly, resourceful and time-consuming project, but using prefabricated panels for floors, walls, and roofs, you can have your studio up within a short period of time.
Using panels to build a backyard studio reduces installation time by one third.

About 83% of contractors agree that prefabricated materials can reduce construction waste, making it a sustainable and environmentally friendly construction method.

Most homeowners make the most of the available spaces with a backyard office. And though it may seem like a lot, pre-fabricated modular panels will allow you to build an ideal home office that reflects your style. Whether you go for a simple structure or sophisticated piece of architecture, pre-fab panels make work a whole lot easier than using traditional materials.

Prefab studio kits allow you to build and customize your yoga or quaint studio without much skills, construction knowledge and manpower. The ability to customize your prefab quaint studio also gives you control of the budget. If you're working on a budget, consider the most basic options, which can also serve you well depending on its intended application.

On the other hand, if the price is not an issue, you can as well go overboard with more customizations from color, shapes, size, height, style, materials, and more.

Modern prefab backyard studio is continually proving to be not just effective but also a cost-efficient solution for adding more functional space for you and your family and conducive working environment.

More importantly, once the structure is up you can use it for a variety of applications — in addition to a customized quaint studio. You may also consider renting out the additional space to vacationers or other work-from-home employees and create a supplementary stream of income. Some homeowners also opt to convert their prefab sheds to Airbnb spaces.

Whether you work at home full time or just occasionally have time for your creative projects — art, music, yoga. e.t.c, it's important to have dedicated spaces for you to concentrate on your thing. Perhaps you haven't reached a point where interruptions, foot traffic, dirty dishes and unkept house seem to bother you, but the moment you find a safe haven — a place of tranquility and productivity, you'll never want to go back!.