DIY Home Remodeling Plans for kitchens, roofs, and HVAC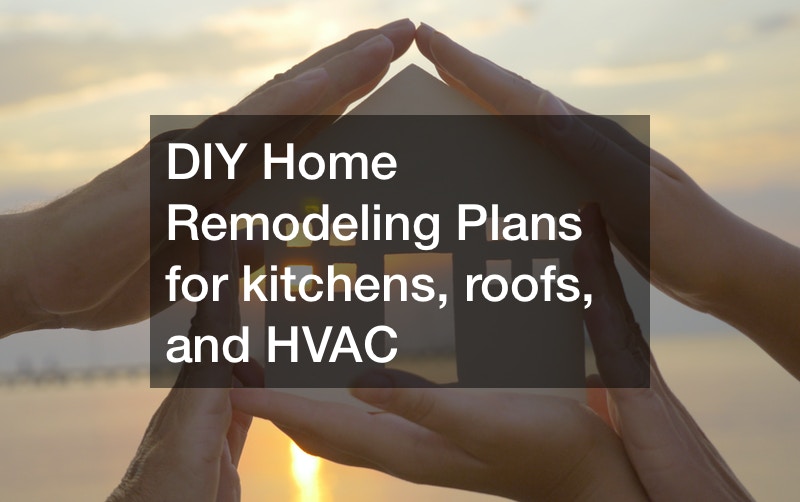 Doing some home improvement projects by yourself can come in handy, especially if you are trying to save on cost. Some tasks are easy to do, and some help you acquire new skills. Discussed below are some tips on DIY projects for the kitchen, roof, and HVAC system that you can undertake and improve the quality of your life.
The Kitchen
A kitchen remodel is one of the best and fun projects that you can undertake, transforming it and giving it a great look.
Have a Plan
Before you start tearing things down and purchasing items, first, you need a plan detailing the changes you want to make. This includes listing all the appliances you want to upgrade, the sections you want to change, the location of the cabinets, and additional storage facilities. It will save you time as you have a guide of what stays and what goes from the start. If you want to avoid plumbing and electrical expenses, it is best to leave the existing walls as they are.
Replace the Countertops
When it comes to countertops, you have multiple options depending on the type of material you want, including polished granite, marble, and wood countertops. Almost all home stores sell premade countertops, and the only task is installing them. First, measure the layout of the countertop to know the size you will be ordering. Before you start any DIY project, ensure you have all the necessary tools required. Different countertops come with varying installation methods, and so you will want to research the countertop you are ordering. When installing a countertop, you want to pay close attention to miter joints, ensuring that you cut the correct dimensions. Otherwise, you will end up with spaces on your countertops which is not very appealing.
Replace the Cabinets and Drawers
If you do not like your old cabinets and drawers, you should also include them in the DIY kitchen remodeling project. For your kitchen cabinets, you have to make several different sections and combine them at the end. When it comes to DIY, your best alternative is using the wood material. It is a common material and easy to work with. There is also a variety of wood to choose from depending on your taste. Despite the cabinet you are building, there are basic steps that will make building your cabinets easy. First, build the case panels and the front frame, then assemble everything. When you are done, you will notice the kitchen cabinet is coming together. A common challenge with building your cabinet from scratch is the doors. Be keen on the proportions so that they fit perfectly into the frame. Also, since you will be opening and closing them often, you need strong hinges to hold the door properly.
As for the drawers, you have multiple designs to choose from. A standard stock cabinet drawer can only be pulled out about three quarters, limiting access. A full-extension glide drawer can be pulled all the way, giving you full access.
Upgrade a Backsplash
Your backsplash can contribute to making a statement about your kitchen. If you feel like it is too old or you want to change your kitchen's look, you have multiple choices to choose from. The stick-on vinyl backsplash is budget-friendly, comes in different patterns, and you can place it on top of the tiles. Start by thoroughly cleaning the tiles to remove any grease and dirt, then let them dry. Measure the tiles so that you can cut the vinyl into the correct sizes. Since the vinyl is thin and sticky, it may take some time to get it right. However, if you mess up, you can easily remove it and stick it again till you get it right. Another easy project for your backsplash is painting it. Another alternative for your backsplash is a peel-and-stick tile. They are heat and moisture resistant and also easy to clean. Whenever you want to change things up, they are easy to peel and easily replaceable.
The Roof
Your roof is a big part of your home, and it needs to be in great shape to protect you and your family. Some simple DIY projects that you can do for your roof are discussed below.
Roof Inspection
When inspecting your roof, walk around your home, checking any signs of sagging, damage, and aging. You should also get a ladder and look out for moss, algae, or a pile of leaves. If left unchecked, they can cause some severe damages to your roof. This is because they easily absorb moisture which slowly seeps down to your ceiling and wall. Moss soaks up water which will cause the wooden structure under your roof to rot. To remove moss, leaves, and lichen, get a brush and scrub it off. You can also apply a moss killer to get rid of any moss on your roof quickly.
The next thing you want to look out for is curled or buckled shingles. This is caused by hot air trapped in your attic, especially during the hot season. When your singles start curling, then your ventilation system gets compromised. You should consider getting the entire roof re-shingled if more than a third of your shingles are buckled. Any missing or damaged shingles allow water to seep through the roof, causing damage. If you do not repair immediately, you will also have to deal with water damage which can be costly.
As you inspect your roof, you should inspect the attic too. Check whether the water has sipped through the woods, causing them to rot- if you can check the roof during the rainy season, even better. You will be able to tell whether there is an active leak and from where.
Clean the Roof
As you inspect your roof, you may have noticed that it is dirty and unattractive, with some areas discolored. A clean roof improves your home's general look. Before you start cleaning, practice safety. Protect your eyes and skin, and wear non-slippery shoes. You also do not want to clean your roof when it is sunny. Your bleach solution will evaporate, making it ineffective. When washing it, avoid using a pressure washer as it can damage your roofing. Instead, use a sprayer attached to the garden hose. Use a mixture of equal parts of water and chlorine and let it sit on the roof for about 15 minutes before you rinse. If you are cleaning algae and moss off your roof, the solution may not work immediately. You have to be patient, and after a few cleaning times, it will start to loosen. You can then use a leaf blower to remove it.
Roof Repairs and Replacement
Before doing roof installations, you will need some building supplies and tools for the job. When replacing shingles, ensure you get the exact brand, style, and color. A slight difference is noticeable and will make your roof unattractive. Before getting on the roof, put on rubber shoes that will grip the surface or the roof to avoid slips and slides and a suitable outfit, preferably a long-sleeved shirt and pants. For curled shingles, you can flatten them, then use some roofing adhesive or caulk to re-adhere the edges. It is advisable to soften a curled shingle using a heat gun to avoid breaking them. As you repair, you want the back edge of new shingles to slide under the row of the shingles behind them. The front edges also need to line up with shingles on the side correctly.
The lifespan of your roof is around 25-30 years, based on how well you maintain it. If your roof has served you that long, consider replacing it. Also, at that point, repairs will cost you in the long run than roofing installation. When doing residential roof installation, it will depend on what type of roof you are installing. Most homeowners prefer asphalt roofing as it is durable and in a wide range of colors. Also, if you are replacing your old asphalt roofing, you do not have to remove the old roof, making it DIY-friendly. Roof shingling starts at the roof edge with a starter strip as one moves from there. You will need galvanized roofing nails to fasten the top of each shingle and then cover the nails' top with roof cement. Apply the same adhesive under the rest of the shingle to secure it firmly.
HVAC System
Your Heating, Ventilating, and Air-Conditioning system need to be in great shape to serve you well and reduce your electricity bills. It may need repairs or replacement depending on the age and how well you maintain it with time.
HVAC Installation
Because air conditioning services are essential, it is great for a homeowner to know how to install the system themselves. Plus, it helps them save on the installation cost.
Installing the Unit
You will be installing the central air conditioning outside then connect it to your home's ductwork. You have two choices when installing a new system. It could either go on the roof or pour a concrete pad on the side of your home and place it on top. Either way, the location should have adequate airflow.
Be Keen on Energy Efficiency
The ductwork in your home needs to be adequately sealed to support your AC unit. If cool air is leaking out of the ducts, your home will not receive enough fresh air. This will also lead to high energy bills. Check that the ductwork is not sagging or bending as that can reduce the efficiency of the system.
Connecting the Unit
After installing the unit, indoor components have to be installed to support the unit outside. If you are replacing an old AC system, you need a professional to come and remove the refrigerant. This part requires someone with the proper certifications. Before you connect the electrical lines and the thermostat, measure your drain piping and refrigerant line. Then finish by getting rid of contaminants in the refrigerant lines.
As you start installations, note that a unit comes with an instruction guide detailing the steps to follow when installing an AC unit. Please read them carefully and understand them before you start the process.
HVAC Maintenance
You can have your HVAC service plan that includes regular maintenance checks from time to time. Some tips on maintaining your HVAC system include
Set a Schedule for Cleaning the Filters- Your filters need changing after every 30-90 days, and they also need to be inspected once a month for clogs and dirt. A household with more people and pets will require the filters to be replaced often. Dust and dirt make it hard for the equipment to function, leading to a breakdown.
Clean the Outdoor Unit- You have to remove any leaves, debris, or trash around your unit. Any shrubs that have grown near the equipment need to be pruned so that the unit can circulate air properly. You will also need a vacuum cleaner to clean the coils thoroughly.
Repair Bent Fins- If the condenser fins have bent, get an AC tune-up to straighten them. You can also find a fin comb at your local hardware store, but ensure it is of good quality not to damage the fins.
Clean the Vents- Vacuum the vents as often as possible to prevent the buildup of dust and dirt that hinders airflow. You should also check the airflow occasionally, ensuring it's not weak.
Buy a Smart Thermostat- You can maintain your AC by using it less often when no one is in the house. A programmable thermostat prevents energy wastage when you are in the office, saving you on electricity bills and extending your AC's lifespan.
Use a Ceiling Fan- You may want to take some pressure off your unit by using a ceiling fan every once in a while.
As much as DIY projects are fun and exciting, the key thing is to practice safety. You should also know your limits of what you can do not to cause further damage when repairing or installing something. Other than that, they are fun, and there is no reason why you should not learn an extra skill.