DIY Home Renovation Tips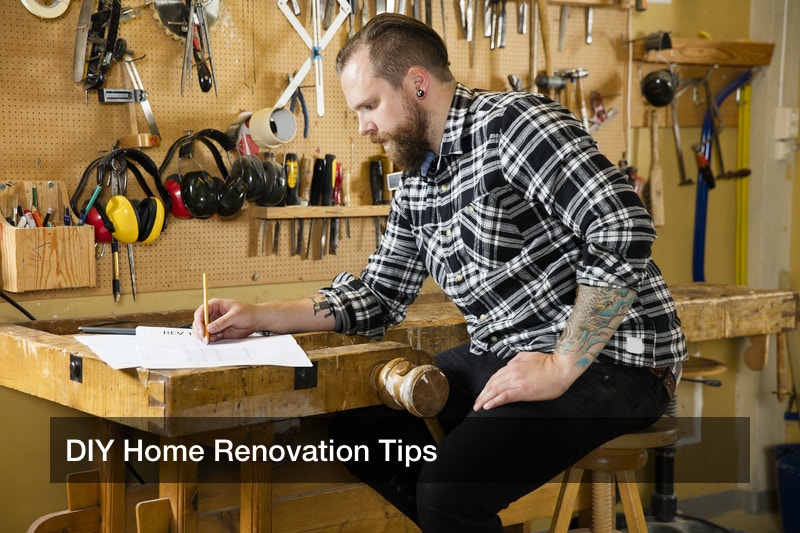 UPDATED 10/28/20
You have probably watched a home renovation television program or scrolled through pictures of home improvement projects on social media and decided that DIY is easy. In reality, your DIY home renovation project can go horribly wrong if you do not plan and execute your project properly. This could end up costing you valuable time, money, and costly resources. This should not discourage you from a DIY home renovation, in fact it is a great idea. These are a few of the most important DIY home renovation tips that will help you get the job done right.
Don't Do Everything Yourself
One of the most important DIY home renovation tips is that you do not have to do everything yourself. Some aspects of a home renovation or redecorating project are best left to the professionals. When planning for a DIY renovation, be realistic about what you can and cannot do yourself. Replacing drywall or sheetrock is something most people can do themselves. As a general guide, it is a good idea to stay away from the structural aspects of your home.
For most home applications, lighting projects are something that you can do yourself. Most lighting projects are for the purpose of updating the decor, and therefore are just a simple swap that requires disconnecting and connecting a few wires. However, you should never potentially risk injuring yourself or others through electrical shock or by starting an electrical fire. If you are ever unsure about an electrical component, it is best to contact a professional for the job. This is especially recommended for projects that include running wires behind a wall, installing an electrical junction box, or running a new line from a service panel.
Ensure Your DIY Project is Cost Effective
Another one of the most important DIY home renovation tips is to be cost-effective. If your DIY project is not saving you money, you are losing a major benefit of doing it yourself. For example, if you buy a tool for 300 dollars to complete five tasks, that comes out to 60 dollars per task. This is not a cost-effective use of your time and budget. Factoring in your own hourly rate for completing the work is important as well. Another mistake people often make in an attempt to save money is hiring unlicensed or unqualified contractors. If a contractor is unable to produce evidence showing that they are insured and licensed, then it is likely they are not qualified. You can verify that a contractor is licensed with your county or state.
There are many great resources including websites and apps that can help you find qualified contractors for your home renovation project. Many of them require filling out a simple form and you will begin receiving bids in minutes. There are services available from plumbing to electrical work and carpeting to countertops installation.
Preparing To Throw Out Your Plans
According to the DIY experts, you should expect the unexpected and be prepared to throw out your plans. Many DIY home renovations take longer than originally expected and go over budget. This is an important fact to be aware of. However, it is also important not to impose a harsh or unfair workload on a contractor or micromanage others just because you want to see the renovation completed more quickly. Agree on a reasonable plan with your contractor and check-in daily to ensure you are still on schedule and budget.
Another one of the most helpful DIY home renovation tips to help you stick to your plans is to complete the project at hand before beginning a new one. Multitasking does not generally work to your advantage during a DIY home renovation. For instance, do not begin another bathroom remodeling before completing the first one. This would leave you without a bathroom, including a shower and toilet, for quite some time.
If you are looking at other DIY home renovation tips and you are finding that you cannot afford some of the more extensive home improvement projects or renovations, such as a basement renovation or installing a cast stone fireplace, there are still plenty of affordable opportunities out there for you to improve and update your home. Here are a few DIY home renovation tips and ideas for those on a strict budget.
Cleaning Your Siding
One of the most helpful DIY home renovation tips for those on a strict budget is to clean your siding. New vinyl siding will allow your house to appear new for years, but will start to look drab and gloomy sometime after that. The good news is that cleaning the exterior of your home does not require hiring an expensive contractor or even renting a power washer, which can damage the siding. You can clean your vinyl siding with a scrub brush with a long handle, a garden hose, and a quality cleaner. This handwashing approach is the simplest and least expensive solution to the problem of dirty siding.
Updating Your Front Door
Regardless of whether your home's exterior is painted, shingled, or has stone or siding, repainting your front door can vastly improve the curb appeal of your home. Home design experts recommend choosing an accent color that is bold and stands out, but also matches the rest of your exterior. There are a few more easy DIY home renovation tips for improving the curb appeal of your home.
Swapping out your address numbers on your home and your mailbox for a different font or style is an even easier way to improve your home's curb appeal, along with sprinkler systems that treat your lawn to the exact right amount of water it needs to be healthy and green all year. If your driveway is cracking or full of holes, this can be a massive eyesore that reduces your home's curb appeal. If this is the case, contact a local asphalt patching service. These simple projects can give your home an entirely new appearance and feel.
Painting Your Walls
If you are considering revamping your walls, you are likely deciding between painting or wallpapering. Many prefer painted walls over wallpaper, but are unaware of how easy painting walls on your own can be. It will take some significant time and planning, however. According to home improvement experts, one of the most important DIY home renovation tips is to plan before painting.
Planning Before Painting
When it comes to home painting projects, one of the most important DIY home renovation tips is to properly prepare. This includes tasks like sanding down rough spots, filling in holes, and cleaning and drying your walls, and covering all trim, doors, windows, and electrical outlets with painter's tape. Depending on the size and layout of your space, this step can be incredibly tedious and time-consuming, but it will allow the rest of the job to go much smoother. However, it is recommended to remove the painter's tape before the paint has finished drying completely. You will know this when the paint is dry to the touch, but not dried all the way through. Generally, this takes one to two hours after you finish painting. If you wait longer or after the paint has completely dried to remove the painter's tape, you could pull off some of the freshly painted coat along with the tape.
Applying a primer is another important step in the painting process, especially if you are making a drastic change in color, such as going from dark to light. A primer helps create a uniform base for an even application of color on top. Applying a primer seals the surface and hides anything that is underneath it. If you opt not to use a primer, you will end up having to apply more coats to compensate for a darker color, requiring more physical labor. A primer also hides any blemishes or imperfections on your walls, creating a much smoother looking finish. If you do not wish to use the primer and paint method, an all in one paint is an alternative that will significantly reduce the amount of time you spend painting, albeit with some minor drawbacks in quality.
Applying Removable Wallpaper
Updating your walls is an easy way to improve the look and feel of a room. Applying wallpaper may sound like a time consuming or frustrating project, especially if you have had a negative experience in the past. However, applying removable wallpaper is an attractive and affordable method for renovating a room with very little investment. Since the wallpaper is removable and not permanent, it comes with very little commitment as well. Removable wallpaper can be applied to various parts of the home to spruce up certain spaces. Wallpaper can be cut and resized into strips to be applied to the front of each individual step of your staircase.
Updating Your Cabinets
Old or dilapidated cabinets will result in a dull and lifeless kitchen. Rather than replacing them entirely, which can be an expensive feat, you can opt for repainting them and replacing the hardware for cabinets that look as good as new. If you are not capable of repainting your own cabinets, you can opt for changing a few cabinet doors to glass. This allows you to show off your china and glassware.
Installing a New Backsplash
A newly installed backsplash can give your kitchen the appearance of a much grander renovation and is a surprisingly affordable and doable DIY project for homeowners. Most renovation experts recommend a peel and stick tile backsplash over the more labor-intensive alternatives. This project also does not require any complicated or expensive tools that its alternatives do. A peel and stick tile backsplash can be cut to size with every day straight cut tin snips and stuck to your kitchen walls without any added adhesives.
Upgrading Your Bathroom
If a professional bathroom renovation is not within your budget, you can keep it affordable and easy by updating certain fixtures and hardware. One example is if you are replacing cabinet knobs or pulls, opt for new ones that easily fit into the old holes so you do not have to patch them or drill new ones. Replacing a shower door and other fixtures can also help upgrade the bathroom's aura for a few hundred dollars rather than thousands. There is a wide selection of frameless glass doors available, including ones with a modern frosted style. Other fixtures that can be replaced include user-friendly storage shelves, a showerhead with a massage setting, or new plumbing fixtures that will result in less clogged drains.
Hanging Wall Art
A room's appearance can be altered by simply hanging artwork on the walls. One important tip is to plan ahead before drilling any holes in the walls. Measure your wall and map out the space on the floor and use it to layout the artwork. Another method is to cut out cardboard to the same size of the artwork and hang it on your wall with a temporary adhesive. If you do not have any artwork on hand or in storage, browse your local second-hand shops, flea markets, or antique stores.
Installing New Window Treatments
Putting up new window coverings can significantly improve the look and feel of a room without devoting much time or effort. There are a variety of curtains, shades, and rods on the market that are easily installable and affordable. Some stores offer curtains that do not require any sewing and can be easily trimmed and finished to the size you require.
Upgrading Old Floors
A room's flooring sets the tone for the entire room. There are few labor-intensive options like re-sanding or refinishing your floors that are beyond most homeowners' capabilities. Whether you are dealing with worn-down hardwood floors or old tattered carpet, you can revamp your flooring with a few coats of durable floor paint or peel and stick tile from a local home improvement store. These options will only require a few hours of labor and minimal measuring. A spruced up floor can change the entire look and feel of a room.
A home renovation project does not have to be a costly or labor-intensive endeavor. Since flipped homes account for about 11 percent of all home sales, these DIY home renovation tips can help you avoid costly mistakes and get your project done on time. Once you are finished with your renovation project, invite your family and closest friends over for a dinner party and to celebrate and show off all your accomplishments.
Every home renovation project – from a bathroom remodel to a full kitchen renovation – demands different sets of skills, but many of them have the same basic traits in common. Planning can be the key to success to a house remodling. If you can thoroughly research your options, learn what your budget is, and make important decisions early on, you can make the most of your limited budget. As David Foster Wallace wrote, "Things that stand in the way of better things are not things at all but things standing in your way, once you remove your hands from them." That's certainly a mouthful, but it probably means something like, once you get out of your own way and start doing things, you won't waste as much time thinking about it. There are many smart tools for planning your home and renovation, but keep in mind, that even the most costly and comprehensive home remodel inspiration planning will not guarantee success. Take the time to carefully plan your project ahead of time, and you'll be better prepared for the many setbacks that inevitably come with a home remodeling and renovation. This will also allow you to avoid paying for unnecessary repairs and excessive materials.
Our favorite way to budget for a house renovation is to find the best solution for our personal project goals by asking lots of questions. If you're choosing between two sheetrock options, for example, look at how large your work space is, how large the corner room is, and how much your walls can withstand before you pick the right option. We suggest taking it all in: Does your job permit rugs or space dividers in the work space? Is your house style a little traditional or a little more contemporary? By asking a million questions before you start to take a look at the materials, you'll find an answer that you like and be able to get started.