Everything to Know About Heating Your Home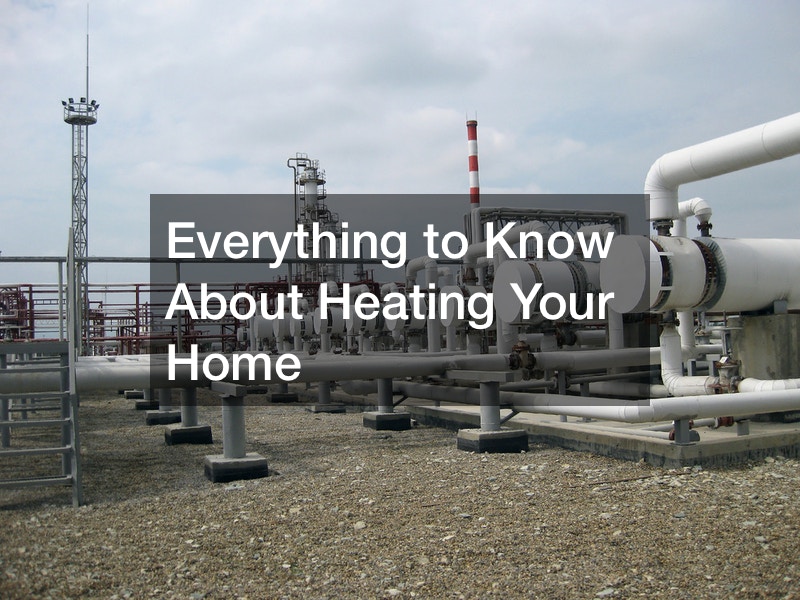 Heating your home is essential in sunny and cold places, but choosing the right heating system can be overwhelming. For a simplified, concise guide to the world of heaters, check out Everything you Need to Know About Heating Your Home. This helpful guide teaches you about common heating systems such as heating oils, solar systems, heat pumps, as well as how to winterize these types of heaters. The guide also details how to get the most out of your heating appliance and where to find more information on different types of heating systems that you can find through HVAC supplies.
Understanding the basics of heating components and how they work makes it simple to know how to choose and maintain an energy-efficient system for your home. Because comfort and safety depend on a proper working system, keep these tips in mind when deciding how to heat your home.
Choosing a Heating Emitter
When choosing a heating emitter, you need to know what the most popular options are and how they compare.
Emitters are small boards that are designed to heat a specific area. They are often used as a cheaper method than radiators and can combine with under-floor heating to create a warm, cozy home. Each of the choices above has its own benefits and drawbacks. The right emitter is all about ensuring the best heat output for the room and, of course, saving money. There are essentially three types of emitter to choose from, depending on your individual heating needs.
For new build self-builders and residential extensions, underfloor heating is the top choice for increasing comfort, adding value to your home, and reducing running costs. It's less expensive than radiators to install; it can be fitted around obstacles and offers much more flexibility when it comes to fitting furniture and soft furnishings.
Radiators are the most popular choice for home heating emitters, whether you want to heat a single room or your entire home. These devices are mounted on the wall and have pipes that distribute heat to different rooms. Their warm air will fill your premises faster than artificial heating, although UFH will last longer.
A radiator works by heating a pipe and releasing the heat into the room via convection. The heat can then be distributed around the room in whatever way is most efficient; radiators on their own tend to use less electricity than UF systems without any heating radiation.
Radiators are the only type of boiler heating system that directly heats the air in your home, with no added ductwork or exhaust fans. A central heating radiator looks similar to an electric heater but is built to be much more efficient and last much longer. These radiators are generally available in sizes between 15 and 68kW, although a wide range of options is available depending on your specific needs!
Skirting board heaters (SBHs) is one of the easiest and most cost-effective ways of heating a space, especially in a refurbishment project where existing pipework allows them to be installed easily. They are surface-mounted electric heating devices that can provide supplemental heat on top of underfloor heating.
Skirting board heaters are a great option for retrofitting an existing home. They may look a little old-fashioned, but they are simple to install and fit most decorating schemes andndash; not only that, the heating elements are concealed in the wall, so you'll never have to worry about them getting damaged or covered in dust.
Skirting board heaters are a great, under-appreciated solution for many homes. They can be skimmed or cut into any skirting, affording a quick and simple, relatively cheap retrofit that can give you low-upkeep, continuous heat with minimal risk of burns. Differing resistor wattages allow you to alter the heat output if required.
Skirting board heating is a great alternative to radiators if you want to avoid drilling into your walls. With ready-prepared pipes, just run them behind your skirting boards and secure them with the included wall plugs.
How Does the Heating System Work?
How does a home heating system work? A home heating system is designed to keep your home warm in the winter and cool in the summer by moving hot and cool air around.
A furnace has three main parts: the furnace blower, the heat exchanger, and the controls. Mainly, the blower blows air superheated by heat exchanger tubes and circulating through your home radiators. The computerized control measures the temperature of your home and the desired temperature you set on the thermostat. It then turns your furnace on or off and keeps it running until your home reaches that comfort level.
A home heating system uses a boiler to heat water in your home. The heated water is then distributed from the boiler through radiators throughout your home. When the cold weather hits, the system reverse-flows: warm air is blown into your home through small ducts and vents; as a result, your home warms up again.
Home Heating Systems

Stay warm with the new generation of heating systems that are available in today's market. There are several different types, including forced air, heat pumps, and gas furnaces, that provide unparalleled comfort throughout your home. You can even find systems that can easily be controlled with a mobile device app or with the included thermostat controller.
Heat Pumps
A heat pump is a device for transferring thermal energy from one location to another. Heat pumps are a great way to save both energy and money on your heating and cooling bills.
Heat pumps are a type of central heating and cooling system that uses a refrigerant to heat a building and extract heat from it at the same time. Heat pumps are common in colder climates as an affordable way to heat a home or business. Still, they also can be used in warmer regions to regulate air conditioning contractor costs.
Heat pumps are energy-efficient, environmentally friendly, and economical. Heat pump systems use electricity to move heat rather than generate heat, providing significant energy savings over conventional methods. You'll save money each month with a heat pump system, whether you're preheating your home, cooling it down, or both!
Heat pumps are an easy, cost-efficient alternative to furnaces and air conditioners. They work by transferring heat from a cold area to a warmer one without moving the heat around physically.
Oil Heating Services
Unlike central heating systems that pump heated water through pipes and radiators, heating oil-fired systems pump oil directly into your home's radiators. So, for even more heat and greater cost savings, consider a heating oil service.
And unlike central heating systems that pump heated water through pipes and radiators, oil-fired systems pump oil directly into your home's radiators. Oil heats rooms more quickly, so the house is warm and comfortable when you walk in. It's also way cheaper than other types of heating.
Oil-fired systems offer high efficiency (up to 98 percent), they are also absolutely inexpensive compared to radiators. Rather than heating the entire space, oil-fired systems transfer heat directly to your rooms. It's fast, it saves space, and because it's inexpensive, you won't have to keep up with rising utility bills.
Boiler heating system
The high-efficiency boiler heating system is a revolutionary technology for the boiler industry. A boiler is a closed vessel where fluids (liquids or gases) are heated. A boiler heating system efficiently heats the water in your home using gas, oil, or electricity.
Boiler Heating Systems Boiler heating systems work by using a boiler, which is a vessel used to convert water into energy. The hot water produced by this process can be used for various household activities and be adjusted appropriately according to your particular needs. A boiler heating system
is made up of a boiler and associated interconnected devices, such as a pump and a temperature/pressure relief valve.
These three components create an independent system that automatically generates hot water through the boiler's combustion chamber and pipes. When the temperature gets too high, the pressure relief valve releases water that was previously cooled into the atmosphere. If there isn't any water in the tank, the system will get cold because there is no more heated water. Usually, these heating systems include sensors that alert you if there are malfunctions.
Your boiler heating system controls your home's temperature and provides valuable services like hot water and central heating. You'll also find that a boiler system is responsible for supplying your central heating and hot water.
A boiler heating system is a very common system used in commercial, industrial, and residential applications. The boiler heating system relies on high-pressure steam to heat spaces. Some of the most popular and cost-effective boilers are from the HVAC business.Boiler heating systems are used to produce hot water or steam primarily in industries, offices, hotels, and apartments. They can also bring convenience to your home by heating water for showering, washing dishes, and doing laundry.
Hybrid Heating service
We all want that perfect tan, but too much time in the sun is bad for your skin. Now there's a solution. The Hybrid Heating system combines both convection and infrared heating technology to ensure that you enjoy a safe, evenly-heated tanning session.
A hybrid heating system is a gas appliance that also has an electric element to it. Hybrid heating systems have an average annual fuel efficiency rate of 78% and average annual emissions on par with a 100-watt light bulb. These systems are the most efficient for keeping living spaces warm, particularly during winter.
The Hybrid Heating system combines the speed and precision of electronic control with the power and reliability of a traditional heating system. The ultimate indication of quality is temperature stability, which you can enjoy with this system. After all, temperature consistency matters, especially when you're cooking. For example, steak. One minute too long on an over-hot grill, and it's tough and chewy; one minute too short, and what's the point? Precise temperature gives you great results every time.
A hybrid heating system uses convection to circulate heat and a heat sensor to maintain an even temperature. With this type of system, you can enjoy the best of heated blankets without hot or cold spots to keep you feeling comfortable all through the night.The Condensation Free Hybrid Heating system combines the best of convection heating and infrared heating, delivering precise heat control while maintaining powerful warmth. It circulates warm air around food with a precise temperature-controlled zone that keeps moisture in food at a minimum.
Solar heating systems
A solar heating system is a great tool for keeping your house warm and cozy. Solar heating systems gain heat from lights that absorb solar energy from the sun instead of from a boiler or furnace. This eliminates pollution and improves air quality because there is no gaseous combustion by-product as there are in conventional systems.
Solar energy is free, pollution-free, and independent. Solar heating systems can be used both in domestic and industrial environments; solar thermal systems are designed to meet all of your heating needs andndash; hot water, space heating, and cooling.
Conclusion
Heating your home is a winter necessity, and today you can choose your source of warmth: natural gas, electricity, or oil. Whichever you choose, remember that a backup source of heat is important in case your primary heating system fails. Always install and maintain multiple sources of heat to protect your family from dangerous cold spots in the event of an emergency.
Heating your home has many benefits, including keeping everyone in your family warm and cozy all year long, soothed by the sound of a crackling fire or the whoosh of warm air wafting through your vents. It also reduces energy bills and can save you time and money because it's always running.