How to Beautify Your Home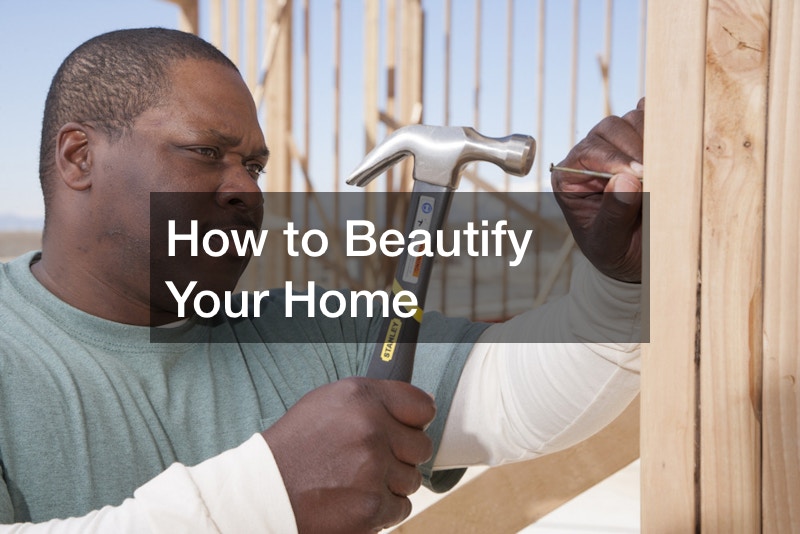 Your home says a lot about you, so it's natural to want it to be beautiful. Over time, its aesthetics may no longer do it for you, and you'll find yourself yearning for a change. It may not seem like it, but knowing where to start when this happens can present a major challenge. This read will explore projects that spruces up your home's aesthetics.
1. Repaint Your Interiors
While a high-quality and well-maintained interior paint job typically lasts for years, it starts to fade eventually. Worn paint can make your home's interior look drab. Repainting your walls occasionally spruces up your space to keep it looking beautiful.
Cracking paint can occur due to outdated paint, extreme cold or heat, or inadequate surface preparation. Cracked paint looks unappealing and offers an entry point for moisture and pests that you want to stay out of your home at all costs. If you notice bubbling or flaking on your interior paint job, it's time for a fresh coat of paint.
Having your interior painting redone protects your home's interior now and prevents further damage to your walls. Most interior wall materials naturally absorb moisture. Over time, excessive absorption can compromise your walls and, eventually, your home's structural integrity and trigger mold growth, which poses a health hazard. Paint seals out moisture, protecting your interior.
Popular home renovation TV shows often inspire homeowners to improve their homes. While completely renovating your home can be exciting, it can also be expensive. Repainting your home's interior with the help of professionals offers an easy and cost-effective way of refreshing your space without having to incur the costs of a full home remodel.
You can transform an outdated space with new, creative color choices. Striking accent walls can turn a once-bland room into an exciting space. The design possibilities are limitless. Contact a team of professional painters to update your home's interior affordably.
2. Update Your Landscape
Your home's exterior is the first thing people see, and it's the one aspect of your property that can make or break a first impression. Even if you keep up with your landscape maintenance needs, you'll notice that it starts looking flat and less impressive over time. It's not unusual since trees and plants change dramatically over the years, and mulch or gravel can start to move, become thin and patchy, or fade in color. If you've had the present landscape design for over five years, consider starting over rather than attempting to refresh your current one.
Your landscape design can make or break your home's curb appeal, and if you last made changes a while ago, it may not hold the visual impact it once did. Updating your landscape spruces up your home's curb appeal and makes it stand out in your neighborhood. This improvement can also increase your property's resale value if you intend to list it in the future.
Most homeowners only consider the aesthetic benefits of landscaping, but there are other benefits. Besides having an up-to-date and eye-catching yard, a landscape remodel can allow you to use your outdoor spaces more. For example, by introducing hardscaped walkways, water features, outdoor speakers, landscape lighting, and detached patios, you can entertain guests in your yard, minimizing the need to stay indoors. In this sense, an update will enhance your landscape's performance.
If you spend a significant amount of time each week weeding, mowing the lawn, or picking up trash in your yard, a landscape redesign executed by professionals can be beneficial. They'll recommend low-maintenance landscaping and hardscaping solutions so you can enjoy a visually appealing yard that doesn't take much of your time in maintenance. A landscape requiring less water and maintenance spruces up your home while saving you money on yard maintenance fees and water bills.
There are a few weeds in every yard, but when they take over and smother your grass or favorite flowers, it's best to start over, at least in some sections. Professional landscapers can fix portions of your yard or redo it entirely. Have them dig up weed batches, install weed-resistant fabric, add a layer of topsoil, and apply mulch. They can also offer tree removal services and hardscaping services.
Your yard's slope may become uneven over time, or your patio may buckle due to roots growing up through the surface. An uneven, cracked, or buckling concrete or stone patio isn't just an eyesore; it also poses a trip hazard. Hire patio contractors to level your landscape and beautify it with gorgeous pavers or other options.
If your yard looks like a foreboding sea of darkness in the evening, it doesn't have to be the case. Consider adding lighting to your landscape with the help of a local electrical contractor to highlight your yard's features at night and enhance the security of your home. Outdoor lighting is affordable, but it adds so much to your property. You can opt for solar lights or wired lights, or a combination of the two.
Storage containers in your yard offer a solution for minimizing clutter in the space. If you spend a significant amount of time in your yard, it can quickly become cluttered with various items, such as garden tools, bikes, outdoor furniture, and children's toys. These storage solutions come in different sizes and designs and offer a safe and secure place to store your stuff. With this addition, you can significantly reduce clutter in your yard.
3. Keep Up With Your Roof's Maintenance Needs
A well-maintained roof will positively impact your home's exterior aesthetics and appeal. Great curb appeal is essential if you intend to sell your property, as most potential buyers consider it a deciding factor. Keeping up with your roof's maintenance spruces up your home and protects its value. It does this by preventing issues that can result in irreversible damage to its structural integrity.
Routinely clear your roof of leaves and other debris that might collect on the surface to keep it looking attractive. Besides the aesthetic benefits, it'll keep water damage from clogged gutters at bay. Maintenance shouldn't just focus on aesthetics.
Aside from the exterior, you must ensure it's also functioning as it should. A leaky roof can seriously damage your home's interior, necessitating expensive repairs and damaging your possessions. Look for loose, damaged, or missing shingles and address them immediately. Even though these may seem like minor problems, they can cause serious problems if you fail to address them appropriately.
While you can perform maintenance checks, investing in regular maintenance from professional roofing services will ensure you cater to all your roofing needs. These services will go a long way toward preserving your roof's aesthetic appeal. The roof is your interior's first line of defense against the elements, preserving your home's interior aesthetics as well.
4. Prioritize Pest Control
Pest infestations are a common problem for homeowners worldwide. They can affect every corner of the home, from the kitchen to the bedrooms. Pests can lead to several issues, including property damage, the spread of infections, and affect the aesthetics of your home. That's why it's important to consider professional pest control services.
These professionals are trained to identify and eliminate pests quickly and efficiently. They'll locate the source of the problem and develop an effective plan to eradicate the pests. By using the latest techniques and tools, they'll eliminate pests from your home safely and effectively, which not only improves the appearance of your home but also provides peace of mind knowing that your home is pest-free.
Pests such as cockroaches, rodents, and termites can cause damage to your home's structure and furniture. They can chew through wood, insulation, and electrical wiring, resulting in costly repairs. Professional pest control services can help prevent this damage by identifying and eliminating pests before they cause such damage. This way, your home will retain its value.
The pests can be unsightly and affect the visual appeal of your home. For example, cockroaches leave droppings and a foul odor, making for an unpleasant living situation. Bed bugs can cause itchy bites and create unsightly blood spots on bedding. Professionals can get rid of these pests and stop them from coming back, helping to preserve the aesthetic appeal of your home.
Professionals also offer maintenance services, which can help to prevent future pest infestations. This service typically involves regular inspections of the entire home. A preventative approach is the best way to ensure your home stays pest free. Keeping your home free of pests spruces up its aesthetics.
5. Install New Floors
Installing a new floor spruces up your home. However, with so many options available, it can be challenging to determine which type of flooring will best suit your needs. One of the most popular flooring options for homeowners globally is hardwood.
It offers a timeless look that will instantly revamp your home's interior. Hardwood floors come in various finishes, and you can have professionals sand and refinish them after some time to change their look. They're also durable and can last for generations with proper care.
Tile flooring is great for high-traffic rooms such as kitchens and bathrooms. It's also ideal for entryways. This flooring option comes in various colors, patterns, and sizes, so you're guaranteed to find one that complements the aesthetics of the rest of your home. It also has minimal maintenance needs, making it a great fit if you have children or pests.
For your bedrooms, consider carpet flooring. Depending on your preferences, you can choose from various patterns, textures, and colors to match your aesthetic preferences. This flooring option is also a great sound insulator, which can be useful if your home has multiple floors or shared walls. However, note that carpet isn't the easiest to maintain and clean and can pose a health hazard if someone in your home has allergies or asthma.
Consider bamboo for a distinctive and environmentally friendly flooring solution. Bamboo flooring uses renewable sources, making it a great option if you care about your environmental impact. It features a natural look that can add a touch of warmth and elegance to your home. Bamboo is durable and easy to maintain, making it ideal for rooms that receive high traffic.
Vinyl plank flooring is also a great flooring option. The aesthetic versatility of this flooring option is perhaps one of its biggest appeals. It can take on a variety of textures, colors, and patterns and resemble materials such as hardwood. Regardless of the flooring material, new flooring spruces up your home's interior.
6. Install a New Garage Door
A new garage door spruces up your home's exterior. An old property often has outdated paint colors, architectural styles, and decaying elements, making it an eyesore. These are just a few signs of an older home. Aspects such as architectural design often require a major renovation project.
Installing a new garage door is a cost-effective way of revamping your home's aesthetics. It may not be a complete fix, but it'll have an impact. Choosing a garage door for your home takes skill. Traditionally, garage doors were an afterthought, but design trends have changed things.
Garage doors now play a key role in a home's aesthetics. When choosing your new garage door color, look at your home's exterior. A door that precisely matches your home's current color can be nice. Alternatively, you can match it to your front door or trim.
7. Install New Windows
Installing new windows spruces up your home's aesthetics. Windows are among the first features of your home's exterior that people see. Outdated or worn-out windows detract from the aesthetic appeal of a home and make it look neglected.
New windows can give your property an updated and modern appearance. They can also improve the interior of your home or office by increasing natural light and ventilation. You'll have a brighter, more inviting, comfortable space to live or work in. Additionally, new windows can provide better insulation, reducing noise levels and improving indoor air quality.
However, you need to hire professional glass installers. They'll help you choose from the different types of glass. These professionals will also help you choose from different styles and designs, such as double-hung, casement, or bay windows, to match your preferences and architectural style.
Your home is likely your most valued investment. It should be a place that brings you joy, and aesthetics play a key role. Use this read as a guide for changes you can make to your home. A revamp spruces up your home's aesthetics.