How to Save Money on Roof Repairs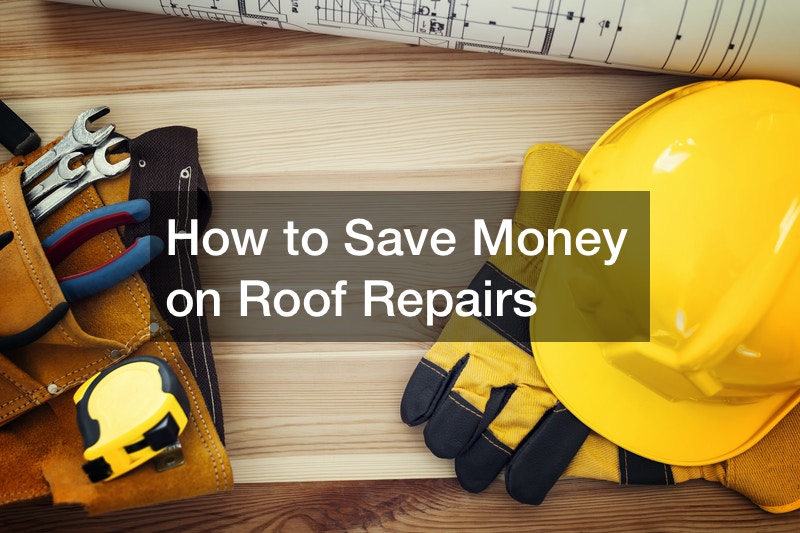 If you want to keep your home safe and strong, you must ensure that the roof is in the best condition possible. This part of the building is essential in protecting the belongings and the people inside your house. It also contributes to the structural integrity of the building. Roof repairs are inevitable, especially if it has been there for a while. Nonetheless, these repairs can be costly, especially if you do not know how to go about them. That is why this article will teach you all the ways to how to save money when repairing your home's roofing.
The Best Tips On Saving Money On Roof Repairs
Consider Working With A Professional Roofer
Repairing a roof may sound like a simple project, but it can be tricky for many people. Simple mistakes may have you spending vast amounts of money now and even later. Fortunately, there are many roofing experts out there who are well-versed with what should be done when it comes to repairing that part of your house. However, you should note that not all roofers out there are fully qualified to offer a roofing service. As such, you need to make some considerations to ensure you land on the best one of them. It is advisable to ensure that the contractor you hire is appropriately trained to handle different tasks, including new roof installation. Some of the crucial things to check when hiring such a professional are their reputation, experience, and the successful roof repair projects they have completed.
Working with an experienced roofer can save you money because you can be sure of excellent results at the end of the repairs. This means you will not have to do any more renovations to your roof any time soon. It may cost you a good amount in labor payments, but you will be surprised by how much you will save in the long run. That is because well-done repairs can last for years without the need to give the roof another touch-up.
Embrace Regular Maintenance
If you want your roof to serve you for long, you need to understand that regular inspection and maintenance are mandatory. A well-maintained top stays in good condition for a long time. This means it does not need to be repaired from time to time, consequently saving substantial amounts of money. The best thing about regular checkups and maintenance is that they help you identify any issues with your roof and rectify them before they get out of hand. This is the thing that many homeowners fail to understand. As you may know, it is better and cheaper to take care of any roof repairs immediately you notice them instead of waiting. Your roof will not maintain itself. If anything, any minor issues will grow into something big. Renovating such repairs will not only cost you a lot of money but also time.
Roof maintenance is an exercise that can even help you prevent replacing part of or the entire roofing. Leakages are among the most ordinary happenings on many roofs. However, most homeowners do not take them seriously at first, and they worsen with time. Ultimately, they end up spending lots of money repairing the leakages. Therefore, it is essential to conduct all the necessary cleaning, repairs, and routine tasks on your roof. The best thing is that when the repairs are minor, you can decide to handle them yourself or hire a local roofer to help you.
Create a Clear Budget
Having a budget is one way to save on roof repairs because it directs you to how much you can set aside for current projects and any emergencies. That means that there is a very narrow window of overspending. For one, with such a detailed budget, you will know how much you need to pay for labor. Several professionals out there offer quality residential roofing repairs, but they all charge differently for their services depending on varying factors. One of the outstanding factors is how long the roofer has been in the industry. You cannot expect a highly experienced contractor to charge the same amount as a newbie.
Therefore, you have to get an expert whose charges lie within your budget, but you must ensure they will deliver by making a few considerations, including their reputation. A budget will also help you identify the materials you should purchase. That is why it is critical to check out different suppliers to ensure that you get the best deal on the market. Luckily, the internet can be a great resource on that side because you can easily compare prices and offers from different vendors at the comfort of your home. You can consult a residential roofer who can guide you better.
Reuse And Recycle Where Possible
You are repairing the roof and not constructing one from scratch. Therefore, there are some materials you can reuse and recycle for repair projects without purchasing new ones. These are among the best tips on how to save money when it comes to repairing your house's roof. Any new materials you buy can sometimes cost you a pretty penny, especially when dealing with a dishonest supplier or when you don't understand the exact prices. Recycling and reusing different materials is an idea that comes with several benefits. However, besides being good for the environment, you need to understand how such actions can help you save money when repairing your home's roof.
First, reusing materials means you will not need to go to the suppliers. This cuts expenses, such as transportation, by a significant margin. You do not have to spend any money to bring the materials into your home because they are already in the compound. Two, recycling helps you avoid paying any money for the buying price of the material. You can use the money you save here for other more critical projects in your home.
Trade-Off Workmanship
Human beings are good at different things. The best way to save on roof repairs is to pay for the labor using your skills. If you have a neighbor who is good at roofing, you can ask them to help you with the repairs. In return, you can offer your services in a different field you may be skilled in, for instance, fixing an HVAC unit. This is a win-win situation because none of you will spend your money on whatever service you get. Trading off of your kills with someone else is a great way to ensure that you save a certain amount when handling roof repairs.
Nonetheless, while holding that thought, you should also remember that skill trade-off will only save you the money you would have spent on labor. Your neighbor, pal, colleague, or apprentice can help fix your roof, but you will still need to cater for the supplies. This technique can save you some amount, but it will not be as much as what you save with other tips. However, it can still help you somewhere else, so it is unnecessary to use this tip.
Understand About Repairing Vs. Replacing
Sometimes, you may experience some severe issues with your roof. In such instances, it would be appropriate to consider replacing the part of the roof with the problem instead of fixing it. As a homeowner, you must accept that there comes a time when you cannot repair some things. The only viable option you have in such a scenario is to replace them. Undoubtedly, replacing part of the roof is costlier than renovating. However, why would you want to remodel something that will cost you more money after a short while? That is not an effective way to save money on roof repairs.
It would be better to take out the old, broken, and irreparable parts and replace them with those that will last. You may not see it now, but you will be surprised by the amount you save in the long run. After all, having a functional and reliable roof is much more satisfying and gives you peace of mind than having one that requires regular repairs.
How Does Repairing Your Roof Benefit You?
Enhances Your Home's Aesthetics
You may have been living in your residential property for a while. Nonetheless, if you don't give it some touch-up from time to time, it may be in bad shape, yet you do not realize it. Your home's roof is among the first things you should take care of to keep the house looking great. Broken or missing shingles, leakages, and dirty and damaged gutters make your home appear deserted, dirty, and out of order. When you make the necessary repairs, you give the building a new life. That is because you even get a chance to clean the roof and all its essential parts.
Boosted Energy Efficiency
One of the major concerns for many homeowners is significantly reducing their utility bills, especially energy expenses. You would be happy to realize that simple roof repairs can help your home become more energy-efficient, hence decreasing your energy costs. That is because a healthy and robust roof ensures your home is insulated better. It will unbelievably reduce the heat gain during summer and heat loss during winter. That means your heating and cooling unit will use less energy to keep your abode warm or cold in specific seasons.
Increased Safety
You must work on your roof to ensure that it is safe for you, your family, and the belongings inside the house. The condition of your roof deteriorates when you fail to do the necessary maintenance and repairs. If the state gets worse with time, the entire structure may come crumbling down on your head, which can even be fatal. However, regular inspection and repairs reduce the chances of such a thing to occur, and everybody in your home is safe.
Increased Resale Value
Potential buyers are always looking for properties that will not require them to spend money after settling in. Therefore, if you plan to sell your house someday, you should consider doing the necessary renovations, replacements, and repairs. Such simple undertakings will not only help you sell the property fast, but they will also attract some of the best purchasers in the market. A well-done roof also acts as an attraction for the highest-paying buyers because it enhances your home's curb appeal.
Increased Lifespan
Roofs have lifespans, too, which varies depending on how well it is maintained and the material. A top that is well taken care of will serve you for a long time, regardless of what the manufacturer says about its durability. Unplanned roof replacements do not augur well with many homeowners. Therefore, you should start taking care of top of your house from now if you deem that a nightmare, too. Additionally, renovations and repairs buy you time to plan yourself financially for replacement when the roof nears the end of its life.
Saves You Money
Regular roof maintenance and repairs fall under the category of preventative measures. This means that when you stick to such a routine, you will be preventing future issues which could have cost you a substantial amount to fix. It may be hard to tell at the moment, but doing small renovations and maintenance can save you a lot of money in the long run. That is because you will have eradicated the possibility of indulging in major roof repairs down the road. It can also help you save money when harsh weather, such as earthquakes, tornadoes, and storms, comes. When such a time comes, you need to depend on your roof. However, you can only do so if the top is strong enough.
Having a reliable and robust roof over your head gives you peace of mind and saves you money. However, you can only get such a top if you take good care of it by embracing regular maintenance and repairs. If you neglect your home's roof, it will also neglect you when it comes to protecting you. The repairs do not have to cost much as long as you follow the techniques explained above.