What Remodeling Needs a Permit?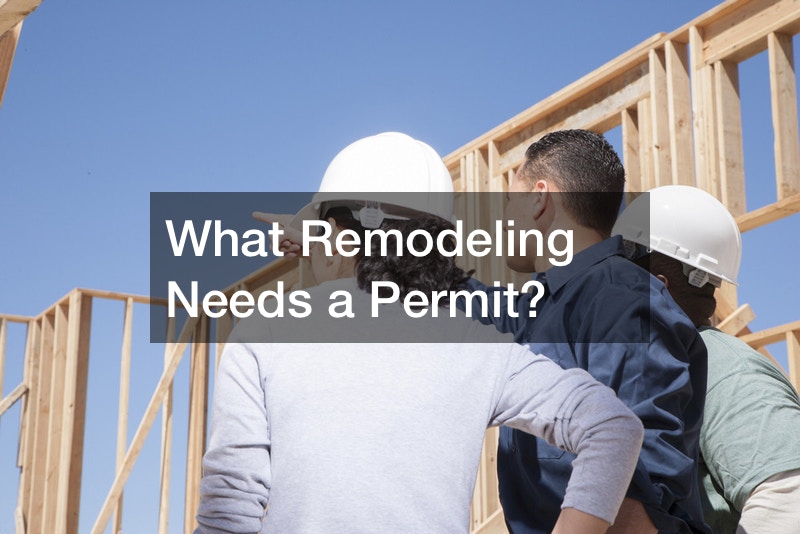 Are you planning to sell your property? Do you want it to fetch the best price in the market? If your answer is yes, then you should consider undertaking some renovations and remodeling to increase the value of the property you want to sell. However, such projects should not only be undertaken when you want to put your property on the market. Remodeling and renovations are essential in ensuring that your home is always in good condition.
If you have not done any remodeling on your property before, you should be aware that some building permits are inevitable and can be expensive and time-consuming. You get such permits from your local building department. The main purpose of these permits is to show your property has been inspected and the improvement plans have been reviewed, and they meet the set ordinances and construction codes. In this article, you will learn more about what remodeling needs a permit, the required remodeling permits, and the process of acquiring them.
The Benefits of Acquiring Remodeling Permits
Some serious repercussions come with indulging in remodeling projects without a permit. You might get fined, your project will be shut down by an inspector, and you will be required to get the permit at a higher fee. Therefore, you must understand the importance of getting remodeling permits whenever you want to upgrade your property or permit. The challenge faced by many people is that they do not comprehend the process of acquiring these permits. Building codes differ from state to state.
The very first step is to visit your state's website to find out their requirements and which remodeling projects require you to have a valid permit. In most cases, licensed contractors, such as a roofing company, have detailed information about the certification required for different home upgrading projects. However, do not be carried away by the thought that the contractor you hire will handle all the paperwork. You must be vigilant and ensure everything is done lawfully.
Getting a remodeling permit may cost you about 1% of the total construction costs. Additionally, the inspection process may take up to six weeks to be completed. Many homeowners are unwilling to sacrifice much time and money, and most end up skipping the permit process. That is a mammoth mistake that may cost you much more when the authorities catch up with you. Some other consequences of not getting these permits include:
Stopping or slowing down the planned renovations.
Complicating or cancellation of your home's sale process.
Many banks do not advance any loans unless you provide the necessary papers for any renovation done on your property.
The responsible authorities may ask you to tear down and redo the renovations, which will cost you a lot.
Although it is not recommendable, you can take a risk and avoid pulling a permit. However, if an inspector finds you undertaking non-permitted renovation projects, you might face some dire consequences. At its worst, skipping a remodeling permit might lead to you getting services from lawyers in case you are sued.
Which Renovations May Require a Permit?
The plans you draw for your projects must comply with the building codes and ordinances in your state of residence. Remodeling permits are divided into several categories: mechanical, electrical, structural changes, and new construction. The main purpose for such divisions is because some renovations may alter the whole of your property, and municipal authorities want to ensure your apartment can support the arranged renovations.
You will most likely be required to apply and acquire a permit if your project involves making significant changes to your home's footprint. Procuring ac services for your HVAC system may not require you to get a permit. A permit is required for projects that alter your home's existing support system. Such includes hiring a roofer or working on your bedrooms, decks, sheds, room additions, and garages. Here are some more projects that may require you to acquire their papers from the municipal authorities:
Plumbing and Electrical – It may seem unnecessary, but you will be required to get a permit before starting any plumbing or electrical renovations and repairs. If you are installing new plumbing or removing the existing one, it would be unlawful to work without an official permit. Additionally, upgrading the electrical systems, including moving an outlet, should be done after you are permitted.
Fencing – although not all fences require a permit, you will find height restrictions on no-permitted fence structures. This restriction, too, varies from state to state.
Siding projects – siding your walls is a major undertaking, and the authorities must ensure you are doing it in compliance with the law. That is why it is essential to get a permit even before hiring a siding contractor.
New windows – installing new windows requires a valid permit, unlike replacing an existing one. Skylights and new doors fall into this category, too.
Water heater – you are required to apply and get a permit if replacing your water heater is on your bucket list of projects. Upgrading your ventilation system or installing cooling towers is a project that requires certification, too.
Total cost – As you think about making your home a better place, consider the projects' cost, including workers compensation. In some areas, you might be required to get a permit for any renovations that cost above $5,000.
Which Projects May Not Require a Permit?
In most cases, carrying out indoor cosmetic alterations in your home may not necessarily require you to get papers for such projects. Most of these undertakings are DIYs, implying you do not have to hire professionals or contractors to do them. Some of the projects that may not require a permit include:
Hanging wallpaper and painting the house
Simple plumbing and electrical repairs. This is especially when the repairs do not involve moving or replacing the existing electrical system.
Laying a carpet or installing a new hardwood floor.
Installing a faucet and replacing your kitchen's countertop.
Steps of Getting a Remodeling Permit
As earlier mentioned, construction regulations differ according to individual states. Just because your friend in another state contracted a garage door company and no permit was required does not mean the same applies to you. If you are not sure whether to get a permit, contact the local inspector. Besides violating construction laws, refusal to take a permit could interfere with your homeowner's insurance, which can lead to the policy becoming void. Although the rules vary in different states, the process of getting a remodeling permit is similar. The steps involved in this process are:
Make the Application for a Permit
Of course, paperwork is the first step. The local contractor you hire can help you make this application or do it for you if you so desire. The application is made at the local level, and in some states, you can even fill the application form online.
Show Your Plans
Plans are needed for construction purposes and obtaining the official permits. Blueprints will be required for sizeable projects. Hiring qualified contractors and architects will help you submit the right documents to the planning authority. The plans you submit will then be reviewed and approved by an inspector, a process that can take several days. The time it takes for a renovation plan to get approved depends on the specifics and any corrections that you may be required to make.
Make the Payments
Remodeling permits are not free! Again, the fee charged for these certifications depends on your state of residence. Typically, you might get charged $50 for a fence installation permit and up to a few hundred dollars for a room addition.
Post it
Once your plan is approved and you get the permit, you should place it at the construction site, where the inspector will see it easily.
Inspections and Final Approval
As the remodeling goes on, you will be expected to comply with different inspection regulations. The regular check-ups carried out during the construction process aim at ensuring its safety and legality. Many homeowners dread this step, but it is crucial because it gives you peace knowing that your contractor is doing things right. The inspector will point out anything that is not done properly, and you will be required to make adjustments as the construction goes on. It might cost you time and money, but it will save you a lot in the long run. After the inspection cycle is over, you will be granted the final approval for your project.
Hiring Remodeling Experts
Some of the remodelings that your home require are Do-it-yourself projects, such as hanging wallpapers, painting, changing a power outlet, paneling, and installing carpet and flooring. However, some remodeling projects require extensive construction knowledge, and that is where contractors and home remodeling teams come in.
Licensed Contractors
These are certified individuals who know when a permit is required and the process of obtaining one. This makes them eligible to obtain construction permits from the building authorities. There are several benefits tied to having a licensed contractor get the remodeling permit for you, and they include:
They know which permits are required and the turnaround times.
Their understanding of the remodeling project required in your home is unrivaled. Moreover, their plans are more detailed than what you can create on your own.
The quality of work that licensed contractors offer is quite high because they must present their state contractor's license to get the building permits.
Home Remodeling Teams
These teams come in handy when you are dealing with enormous projects. Such a team may comprise plumbers, electricians, and contractors, among others. You have the freedom to hire a home remodeling team independently or work hand-in-hand with a general contractor. Hiring might be hectic because you have to personally confirm that everyone you give a job to is licensed, insured, and has the necessary building permits. A general contractor is someone who provides job offers and manages other relevant subcontractors.
Using a general contractor means they are your point of contact, and obtaining the necessary building permits is their responsibility. This is the best and most common choice for homeowners who are planning some renovations in their homes. This is because by hiring a general contractor, you get both a point of contact and a project manager.
FAQs
Do all remodeling projects require permits?
No. in most cases, permits are required when one is undertaking large renovation projects. Such may include some plumbing, electrical, fencing, decks, and siding projects. Minor home improvements, such as wallpapering, painting, and replacing faucets, may not need a permit.
I had unpermitted work on my home. Can I still sell it?
It is not advisable to close the deal on a home if you cannot reveal any non-permitted work done on it. That is because you risk being sued by the buyer. When listing your home on the market, you are required to include any unpermitted remodeling that has ever been done on it. You may not get the maximum value for the property, but it can save you a lot in lawsuits.
Can I buy a home with non-permitted projects?
Building permits show that the home was renovated to safety standards. If you buy a home that lacks remodel permits, you might be risking your safety and that of your entire family.
Final Thoughts
Many homeowners dread applying for remodeling permits because of the money and time consumed by the whole process. Understandably, you want to see your project up and running right away. But have you received the necessary permits from the building department in your state? This is especially important if the planning project is a sizeable one, such as installing a fence, replacing your water heater, and installing a new window or door.
Smaller projects, such as replacing the faucets, kitchen countertops, and changing a power outlet, may not require any municipal authorities certification. Permits are necessary to show that whatever project is underway is being conducted safely and in compliance with the set standards. The best way to ensure you get the right documents is by hiring an experienced contractor who has adequate knowledge of remodeling and renovation permits.