What to Do During Summer at Home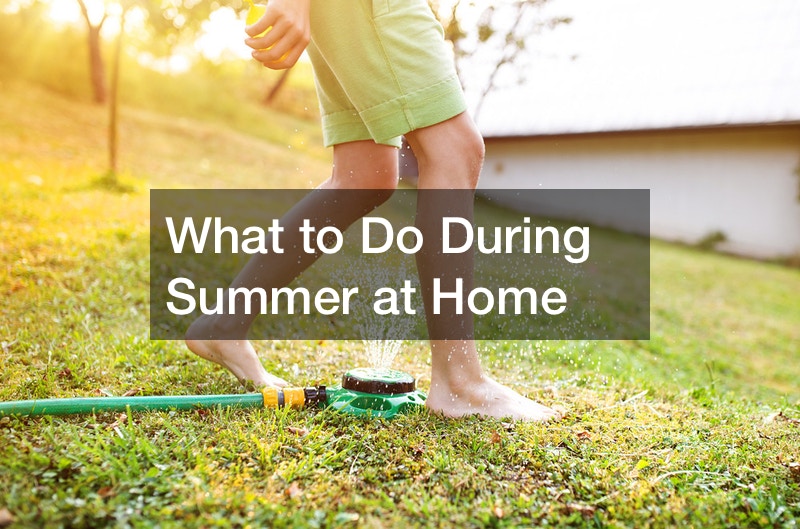 There is something about the summer that makes it nostalgic and classic. Many children are excited when they count down the days to the final day of their school year, eagerly waiting for the excitement summer brings with it. Adults may not have an academic year schedule but summer still brings them anticipation and excitement for the season. The extra hours of sunlight and rising temperatures provide more time to accomplish planned summer activities like getting manicures and pedicures or picking out furniture and cabinet materials for your home. Summer presents you with an opportunity to be creative with how you spend it. Here are some of the activities you can indulge in if you've been wondering what to do during summer at home.
Freeze Popsicles
Using popsicle sticks, paper cups, or molds to make homemade popsicles is an easy and satisfying task anyone can do over the summer. You can make popsicles from whatever juice flavor you order and it will only take a few hours to make them.
Catch Some Sleep In a Hammock
Taking a nap after catching up on a few chapters of a preferred book quintessentially makes up summer. Installing hammocks on patios is a good way to enjoy this summer activity. They come in a variety of patterns and colors and can be hung up anywhere, provided they hold the weight.
Set Up a Movie Theatre In Your Backyard
You can create a custom movie theatre in your backyard by using a portable projector. You can use the opportunity on warm summer nights to bring and project your favorite movies on the side of your building or house.
Ice Cream Bar
Satiate your sweet tooth by indulging in a sweet summer treat. Get your favorite toppings and flavors and make yourself an ice cream bar. Instead of having the normal scoop after your dinner, you can make an effort and set out your toppings using different bowls and align them to emulate a frozen yogurt bar or an ice cream parlor. Treat yourself by adding different ice cream flavors and adding sufficient toppings to make a mouth-watering dessert.
Get Crafty and Tie-Dye
This trend is all over social media and presents a good way to occupy yourself this summer. Get a tie-dye kit and experiment with some trendy fashion pieces.
Wash Your Car at Home
If you've been wondering what to do during summer at home, washing your car at home allows you to kill two birds with one stone. You get to enjoy the warm breeze outside while you wash your car. The only tools you will need are sponges, buckets, and soap.
Make Mojitos
You can brush up on your skills in bartending by making this classic summer drink. Assemble all the ingredients needed to make a monitor and a mojito making kit. You can experiment with different recipes to make a refreshing cocktail to enjoy, provided you are of a legal drinking age.
Stage a Water Balloon Fight
Setting up a water balloon fight is an effective social activity. Make use of a water balloon fillet to make many balloons at once. You can increase the intensity of the fight by incorporating the usage of a ball launcher.
Test Your Ability to Grow a DIY Garden
By adding fresh herbs, you enhance the taste and aroma of your summer food recipes. You can install an in-house herb planter and grow the herbs you intend to use for your cooking. An in-house herb planter enables you to grow herbs without using your backyard.
Go Camping In Your Backyard
Set up tents and sleeping bags to make a camping ground in your backyard. Camping out in your backyard while making s'mores in your backyard fire pit is an ideal summertime activity to do with your family and friends.
Make Lemonade
Nothing spells out summer more than making fresh lemonade with ice cubes. You might not make it with the intent to sell it, but it sure does brings nostalgic memories from childhood.
Wake Up to Watch the Sunrise
When thinking about what to do during summer at home, remember that some of the best things in life are free. You can wake up early during summer and watch the sunrise as you sip your morning coffee. This ensures you start your day on a positive note.
DIY Face Mask
Summer means your skin will be exposed to the sun, which means you have to take precautions to care for your skin and protect it from harmful sun rays. One simple procedure you can try out is combining two tablespoons of honey, one and a half tablespoons of coconut oil, and a drop of lavender oil. After mixing it, apply it to your face and allow it to rest for about 15 minutes. This DIY face mask is beneficial as it helps to smoothen and soothe your skin after spending your day in the sun. If that is not your preference, you can make other DIY face masks using different procedures and ingredients. Be sure to check the procedure and ensure none of the ingredients used can harm your body.
Create a Backyard Beach
Maybe you don't want to go to a crowded beach this summer or you reside in a landlocked state. You can recreate the aesthetic of a beach by setting it up in your home's backyard by getting a beach chair and your favorite book and spend your afternoon in your backyard.
Construct a Cheeseboard
You can learn how to make a cheeseboard this summer by using helpful guides. With the help of online resources, you will be able to create an effective and delicious cheeseboard.
DIY Summer Highlights
Whether you are all hanging out in your backyard or catching waves at the beach, you can add some brightness and lightness to your hair to freshen your summer locks. You can do this by squeezing some fresh lemon juice onto your hair and soaking up the sun rays.
Indulge in Some S'mores
It's not a must you have a campfire to make this delicious snack. You can make them using a s'mores maker or make them over the stove. Using the classic recipe is the way to go, but you can experiment by adding strawberries or using dark chocolate instead of milk chocolate.
Host a Potluck
Invite your friends and family to the backyard of your home and ask them to bring different dishes to be added to the dinner table. This makes for a perfect opportunity to bring different dishes to be added to the dinner table. This makes for a perfect opportunity to have a fun, festive dinner or afternoon surrounded by your loved ones. The warm weather during summer makes it ideal to host a potluck.
Go for a Hiking Trip
You don't need to have to reside near a forest or the woods to get access to walking through nature. You can explore many towns and find notable traits to hike in. Hiking is a great way to exercise and get fresh air during summer. You can choose to go alone or with a group of friends. Hiking can also reduce stress and replace it with endorphins that lift your moods.
Roast Marshmallows
Summer isn't complete if there is no roasting of marshmallows outdoors as you and your loved ones enjoy the warm summer breeze outside. You can make a fire pit in your backyard to make a fire and invite your friends and family to roast marshmallows. Roasting marshmallows together is a great way to strengthen your friendship and familial bonds. This can be achieved by sharing stories and having a great laugh as you all roast marshmallows and make s'mores.
Practice Your Florist Skills
Summer presents you with an opportunity to practice your floral designing skills. You can get fresh flowers from your garden or buy them at a flower shop near you. You can try your hand at putting together a bouquet by following some specific flower arrangements and displaying them in your home. You can place it inside your house as a decorative piece or outside on your home's stoop to brighten it.
Workout Outside
Summer offers suitable temperatures to work out outside. You can take out your exercise mat and weights and switch up your normal workout routines. Changing the scenery while you work out can have a significant impact on the effectiveness of your workout routines. Being outside could greatly improve your motivation and focus on doing your exercises. Healing exercises such as yoga stand to have a considerable effect if done outdoors. You can set up your mat in a secluded area in your backyard and practice your poses while enjoying the warm summer weather.
Go for a Scenic Drive
You can take a drive around your town for some sightseeing adventures. Taking a drive around your hometown allows you to pay attention to its architecture and the different types of plants that thrive in it. It is also a good way to unwind and spend a summer day effectively. You can go out with your family and friends and take a short road trip to enjoy the scenery your town offers.
Make a Bird Feeder
If you've been considering what to do during summer at home, think about the wildlife around you! Take an interest in learning about your area's nature and which type of birds are natives in it by making a Bird feeder. You can create a simple bird feeder using items easily found in your home. Making a Bird feeder enables you to indulge in birdwatching, especially during summer. This is good to enjoy nature while at the same time cultivating a newfound hobby
Run for a Cause
Whether it is for cancer, autism, diabetes, or other Noble causes, it's a good feeling to run and know that it is for a good cause. You can sign up for 5K runs in your area and start training before it for you to make a prolific difference in people's lives. There are many runs you can sign up for as well as a variety of causes you can choose to run for. The money collected goes toward helping those in need of funds to better their lives.
Build Bonfires
Summer nights are a great time to build Bonfires and have parties. You build a bonfire in your backyard and invite friends and family over to your home. You can also make drinks and prepare some light food to entertain your guests and family at the bonfire. This can also be a good way to strengthen your bonds by sharing stories and laughing the night away.
Make a Summer Playlist
Listening to songs from your favorite artist is a great way to spend your summer. You can compile a list of song tracks from your favorite artists and organize them into genres to make a playlist for your summer vacation. This can be great for road trips or when you host your friends and family over at your house.
Go Camping
Going camping is a lucrative way to spend your summer vacation. You can organize a short camping trip with your friends or family to go camping. Camping is a good way to enjoy nature and the outdoors with your loved ones.
Build a Sand Castle
Going to the beach is a good opportunity for kids to build sand castles. This is a fun activity for kids and enriches the creativity of a child's mind. The warm summer weather is a good factor as it gives children the opportunity to build sand castles on the beach.
Climb a Tree
Summer is a good time to explore the outdoors with the family. You can take walks in the woods by following a notable trail and climbing trees. Climbing trees is a fun exercise for both kids and adults. It is a good way to enjoy the outdoors during summer.
Summer gives people the opportunity to explore their interests and enjoy the outdoors. The warm weather during summer provides a good setting to host gatherings as well as fun parties at your home. It also benefits fitness enthusiasts as they can do their exercises outdoors and enjoy the scenery. Summers can be a good season for everyone if spent wisely and taking necessary precautions before commencing certain outdoor like handling dirt bike equipment as well as indoor activities to avoid going into the emergency room because of an accident. You should also consider pool excavation if you plan to use your pool this summer.