6 DIY Home Improvement Projects You Can Conquer Over the Weekend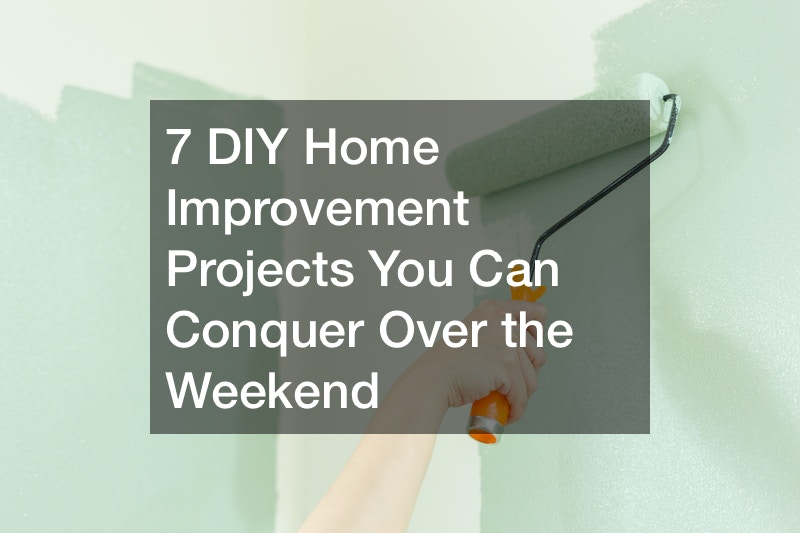 If you've been spending more time at home than you once did, you've probably started to notice some things about your house that are less than ideal. Maybe your paint job has started to chip. Perhaps your decor is looking more outdated than you remembered. Either way, as you've quarantined, you may have been inspired to start looking into some of the best DIY home improvement projects.
Although about 40% of all consumers have DIY home improvement projects in mind for their post-pandemic plans, you don't need to wait until the pandemic is over to get started. There are plenty of projects that you can tackle before we're able to start visiting each other — and you may as well take advantage of the time that you have on your hands.
But even if you aren't seeing people or leaving your house as often as you once were, you'll still have things that you need to take care of, right? For most of us, this is going to include work, school, and family commitments. But the reality is that you can't take other commitments and use them as an excuse to put off the best DIY home improvement projects. In fact, there are a lot of amazing DIY home improvement projects that you can take care of over a weekend. And you don't have to wait until your house is showing true wear and tear to begin working on them. Even newly built homes could use some TLC and there are a lot of small-scale projects that can make an already great home even better. With that being said, let's explore some of the best short-term projects that you can take on to make your home better.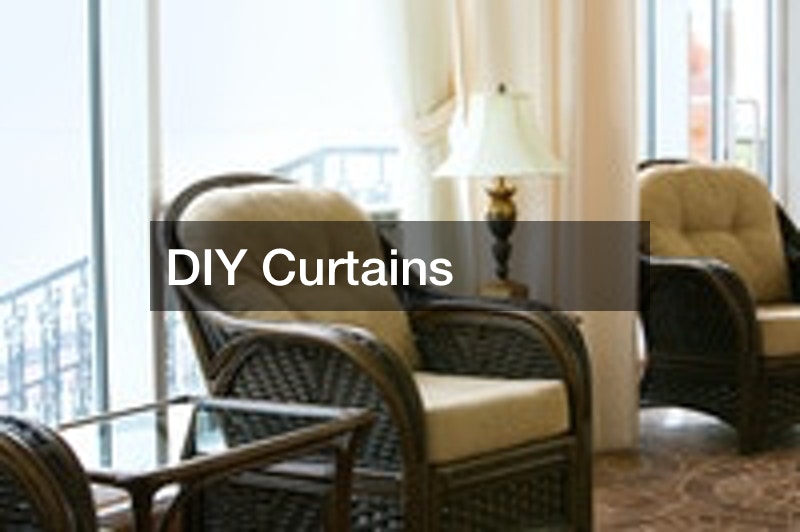 1. DIY Curtains
You may not immediately think about DIY curtains when you picture yourself tackling some of the best DIY home improvement projects. But everyone needs window shades of some kind — not only for their aesthetic appeal but to enhance overall energy efficiency. Curtains just happen to be some of the most aesthetically appealing ways that we can keep light from infiltrating our homes.
DIY curtains may sound intimidating at first, but they're much easier to make than you might think. You don't even necessarily need a sewing machine to create your own curtains. By using adhesives, you can turn some of your favorite fabrics into fantastic window treatments. Some tutorials can actually help you make curtains entirely out of tape, though be advised that these types of designs aren't necessarily for those who aren't ready for more adventurous styles. Curtains can also potentially be made from sheets, especially with the help of good drapery rings, and towels can be made into small kitchen window curtains. If you do have a sewing machine and are ready to use it, curtains often don't require much stitching. Just pick out the right fabrics, look up a simple pattern, and get ready to make your curtains. Be prepared to map out the length of fabric that you'll need. It can be difficult to make curtains if you don't make careful measurements relating to your windows first. But don't worry if your first attempt isn't perfect. You may want to do a trial run with cheaper fabric before making your official curtains.
2. DIY Tile Mosaic
There are a lot of reasons why DIY tile mosaics can be among the best DIY home improvement projects that you can take on over a weekend. Making a tile mosaic not only adds a bit of flair and style to your home, but it can also allow you to create something on an artistic level and to test your artistic instincts. For that matter, tile mosaics can be relatively cheap to make but look as if you spent a lot of money on them. While there are mosaic kits that you can buy online, you may also want to use any leftover porcelain tiles that you may have from a previous home improvement project. Glass mosaics are also popular, although these can require a bit more work.
The question that you may ask is what kind of DIY projects would involve tile in the first place. There are actually a lot of different uses for tile mosaics. You could create a mosaic to replace your standard door numbers for your house. This could be a great, small, and easy-to-make accent for your house. Among the best DIY home improvement projects involving tile mosaics are homemade table tops, which are beautiful and excellent means through which you can innovate the artistry of your home. Birdbaths and flower pots can also be decorated with mosaics if you would like to play around with different designs. The sky is the limit when it comes to mosaics, and there is much that you can do to change designs to accommodate your interests and needs.
3. DIY Backyard Pergola Decoration
If you have a pergola in your backyard already, you're in luck. This piece of outdoor decor is often seen as attractive and can even increase a property's overall value if it is sold along with the property. But even if you're planning on keeping your house for the long term, there are a lot of aesthetic benefits that come with sprucing up your pergola. For that matter, it's not overly difficult to do so. There are lots of different options if you think that decorating your pergola is one of the best DIY home improvement projects you could take on over the weekend.
Some people decorate their pergola in ways that are meant to cater to specific events. For example, if a wedding or a garden party is being held in your backyard, you may want to decorate your pergola with lush, fresh flowers. It's not difficult to weave blossoms, vines, and ivy through your pergola's structure. If fresh vegetation is a bit too expensive, too short-term, or too complicated for you, another alternative would be affixing hanging plants to your pergola. If relaxation is key for you, then a hammock could a great option. Otherwise, you may want to consider adding a shield to your pergola, which can block out the sun and allow you to enjoy your outdoor decor a bit more easily. A pergola is a great place to take a nap outside, and these additions can make that a bit simpler. If you'd like a bit of nighttime ambiance, however, string lights are popular and simple additions to pergolas. Pergolas are surprisingly versatile and easy to decorate. You could even add a swing set or a wooden swing to your pergola in order to revamp it a bit. All of these projects are fairly simple and you should be able to get them done over the weekend.
4. Refresh Your Cabinets
Cabinets are surprisingly important. Consider how much space they take up in your kitchen and how they anchor the design of the kitchen overall. But they are prone to wear and tear, so they eventually tend to require replacement — or at least some refreshing. Now, cabinet replacements can take some time and money, and you may not be quite prepared to invest either. But you can get a similar effect by refreshing your cabinets. This is one of the best DIY home improvement projects to tackle over the weekend. The more basic your kitchen cabinets, the easier it will be for you to upgrade them. Perhaps one of the best ways to upgrade your cabinets is to explore cabinet painting.
You don't need to hire professional painters in order to give your cabinets a great refresh. You simply should take the time to figure out what kind of paint will best suit your purposes, buy some paintbrushes and rollers, and move on with the project. Keep in mind that matte paint tends to show marks and smudges more easily than glossy paint, which is why a lot of people choose glossy paint for their cabinets. Furthermore, you should think carefully about how the color that you choose will work with the rest of your kitchen. You might need to consider changing your kitchen's general color scheme if you want to make your kitchen a much bolder color in general. That, however, may not be the type of project that you can accomplish over the weekend.
5.Create An At-Home Beauty Spa
You may not feel like you can convert your bathroom into at-home beauty spa. Perhaps your bathroom is too outdated or too tiny to accommodate a spa. But if you put enough effort into your project, you could have great results. Plus, out of all of the ideas for the best DIY home improvement projects, this one yields the most relaxing results. You might have to work hard to get exactly where you want to be in terms of your home beauty spa, but there are some tricks to follow that will help make even the smallest of bathrooms seem more like a spa.
For one thing, you may want to add in some accents, perhaps in a gold hue for warmer, more relaxing tones. A small bathtub caddy can also make it easier for you to reach what you need when you're relaxing in the tub, whether you're reaching for your natural bar soap or a bottle of bubble bath. Try to create a space where you can arrange some soft, lovely-smelling candles. Decorate your bathroom walls with art that best evokes the feeling that you want to experience when you're taking a long soak in the tub. Some works of art, especially landscapes, can even make your bathroom feel a bit more spacious. You should also do a general cleanup as you're turning your bathroom into a beauty spa. Throw out old dispensers and scrub the floors. Consider this a great time to start fresh.
6. Organize Your Closets
If you're looking for a relatively simple project to handle over the course of one weekend, you should consider organizing your closet or closets. It's all too easy for a closet that began as clean and organized to become cluttered and hard to navigate. The best way to organize your closet is to take on an entirely new approach to cleaning it, first removing everything that you really don't need in the closet to ensure that there is as much space available as possible, then moving on to organizing. Make sure that items like belts and ties are hanging off of hangers rather than balled up and put aside. This is a part of ensuring that every item in your closet has a place. The more specified spaces there are in your closet, the less likely you will be to have to deal with items getting lost.
A lot of the best DIY home improvement projects have to do with maximizing space and getting your closet organized is no different. Seasonal clothing, for example, should be packed up and removed when you're not wearing them. Additionally, you should utilize folding shelves as closet organizers, as this will make it easier for you to keep items separate from each other. If you need to have a lot of clothes, you can choose add-on clothing rods in order to maximize the hanging space in your closet. Boxes and baskets can be used for smaller items, helping you make the most out of your closet while at the same creating an attractive space.
There are a lot of things that you need to keep in mind when choosing the best DIY home improvement projects for your home. You need to make sure that you aren't taking on more than you can handle. There is no point in starting a project that you might not be able to finish. Additionally, however, you should make sure that you don't need to worry about your finances when taking on a DIY project. The last thing you want is to stop halfway through a project because you can't afford it anymore.