8 DIY Home Projects You Should Try This Year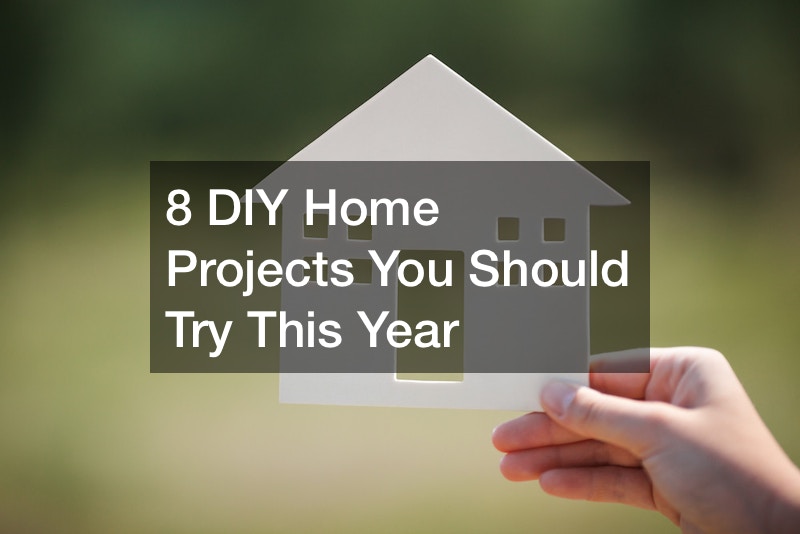 As the seasons change, we feel the undeniable urge to spruce up our living spaces. There's something incredibly satisfying and downright transformative about diving into some good old-fashioned do-it-yourself (DIY) home projects. Regardless of your experience level or whether you're just dipping your toe into the enormous world of home improvement, guess what? There are numerous projects available that can revive your living sanctuary. From revitalizing your worn-out floors to creating an outdoor hangout haven, in this article, we'll look at eight exciting DIY projects that could be your ticket to home paradise this year.
1. Refinish Your Flooring
Picture this: you've walked across those familiar floors countless times, and they've faithfully supported your every step. But as time passes, a few dings, scratches, and faded areas start to appear, revealing the passage of time. Before throwing a rug over imperfections, why not consider a game-changing DIY project that could transform your living space from the ground up?
Flooring installation isn't just about restoring aesthetics; it's about rekindling the essence of your home. Consider the possibility that the elegant tile or the wood grain you fell in love with can once again serve as the centerpiece of your interior design. Here's another interesting fact: a recent poll by Floor Trends Magazine revealed that more than 64% of homeowners who choose to refinish their floors have a considerable increase in overall happiness with their homes.
But wait, there's more! Not only can this increase your happiness, but it can also increase the value of your property. Prospective buyers might be interested in entering a space with newly laid floors. It's like a secret weapon for impressing friends, relatives, and potential homebuyers alike. And yes, this DIY offers a newfound passion for your living space that you never imagined possible, whether dealing with durable hardwood, timeless laminate, or fashionable tile floors.
2. Clean Your Furniture
Everybody has their favorite seat on the couch where they can lose themselves for hours in a book, a movie, or just daydreaming. However, as time passes, our dependable sofas take the brunt of our daily lives – from spills and crumbs to those warm blankets that leave a trail of fluff. It almost seems as though these pieces of furniture are storing our memories. Fear not, though, as there is a do-it-yourself project that may give your couches a new lease on life and restore them to their former glory.
Enter the realm of DIY furniture cleaning. It's a trip that entails restoring the aesthetic appeal of your living room centerpiece while helping create a healthier indoor atmosphere. You might be surprised to find that, according to The Spruce, frequent cleaning could add seven to 15 years to the lifespan of your furniture.
Imagine sinking into a clean sofa that exudes a sense of freshness. You can revitalize your sofas by utilizing a few straightforward cleaning solutions and simple upholstery care instructions. The benefits are numerous: in addition to giving your living room a fresh coat of paint, you'll also create a warm, inviting environment that will embrace you with coziness. Your sofas deserve a well-deserved spa day, so roll up your sleeves, grab an upholstery brush, and get ready to give them one. They will be grateful with every stroke of a brush.
3. Clean Out Your Home
We've all been surrounded by stacks of odds and ends, possessions amassed over the years, and an overwhelming sense that it's time for a change. Clutter is a universal reality because it can do more than simply take up space; it can also infiltrate our psyche and cause anxiety and uneasiness. A surprise finding from research by a national association of professional organizers is that people spend an average of 55 minutes daily looking for lost goods in the clutter.
It's time to start the revolutionary path of decluttering if your living area needs fresh air. This DIY project entails more than just rearranging the furniture; it also entails clearing your space of extra items to make room for a newfound sense of peace. But the advantages go further than that. With each outdated item you say goodbye to, you open the door to recycling or donating it, adopting a more sustainable way of life.
Here comes the fun part: finding the best way to tackle the clutter. Consider taking a risk and hiring dumpster rentals, enabling you to quickly and easily eliminate the excess. Alternately, explore the world of inventive storage options that integrate with your living areas. Imagine a house where everything is in its proper place, and there is harmony rather than chaos. Making space for a peaceful existence, a clearer mind, and a future full of the things that matter is what you're doing when you dive into this DIY project.
4. Install New Lighting
Imagine your living room bathed in the gentle embrace of warm lights, or perhaps your workspace's colorful play of light and shadow inspires your imagination. Lighting is about creating an ambiance that appeals to your emotions and improves your daily experiences; it's not just about illuminating a space. According to Arch Daily, well-designed lighting can affect mood and productivity, a game-changer in interior design.
Become a master of the light by taking on do-it-yourself lighting projects. Installing custom lighting fixtures involves more than just picking a bulb and turning a switch; it also entails setting the mood while meeting practical needs. From sconces that offer a touch of sophistication to elegant pendant lights that dangle, the options are as endless as your imagination.
But it's not all about aesthetics. You can meet certain needs in your environment thanks to custom lighting. Whether looking for a warm reading corner, a well-lit kitchen area, or a peaceful retreat, DIY lighting projects allow you to adjust the light to your activities and tastes.
It's a style of art that encourages you to experiment with contrast, color, and placement, transforming your living spaces into dynamic canvases. Therefore, remember that with DIY lighting, you aren't just illuminating your home; you're creating an experience that connects you and your loved ones, whether you're hoping to infuse warmth into a corner or make a big statement with a chandelier centerpiece.
5. Fix Up the Garage
When you walk into your garage, are you met with piles of boxes, jumbled garden tools, and the subtle scent of dust? If your garage has turned into a messy storage corner instead of the useful area it could be, you're not alone. But what if we told you that transforming this forgotten space may help you organize your life and increase the value of your home?
According to Home Owners Alliance, transforming your garage from a disorganized mess into a functional space might add up to 20% to the overall worth of your house. Imagine that a location you probably haven't given much thought to could be a valuable asset in real estate. And the best part? The key to realizing this potential lies in collaborating with a local garage door company.
Yes, this DIY project might need a little expert help, but it's a cost-effective investment. Consider all the options, such as converting your garage into a spacious workshop where creativity can flourish, a gym where fitness is prioritized, or a well-organized storage space where everything has its place. A garage door company may assist with maintenance, improvements, and even total overhauls, transforming your garage into a useful addition to your living area. So, even if it seems like a lot of effort, try to picture the benefits in the future, which will include a well-organized space fitted to your requirements and objectives and increased house value.
6. Create a Home School Room
The nature of education is changing, and our homes have become extensions of the traditional classroom. The value of a dedicated study environment has become increasingly apparent as more parents choose homeschooling or online learning for their children. The term 'home school' has taken on a whole new meaning; therefore, creating a distinct space within your home for education is now more important than ever.
One can't stress the importance of a thoughtfully planned learning environment. It involves more than just setting up desks and chairs; it should be a space that encourages involvement, focus, and creativity. The environment in which learning occurs can be as influential as the curriculum itself. You can design a place that develops with your child's academic journey by consulting real estate agents for creative space ideas and drawing inspiration from the best preschool surroundings.
This DIY project includes more than aesthetics, whether rededicating a corner to academic pursuits or remodeling a whole room. It involves fostering a setting where daily living and education can coexist in harmony. Imagine working in a setting where problems are solved, tales are told, and discoveries are made while enjoying all the conveniences of home. This flexible environment can also readily change from a classroom to a creative refuge when the educational landscape changes.
7. Clean Your Drains
When our drains decide to play hide-and-seek, water, a source of life and tranquility, may become an annoyance. A clogged drain is more than a nuisance; it also increases the risk of water damage, bad odors, and an unpleasant living environment. Believe it or not, the average home wastes roughly 10,000 gallons of water annually, according to the US Environmental Protection Agency. Therefore, a professional is required for blocked drains. Therefore, it's time to explore a do-it-yourself project that can guarantee the uninterrupted flow of this crucial resource before you find yourself ankle-deep in murky water.
Keeping an eye on your drains will protect your house from potential dangers and the nuisance of delayed water flow. It's similar to treating your plumbing system to a well-earned spa day. But here's the thing: the goal isn't simply to remove the entire blockage. Even a seemingly unimportant slow drain may indicate a hidden, more serious problem. That's where DIY drain cleaning comes into play.
You could use a chemical drain cleaner or hire a drain cleaning contractor, but why not use an environmentally friendly alternative? Baking soda and vinegar are natural cleaners that can be equally effective and less damaging to the environment and your pipes. But, and this is crucial, it's totally fine to bring in the professionals if the work at hand appears out of your league.
Fix your clogged drains to avoid future and potentially expensive issues. After all, smooth water flow isn't just a convenience; it's the cornerstone of a comfortable, functional home. Making sure your drains are in top shape is a project that redefines the idea of home maintenance.
8. Create an Outside Hangout
Imagine yourself in your backyard, where you can unwind and enjoy the world's natural beauty. Outdoor living areas have developed beyond merely being an afterthought; they now serve as an extension of our houses and a chance to create a cozy refuge. This brings us to an exciting do-it-yourself project that can alter how you view your home.
Creating a comfortable hangout in your backyard can be both a rewarding project and a wise investment as outdoor living space trends gain momentum. Super Money states that a well-designed outdoor space can raise your property's value by 12%. That would be the equivalent of lavishing every square inch of your home, inside and out.
So, what's the secret to crafting this outdoor haven? Think beyond a simple patio set. Imagine a setting where discussions float around a roaring fire pit and food sizzles on an outside grill. This is where propane companies enter the picture.
With its ability to be used as a clean-burning fuel for cooking and heating, propane has emerged as a versatile companion in the design of outdoor retreats. You may get the tools you need to create your outdoor refuge by contacting nearby propane businesses. Propane perfectly combines functionality and ambiance in anything from fire pits to outdoor heaters and grills, enabling you to take advantage of your outdoor hangout all year round.
Imagine the unlimited possibilities: from starlit gatherings to solitary moments of peace, your outdoor hangout may be customized to fit your lifestyle and preferences. By starting this DIY project, you're making a room and constructing an experience that redefines how you relate to your home, the great outdoors, and the art of relaxation.
In conclusion, DIY home projects are a great way to update your living space, raise the value of your home, and modify your surroundings to suit your particular needs. Every project, whether refinishing your floors or building a hangout area outside, has its advantages. Remember to prioritize safety and creativity to get the best results for your home as you work on these projects.