9 Tasks to Ask About At Your Home Maintenance Center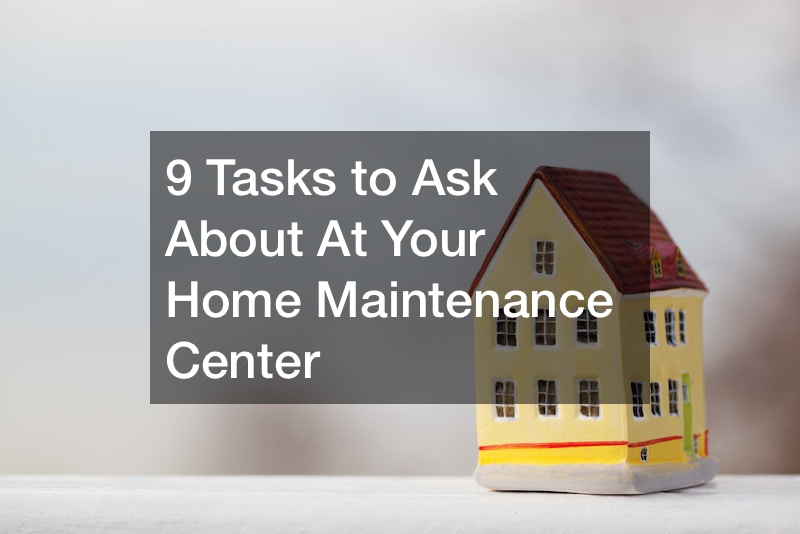 If you're a homeowner, you know how crucial keeping your property in tip-top shape is. Regular maintenance and renovations can add value to your home, improve its appearance, and prevent costly repairs. But with so many tasks that need to be done, it can take time to know where to start. That's where a home maintenance center comes in.
A home maintenance center is an excellent resource for homeowners who want to take the best care of their property. These centers offer a range of products, services, and advice to help you tackle everything from minor repairs to major renovations. The people working at these facilities can take you through many home improvement tasks and ensure you are armed with the best tools to complete the project. If you have some expertise and want to do some DIY work around the house, you should research maintenance and home renovations that you can complete yourself under the guidance of these pros.
In this article, we'll look at nine essential tasks to ask about at your local home maintenance center. These tasks can make a big difference in your home's value and appearance, so don't skip them!
Your Crawl Space
The crawl space is one of the most critical areas of your home that you may only think about sometimes. If your home has a crawl space, keeping it in good condition is essential to prevent potential problems. There are three primary areas to focus on regarding crawl space maintenance: repairs, insulation, and waterproofing.
When you visit your home maintenance center, ask about crawl space repairs. Look for products that can help repair damage to your crawl space floor or walls. Any cracks or holes in the crawl space can lead to moisture or pests entering your home. Additionally, ask about products that can help support the floor joists in your crawl space if they're sagging or showing signs of damage.
Insulation is another crucial part of your crawl space's maintenance. Insulation helps to prevent energy loss and regulate the temperature in your home. However, insulation can damage or deteriorate over time, leading to efficiency issues. Ask your home maintenance center about the insulation types best suited to your crawl space. They can recommend and provide the right tools to help you install or replace the cover insulation.
Finally, waterproofing is crucial to keep moisture out of your crawl space. Water can lead to mold, mildew, and even structural damage. If you're experiencing moisture issues in your crawl space, ask your home maintenance center about waterproofing products. They can help you find the right system to keep your crawl space dry, including sump pumps, drainage channels, and vapor barriers.
Getting a Pool
When the warmer months come, a pool can be a fantastic addition to spending time with family and friends. If you're considering the installation of an above ground pool, your home maintenance center is an excellent starting point. They have everything you need to get started, from pool kits to chemicals, accessories, and advice.
Above ground pool kits make installing a pool in your backyard accessible without extensive excavation. At your home maintenance center, you'll find a range of pool kits, including round and oval-shaped pools. Many kits come with all the necessary supplies, including the collection, ladder, filter, pump, and hoses.
Suppose you're looking for something larger or deeper that may require excavation. In that case, your maintenance center might recommend above ground pool companies that specialize in installing more extensive or custom pools.
When you visit your home maintenance center, ask what sizes and shapes they have available and the requirements for installing an above ground pool. They can advise selecting the fitting kit for your budget and backyard space. Additionally, they can recommend a professional installer or above ground pool companies to help you with the installation if needed.
Fixing Your Electric
When it comes to electrical systems, safety should be your top priority. If you have electrical issues in your home, seeking professional advice is crucial. While the team at a home maintenance center can help you with simple repairs, if the fix is complicated, you may need to consider electrical service with a contractor.
Your home maintenance center is an excellent resource for electrical repairs and advice. The team can guide simple maintenance, such as replacing a damaged light switch or outlet cover. They can also recommend the right tools and supplies to complete the repair safely.
If the electrical issue is more complicated, the maintenance center may advise you to seek the help of an electrical service. Electrical contractors are licensed professionals with years of experience working with electrical systems. They know to diagnose and fix complex issues safely. They can help you install new wiring, upgrade your electrical system, or troubleshoot and repair problems you may need help handling.
Installing a New Roof
Whether installing an entirely new roof or making minor roof repairs, your home maintenance center can help. Many roofing components are available, including shingles, flashing, and gutters. They can guide you through minor roof repairs and provide helpful advice to ensure you're getting the right products for your roofing needs.
If you're considering installing a whole new roof, it's essential to seek the advice of a professional local roofing company. Your home maintenance center can recommend a local roofing company that can provide consultation and advice on the best type of roofing system for your home. Roofing contractors have the knowledge and expertise required to install a new roof safely and efficiently.
Even if you don't need a new roof, minor repairs, and maintenance are essential to prevent more significant issues from developing. Your home maintenance center can help by providing the right tools and materials for the job. For example, if you have leaks in your roof, they can help you choose the proper sealant to stop the leak before it causes any damage.
If you need help determining what roofing components you need, feel free to ask for help. The team at your home maintenance center is there to answer any questions and provide guidance on the best products for your particular situation. They can also offer advice on DIY repairs, ensuring you repair safely and correctly.
Getting a Well
If you live in a rural area or are looking for a cost-effective way to access water on your property, a water well might be the right solution. While installing a water well can be complex, your home maintenance center can provide the advice and products you need to do the job.
When you visit your home maintenance center, ask about water well installation kits. These kits come with all the necessary components, including the well casing, pump, pressure tank, and other accessories. They can also advise you on the type of well to install, depending on your needs and the location of your property.
It's essential to understand that water-healthy installation can be a complex process and may require the assistance of a professional. If you're uncomfortable installing the well yourself, your home maintenance center can recommend a local well drilling contractor to help you do the job safely and efficiently.
If you're considering installing a water well on your property, be sure to do your research and speak to a professional before getting started. The team at your home maintenance center can provide valuable advice and guidance to ensure your water well is installed correctly and safely.
Remodeling Your Kitchen
If you're considering remodeling your kitchen, one of the most significant changes you can make is the addition of cabinets and storage items. Increased storage capacity and better organization can make your kitchen more functional and enjoyable. When you visit your home maintenance center, they can provide valuable advice and resources to help you select and install suitable cabinets and storage items for your space.
The first step in remodeling your kitchen with cabinets is choosing the right type of material. Your home maintenance center can guide you through the various options, including wood, laminate, metal, and more. They can also help you select the right style and color to match your kitchen's aesthetics.
To maximize storage space, you can add customized cabinets or pantry units designed to fit your kitchen's unique space. This can help you make the most of every inch of your kitchen, whether with cabinets that go to the ceiling or roll-out shelving to make access easier.
Installing New Floors
When upgrading your home's flooring, one of the most significant considerations is the material's durability, especially for high-traffic areas. Waterproof hardwood flooring is a relatively new product that provides improved durability and a stylish look for any room. When you visit your home maintenance center, they can guide you through waterproof hardwood flooring and other types of flooring for easy installation.
Waterproof hardwood flooring has a core that helps prevent potential water damage, making it a good option for bathrooms, laundry rooms, and kitchens. Your home maintenance center can provide information on the different types of waterproof hardwood flooring available, including material, thickness, and plank width. They can advise which options will work best for your space and budget.
Another popular option for flooring upgrades is luxury vinyl plank (LVP) flooring. LVP flooring provides a similar look to hardwood without the added maintenance requirements, including refinishing or sealing. Also, LVP is often more cost-effective and easy to install than traditional hardwood flooring. Your home maintenance center can provide information on the different types of LVP flooring available, including designs, colors, finishes, and installation process.
Pumping Your Septic
A septic system will require ongoing maintenance that your home maintenance center can take you through. Whether you need tools for keeping up your system or seek septic repair services, a local store can offer advice on the services for you.
Although you may want to avoid taking on a large-scale job like removing a septic system, you can have a contractor help you with pumping your septic system out through a truck booking or upgrading your septic system to a larger tank.
A home maintenance center can assist with helping you find an excellent contractor to improve your septic system or booking equipment that you can use to add or remove septic tanks from your property.
Installing an HVAC System
Finding the best HVAC company in town can be an uphill task, especially if you do it alone. Fortunately, you can easily visit a home maintenance center to find an HVAC company.
Home maintenance centers are a one-stop shop for all your home improvement needs. These centers stock everything from plumbing and electrical supplies to paint and hardware tools. And because they cater to homeowners, most of these centers have a directory of vetted HVAC companies that they can recommend to you.
When you visit a home maintenance center, approach an attendant and ask for their recommendations on the best HVAC companies in town. They will have several good suggestions for you to choose from. The same attendants may also be able to help you with inspection services or new tools for your HVAC system to keep it more efficient, like improved furnace filters, smart home thermostats, and other solutions that could help you improve your HVAC system without a professional installation.
Home maintenance centers are an excellent resource for homeowners looking to tackle home improvements and maintenance tasks. Whether you're a seasoned DIYer or a beginner, these centers have everything you need to do the job correctly.
Beyond the supplies and tools available, the professionals at these centers are also a great resource. They have a wealth of knowledge to help you troubleshoot problems, offer advice, and even recommend the best local contractors.
Most importantly, the professionals at these home maintenance centers know when a DIY project is a good fit for a homeowner and when the job would be better left to a pro. They can help you avoid costly mistakes and lead to a successful outcome.