What Are Some Fun Home Improvement Ideas You Can DIY With The Kids During Summer Vacation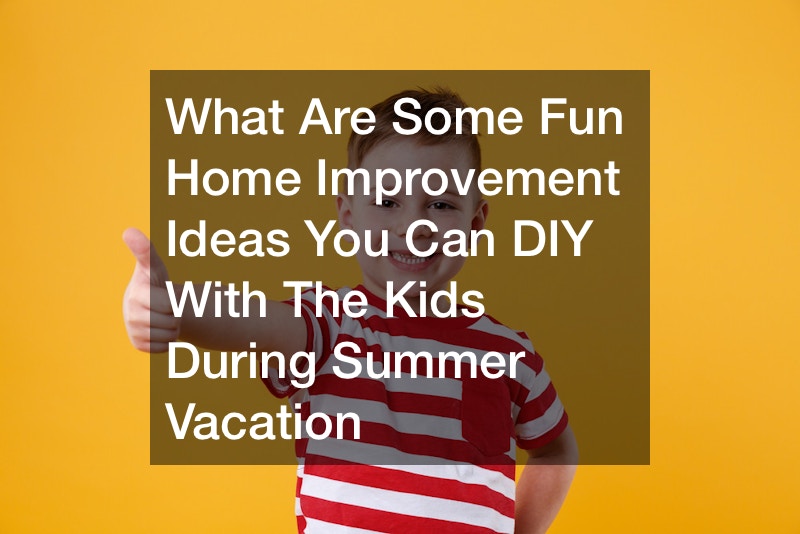 Summer vacations can seem long, with plenty of idle time for your kids. A fun way to bond and teach your children lifelong skills is to find something meaningful to do with them. What better than joining hands to work on fun, easy DIY home improvement projects?
DIY home improvement projects are great because they don't cost nearly as much as professional renovations, and the few upgrades here and there can significantly increase the value of your home.
Whether or not you and your kids have worked on a DIY project before, you can always do something at home to make it look and feel better. Wondering where to start? Join the home renovation club bandwagon with the ten brilliant ideas below.
Painting The Outside of a House
After years of living in the same house, your home could need a fresh coat of paint to retain its striking looks. While many choose to leave it to the professionals, painting the outside of a house can't be too hard, especially if you've done it before. Painting your exteriors with your little helpers in tow will be super fun.
Besides paint, other tools you'll need to paint the outside of a house include:
Paintbrush
Paint roller
Extension ladder
Paint tray
Rags
Painters tape
1 to 5-gallon empty bucket
Be sure to wear protective eyewear and overalls before starting. Prep the external surfaces correctly and mix the paints thoroughly to guarantee excellent results that will last. Remember to involve your kids by assigning tasks like handing over the tools, helping you paint, or wiping spills.
Areas outdoors that could use DIY paint jobs include outdoor furniture, patio, exterior trim, garage door, front door, mailbox, garden fence, external walls, etc.
Build Fence Gates
A fence gate is a security structure that doubles as a decorative feature. The fence gate keeps intruders out and stops the pets from straying away. They are also a cozy feature that adds character to an otherwise bland-looking property.
Tools you'll need to build simple wooden fence gates include:
Screws
Tape measure
Square
Pressure treated two by fours
Two gate hinges
Gate latch and handle
Four corner brackets
Cedar fence pickets
Fence gate building is a challenging home improvement project ideal for the intermediate or seasoned home renovation club DIY enthusiast. It requires a higher level of skill and expertise that a beginner may lack, especially if you or your kids aren't quite the handy 'men.'
To build a proper fence gate, one must prep, mark, cut, and attach the frame pieces correctly before hoisting the gate on the posts. Such a project is excellent if your kids are older teens or pre-teens as they can help carry the heavy stuff; they are precise with the measurements and can, in the process, learn safety measures and how to operate simple tools and electric machines.
Spray Pool Deck
The pool is probably where you and your kids spend most of your time off school during the long summer vacation. In your quest to prove yourself worthy of a position in the home renovation club, why not do something simple to give your pool a much-needed facelift?
The pool deck is a great place to start as DIY spray pool deck home improvement projects become increasingly popular. Over time, traditional concrete tends to crack and can be too hot to walk on under the scorching sun. Spice things up by opting for a more unique and aesthetically pleasing option; the spray pool deck!
Spray deck is one of many outdoor resurfacing methods that's ideal for external areas like:
Pool decks
Patios
Driveways
Sidewalk
Entryway, etc.
The spray pool deck stands out for its decorative appeal and reduced costs. Plus, you can place it as a cover-up on top of old, unsightly concrete. It's safer for the pool area because it has natural temperature control, and its surface is non-skid.
Sprucing up your pool area as a DIY project with your little ones can be entertaining and gives your outdoors a cleaner look. Properly prep the surfaces around your pool by stripping off old paint and other finishes before starting. You want the result to appear professionally done with a beautiful finish.
Basement Wall Crack Repairs
The basement is usually the one place in your home that's the most important but receives the least attention, whether during cleaning or DIY home improvement. The basement is just as important as any other room in your home. Whether your basement also works as a garage, storage space, or extra bedroom, the sight of cracks can raise much concern. Suppose the cracks on your basement walls are large and seem to increase in size by the day. In that case, you must call the professionals right away because it could hint at a structural issue that could compromise the integrity of your property if it goes unchecked.
Luckily, it's often nothing to worry about because cracks in the basement are tiny and easy to cover up without needing to call the inspectors. Many homeowners can do basement wall crack repairs on their own.
Avoid working on a damp crack. Use a blow drier to dry the area before starting the repair work. Begin by scraping the epoxy or plaster compound into the crack using a paint scrapper and allowing it to dry. Sand the dry excess to create a smooth surface on the wall and paint it to create a seamless finish that matches other walls in the basement. You can fill the crack and let your kids do the final paintwork.
Louvered Pergola
A louvered Pergola is one of the most intriguing outdoor structures to give your home a drastic functional and aesthetic improvement. It's an adjustable roofing structure that you could build in your back or front yard to provide coverage from rain, snow, sunlight, or sleet.
The home renovation club recommends a louvered pergola as an excellent DIY home improvement idea for the seasoned handyman to refurbish their home. If you and your family need a decent place to hang out outdoors during summer, a louvered pergola is an excellent DIY home improvement idea to get started on.
A louvered pergola has many customization options and lets you run wild with ideas to make something unique that suits your purposes. For example, you and your kids could design a louvered pergola with outdoor curtains, custom colors, ceiling fans, and accent lighting to make a magazine-worthy, state-of-the-art structure.
You could choose between wood, composite, vinyl, or aluminum louvered pergola and fabricate a durable structure that will serve you throughout the year for decades. Think of it as an outdoor living space that you and your loved ones could enjoy and boast of how you made it yourselves!
Stone Masonry
Stone masonry seems pretty simple when looking at a finished brick wall or path. However, it takes plenty of time and physical power to get it done. For many DIY experts in the home renovation club, the focus isn't so much on the time and effort it takes but on getting the job done.
Stone masonry is an excellent choice for a DIY home improvement project because whatever you build is guaranteed to be of high quality and will never go out of style. It's the perfect DIY project for the ideal creative and their kids.
You'll need the old-school brick and mortar and some bricks/stones to kick-start your DIY stone masonry project. Other tools may include a wheelbarrow, spirit level and a string line, hammer and chisel, and trowel. Projects you could choose to embark on in this category include:
A stone walk
Stone fence
Stone wall
Stonewall retainer
Garden walk
Foundation work
Outdoor steps
Stone paved driveway
Stone columns, etc.
You'll need your kids to help move the stones to the building site by loading them on a wheelbarrow and ferrying them to the backyard. Assign them tasks like splitting the raw cut stone into the same size pieces to create a uniform look for the project.
Stone masonry DIY projects are great because you can choose stones with a particular texture and color that matches/compliments your property's exteriors. Stonework blends in with any look, whether yours is a modern home or a traditional home with a rustic edge.
Stone masonry is an excellent opportunity to teach your kids the discipline that comes with staying committed and finishing what they start. To a parent, a simple DIY project teaches your kids how to use creativity to plan and execute a project. Plus, it's an opportunity to create unforgettable memories and lessons they'll probably carry on as adults.
Tree Trimming
If you have trees and shrubs in your compound, there's a good chance that some or all of them need some TLC. Watering and mulching are great places to start when getting your kids acquainted with outdoor responsibilities. A word from the home renovation club is that tree trimming is an even more exciting endeavor for your little ones.
Large trimming jobs should be left to the professionals, especially when planning to prune a large tree with plenty of overgrowths. Start small by trimming eye-level shrubs and small trees around your property instead. Avoid trimming trees close to the power line or public road to avoid putting yourself and others in danger.
Ensure you have the right tree trimming tools and prior experience because if done wrong, tree trimming can compromise your plants' health and well-being. Let your kids learn the do's and don'ts of tree trimming as they learn how to execute a successful DIY home improvement project. Ultimately, you'll instill in them the skills to take care of the greenery on your property and cultivate a sense of care and nurturing for the surroundings.
Grout and Tile Cleaning
Tiles in high-traffic areas, like the entryway, living room, kitchen, bathroom, and walkways, can collect debris, dirt, and dust over time. Nothing is more unsightly than grout collecting in between tiles. Therefore, grout and tile cleaning is a great DIY endeavor for you and your kids to reclaim the dignity of your tiles.
Grout can cause staining and discoloration if left to sit for too long. Irrespective of how thoroughly you clean your floors, they'll always appear unkempt if there's grout between the tiles. This DIY home improvement project is perfect if you want to avoid overworking yourself and your kids, and it is not time intensive.
Choose an effective readymade or homemade grout cleaner to make your work easy. According to the home renovation club, a homemade solution made by mixing dish soap, baking soda, and hydrogen peroxide is an effective product that removes grout. Some use a mixture of lemon juice and cream as a natural whitener for discolored tiles and grout removal. Avoid using harsh cleaners or acidic solutions as you risk permanently damaging your tiles, plus they can be too strong for your kid's delicate hands/skin.
Consider working on small areas at a time, scrubbing and rinsing a few tiles as you go. Urge your kid to get on their hands and knees to scrub the grit with little breaks in between until the job is done. It will be super tiring for them but rewarding to see how clean the place looks.
Stucco Repairs
If you have stucco on your property, some of it could need repair for stains, cracks, mold growth, or peeling. Stucco damage can occur due to moisture or an accident. DIY stucco repair is an excellent excuse to bond and spend time with your kids on summer vacation when things become monotonous.
Essential tools you'll need for stucco repairs, as recommended by the home renovation club, include:
Flat trowel
Dry hawk
Four-inch drywall knife
Wheelbarrow
Rubber grout float
Wire brush
Shovel
Stucco repairs are easy to undertake to avoid major stucco remediation, which can only be done by a professional and usually happens when you overlook minor problems. Consider repainting stucco surfaces on your property every ten years to keep it looking fresh. Also, regularly check for cracks, holes, and other surface damage, applying caulk wherever needed to prevent further damage.
Hardscaping
Hardscaping refers to efforts to maintain and care for the non-living parts/areas of your landscaping. It could be anything from repainting your wooden patio, polishing the paved stone steps in your backyard, or refurbishing your wooden arbor. It qualifies as hardscape if it's an inanimate solid structure/object in your front or back yard made from cement, wood, gravel, or brick.
Hardscaping is a labor-intensive endeavor that aids in supporting and creating a uniform look that blends with your landscaping. It involves weeding the edges close to the patio to create a boundary and shield the grass or plants from erosion.
Ask your kids to help with hardscaping to keep them busy and show them how one properly looks after their home. Feel free to add stylish elements to make your outdoors more attractive. Home renovation club members recommend hardscaping for beginners as it is easy even when you're not a skilled home improvement expert.
As summer vacation kicks into high gear, this is the best time for homeowners to engage in DIY home improvement projects with kids. Having the kids home is a delight when school season is off, but they can wreak havoc around the house if they don't have any activity to engage in to release the pent-up energy. Above are doable DIY home improvement ideas recommended by the home renovation club for you and your kids.