Home Projects You Should Always Leave to the Pros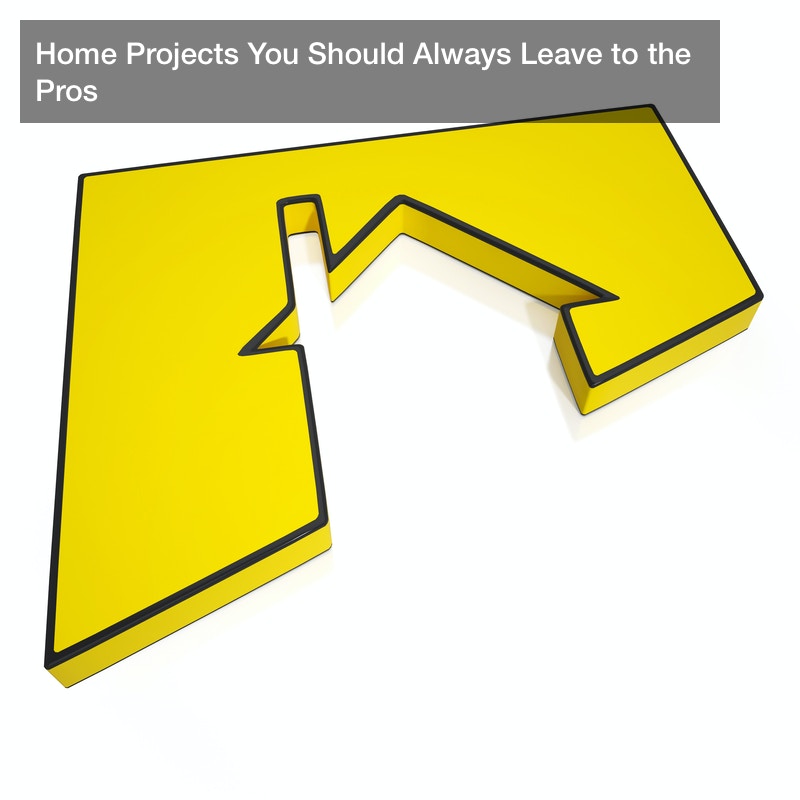 Did you know that the average American moves about 12 times in a lifetime? This means that a dozen times in life, you can expect that exhilaration of moving into a fresh space. When you're handed the keys to a new home, the first thing you want to do is to start making it yours through home improvement. Fresh paint and wallpaper! Flooring and molding! There is so much to be excited about in terms of home improvement.
However, if you see a problem within your new home that's bigger than a standard cosmetic issue, you need to know how much is too much for you. The last thing you want is to be forced to contact an injury attorney for an improper repair job, especially after just buying a home! If you need help finding someone to do honest, reliable work on your home, read on to find out what requires a contractor…and the best ways that you can find someone to help.
Bathroom and Kitchen Remodels
HGTV makes it look so easy when you overhaul your kitchen or bathroom, but in all honesty, these are two of the most complicated projects that you can undertake…not to mention expensive. You can certainly do painting, molding, and whatever else you feel is in your scope of DIY — but when it comes to major issues like tearing out showers, toilets, sinks, or other major appliances, don't try this at home, kids.
Always, always trust a professional to help guide you through a large-scale renovation. Look for a contractor in your area who is well-respected, has good credentials, and can do more than just one thing; a jack (or Jane)-of-all-trades, if you will.
Don't discount popular vetting sites like Angie's List and even good old-fashioned Google Reviews when you're trying to find the right home improvement specialist. Read reviews and decide which contractors look promising to you. Ensure that you ask about credentials and professional licenses, though, as not every state has the same legalities and requirements. Expect to spend some serious time and effort rebuilding your dream bathroom or kitchen, and don't forget to take things into account that you might be overlooking:
Cabinets. This might seem obvious, but don't forget to think about your storage options in your new space. Don't blindly order cabinetry without first measuring your area, looking at pricing options, and understanding what will and will not work in the room. The age-old adage that Grandpappy always told you still stands: Measure twice, cut once. This applies to making big purchases as well. If you don't want to spend big money on cabinets, check out places like the Salvation Army and warehouse surplus stores. You might also look for gently used furniture stores in your area — it's amazing what a fresh coat of paint will do for a used item.
Flooring. It's so odd how, once you paint a room that has gone unloved for some time, the floor suddenly looks dingy in comparison. Even if you think your flooring looks okay for now, expect to have a change of heart once you start making renovations. Look at places like Costco and discount floor suppliers in your area.
Electrical and Wiring Issues
Unless you are a licensed electrician, never attempt to fix an electrical or wiring problem by yourself. Simple things like changing light bulbs and swapping out light fixtures are no big deal, but when you start getting to the heavy-duty projects, it's time to call in a pro. Some of the more hazardous electrical jobs include:
Power lines or downed wires. Never, ever attempt to get near or fix these kinds of problems by yourself. Even standing at a distance can electrocute you, so if you see a downed wire, immediately call your power company. Not only are they licensed and experienced, but they have the right tools and equipment to protect you and your home
Smoke, sparking, or any other sign of distress coming from your electrical outlets. These kinds of signs can start electrical fires. Call a professional immediately to avoid any further damage to your home.
Buzzing in the walls, with or without a hot electrical smell. This is a highly dangerous sign and could mean that your wires are heating up inside your drywall.
There is no shame in reaching out for help when you need it. It's smarter to ask a professional than to risk your own life for the sake of home improvement purposes.
Foundation and Structure Problems
Even if your house passed the inspection with flying colors before you bought it, things can still go wrong after your move-in date. Oh, the joys of homeownership, which go hand-in-hand with home improvement! If you start to notice a literal shift in the house's infrastructure, consider calling in a team of building contractors to take a look. Professionally licensed and state-certified, these teams can look for foundational issues such as:
Danger signs of a crumbling foundation, like cracks and holes
Pest damage like carpenter ants and termites
Leaks, moisture, and signs of rot and mold
If you don't have a crawl space underneath your home, be aware that you may need to contact an engineer to help you with professional damage assessment. You may need to have a hole cut into your subfloor to reach otherwise inaccessible areas. It sounds scary, but it's really not; these are the pros, after all, and they have access to civil engineering equipment that most others don't.
Condemned and Unlivable Areas
Buying a property with areas needing to be torn down can be a tricky business. On one hand, it's exciting to start fresh and get rid of unlivable structures on the property. But on the other hand, you need to ensure that you're following all the correct rules and protocols for disposing of any waste and hazardous products.
There are a few ways that you can deal with waste removal on your property:
Get Rid of It On Your Own. Take note of your state's laws and restrictions about what can and cannot be thrown away. For example, in the state of South Carolina, you are given many different options on how to get rid of toxic waste and unwanted chemicals (paint, cleanser, etc). Look locally to see how best to take care of it.
Hire a Commercial Cleaning Service. It's recommended to hire a commercial cleaning service if it's too much for you to handle. Check out what kind of waste removal services are available in your area. Do a Google search to see which companies have the best reviews, and look into websites and testimonials as well. Make sure that you note what exactly these services cover; likely, the services will vary from business to business. Don't assume that one size fits all in terms of cleaning services!
Huge Pest Infestations
We've all squashed a few bugs in our lives, but when your home is starting to look like one of the Biblical plagues, it's time to call an exterminator. Part of home improvement is taking care of all the nasty houseguests you'd rather not have, unfortunately! It's not always blatantly obvious that you are having a bug infestation at first, though, so look for some of the telltale signs:
What looks like dusty debris along windowsills and outside doorways. This can sometimes mean that the bugs, namely termites, are shedding their wings to start mating season. More bugs = bad news for you.
The presence of more bugs in your house. This is the most obvious sign that you are experiencing some kind of infestation. Take note of where you see them and try and see if you can find where they are coming from. Hold your breath when you do this, especially if you're squeamish; you might find a nest.
Holes, cracks, and what looks like sawdust in places that you hadn't noticed them before. This could be a sign that the pests are starting to chew their way through to make a new home. Gross.
Don't discount other pests that don't have a million legs. Even as cute as they are, raccoons are a very real and very destructive pest in some homes, as are their cousins mice and rats. If you start to see tiny (or large, depending on the creature) chew marks on places like wiring and insulation, it's time to start setting traps. If the problem won't go away with your DIY approach, call an exterminator or pest control as soon as possible.
Major Landscaping Overhauls
Sure, anyone can pull weeds and pour concrete, but what about those major projects, like grading your property? If you've got a problem such as flooding or excess moisture thanks to an uneven terrain, you likely will need to hire someone to help you out. These pros can help you with major landscaping projects that you might otherwise not have the correct skill set or tools to do yourself.
Plumbing Repairs (Beyond Leaky Faucets)
Plumbing is a bit like electrical repairs in that it can become a massive problem very quickly. Doing a quick repair like tightening a leaky faucet is one thing, but if you have a big problem — a burst pipe, a leaking water heater, or something along those lines — it's best to call a professional to guide you along. Plus, misguided home repairs are not a good way to save you money in the long run; when done by an amateur, the repairs are likely not done correctly. This can become expensive in a hurry, between the spread of black mold and damage to the flooring and subfloor.
All Right…So What CAN I Do Myself?
Plenty! In fact, there is so much that you can do yourself that needing to call a home improvement expert is usually the exception, not the rule. Some easy and effective home improvement tips for you might include:
Cleaning up your yard and giving it curb appeal. This doesn't have to cost you a bunch of money; simple tasks like raking up the leaves, cleaning up branches, and mowing the lawn make a massive difference. Plus, when you drive up to your home, you can glow with pride and think "That's my house!"
Sealing any cracks in your windows and doors is one super-effective home improvement tip. Walk around with a caulking gun and some heavy-duty weatherproof caulk, sealing any cracks that you see. You'll be amazed at how much cooler your house stays in the summer, and how much warmer it stays in the winter.
When you give your molding a fresh coat of paint, it's incredible how much of a difference it makes. Not only does the paint instantly freshen your home and make it feel brighter, but painting your molding also helps you to more easily keep it clean.
What Are My Financing Options if I Can't Afford a Renovation?
Look, it's understandable: Home improvement costs a lot of money. When an emergency happens and you don't have the funds to cover it, it can be scary to think about what happens next if you can't afford it. However, don't sound off the emergency notification system just yet; there may be a loan program available. One quick Google search for a renovation loan will yield thousands of results. However, here are our two recommendations:
Talk to Your Homeowners Insurance. You have a homeowners insurance policy for a reason, right? Use it! The moment you see a home improvement project looming on the horizon, call an agent and ask what they can do to help you. Be prepared to answer a lot of questions, and expect an agent to visit you and take pictures of the problem. Plus, if your insurance takes care of it, then they will find contractors to help — and there will be less chance that you'll need to contact a construction injury lawyer after an improper repair job.
Go Directly to Your Bank. Make an appointment or call a loan representative at the bank that you already do business with. If you're already in good standing, then it's more likely that you will be accepted for a renovation loan.
Whichever way you choose, expect to have your credit score be examined. This means that your credit will be pulled, so it will take a slight hit once you apply. It's a better idea to pursue a home renovation loan if you have a good credit score (675 on up).
Home improvement is no small task. It's exciting to open the door to your new dwelling to start afresh, but oh boy is it work. Beyond choosing paint swatches and curtains that you like, you must take everything from mold and bug infestations to plumbing emergencies into consideration. It's easy to get swept in the glamour of homeownership, but don't let that glamour cloud your judgment. Look at your home objectively and be serious with yourself about how much work does it actually need to be a suitable living space for you and your family, and which home improvement experts are the best for you.