Best Home Improvements to Make Before Your Baby Comes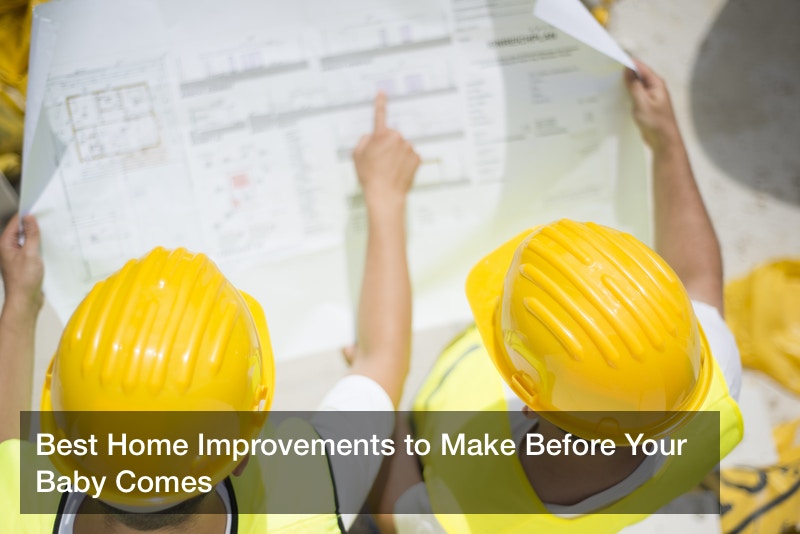 Baby fever is going strong. A poll from Gallup reveals that "more than nine in 10 adults say they already have children, are planning to have children, or wish that they had had children."
National and international birthrates back that up. Every year, almost 4 million babies are born in the U.S. and 130 million babies are born across the globe.
If you have plans to welcome a new baby into your home in the near future, it may surprise you to learn that there are some improvements you need to make around the house first. Baby-related household projects run the gamut — from undertakings that are absolutely necessary to projects that are optional but will make the transition to becoming a new parent markedly easier.
Learn the best home improvements to make before bringing your baby home from the hospital.
Start By Scoping Out The Neighborhood
If you haven't already purchased a house or you are questioning whether your neighborhood is the right fit for you and your family, now is the time to take action and make conclusive decisions.
Before you welcome your baby home, consider whether your neighborhood — or the one you will be moving into — is a suitable neighborhood to raise a family in or if it leaves some things to be desired. This is an essential step to take as soon as possible. Before considering the best home improvements to make upon your baby's arrival, make certain you are in the right home first.
To evaluate a neighborhood's fitness and livability, first give it a once-over. Start by taking a good look at the neighborhood. Is it clean and well-kept? Surprisingly, a quick glance at the state of houses, apartments, and businesses can tell you a great deal about the local area.
Next, assess its safety. Safety is a huge deciding factor. Ask yourself if it is safe to walk in your neighborhood and whether it will be safe for your future child to play outdoors. Don't just take a guess. There are plenty of resources for you to gather data about local crimes in order to assess your neighborhood's potential risk. Depending on your area, you likely have access to local crime maps or reports. These maps often include density ratings to show you what crimes were committed, where they were committed, and how many instances of this crime were committed.
Then, determine ease of access to goods and services. How close is your home or prospective home to the nearest grocery store? What about the nearest pediatrician and urgent care clinic? Consider traffic and ease of navigating roads by your new home as well.
Finally, think about the future. It may seem premature to start thinking about preschool before your baby is born. Rest assured, it is never too soon. According to the National Association of Realtors (NAR), homeowners live in their homes for an average of 13 years. That means it is more than reasonable to take a look at nearby preschools and elementary schools to see if they are a good fit for your child.
Before you begin checking off items on lists of the best home improvements to make before your baby arrives, make certain you are in the right house and in the right neighborhood first.
Baby-Proof Your Home
The best home improvements to make are ones that effectively baby-proof your home. Before the baby comes, make safety-related improvements, such as keeping kitchen and bathroom cabinets secure. According to the U.S. Consumer Product Safety Commission (CPSC), emergency rooms treated as many as 84,000 children for chemical poisoning in 2015. Use child locks on all cabinets, and stow toxic chemicals on high shelves out of children's reach.
Also, think about installing a non-slip tub. Most parents start bathing their infants in a baby bathtub, a baby bath seat, or a convertible tub. All of these tools keep babies in a safe, contained space to prevent hazards like slipping. On average, babies outgrow these tubs when they are just six months old. That means it is wise to have your bathtub ready to bathe your growing infant. Invest in new, non-slip bathtubs, or apply abrasive, anti-slip tape to the bottom of your bath.
Additionally, be sure you have secure windows. In many cases, a typical screen is not enough. Screens keep out insects, and that's about it. They are not designed to withstand significant pressure or weight, like the weight of your curious baby. WebMD recommends childproof screens or window guards to prevent accidents and falls. Plus, window guards have come a long way over the years. While it is true that they once consisted of thick bars over your windows, now manufacturers offer them in chic, aesthetically pleasing designs. These window guards will not only protect your baby but also improve the look of your home. Talk to a home remodeling contractor about your options.
You can also purchase non-skid rug pads. If you are having a baby, soft, cushioned surfaces like rugs and carpet may seem especially appealing, particularly when babies begin taking their first steps. If you have area rugs on top of tile or hardwood floors, non-skid rug pads will keep them securely in place so that you, and eventually your baby, do not trip and fall.
Do You Need To Baby-Proof The Exterior Of Your House?
When considering the best home improvements to make before your baby arrives, it may surprise you to learn that you need to be mindful about the exterior of your house as well.
According to Parents magazine, your baby will take his or her first steps when they are nine to 15 months old. It is best to be prepared before your baby starts walking and to be prepared should your baby start walking early, too. What do you need to be ready?
One of the most important things you will need is a secure fence around the perimeter of your pool. You need closed fences around any other water features as well, including hot tubs and ponds. Talk to contractors about a custom fence installation. "Backyard pools should be completely surrounded by a 4-foot fence, preferably with a self-latching gate. Pool covers and alarms may provide additional protection," WebMD writes.
Another exterior feature to be especially mindful about is your garage door. Consumer Reports recommends testing your garage door by putting a two-inch block in the way of its path. If the garage door correctly reverses track when you try to close it, your door is operating safely and as it should. If it doesn't, you may need a new opener, new sensors, or new equipment attached to the door. Contact a professional about garage door repair now — well before the baby comes. The transition to parenthood can take considerable adjustment. Make your life easier by completing necessary repairs well in advance. Otherwise, a malfunctioning door poses a potential hazard as your child grows.
The best home improvements to make are ones that will keep your baby safe. Carefully consider all that this entails. It includes improvements inside and outside of your home.
Address Hazards And Safety Issues
Baby-proofing the interior and exterior of your home is a great start. When considering the best home improvements to make, it is often necessary to go deeper and think about what safety issues and hazards are present in your home. For example, a leaky roof or faulty wiring can pose serious risks to your safety and the safety of your loved ones.
One of the last things you want to risk before and after your baby's arrival is structural damage to your home. That is why you need annual to biannual inspections from roofing specialists, especially if your roof is leaking or leaving water spots on your ceiling. Roofing specialists can pin down any problems and help you take the appropriate steps to fix them. This is vitally important. If you let your roof fall into disrepair, you risk water pooling on top of your roof, ultimately threatening its integrity and possibly leading to collapse.
Another professional you want to work closely with during the months before you bring your baby home is a residential electrician. Why? "During a typical year, home electrical problems account for 67,800 fires, 485 deaths, and $868 million in property losses. Home electrical wiring causes twice as many fires as electrical appliances," the U.S. Fire Administration explains. In many cases, it is wise to skip electrical do-it-yourself (DIY) projects altogether. If it involves electrical wiring, hire someone who knows what they are doing with the license to prove it. If you notice any telltale signs of trouble — such as lights or appliances that continually flicker or keep going in and out or smoke or sparks coming from outlets, appliances, or exposed wiring, call an electrician right away.
Remember the best home improvements to make aren't always the most obvious ones. Think about the invisible hazards in and around your home, like faulty wiring or a leaky roof.
Eliminate Pests And Mold
Taking proactive steps to eliminate pests, mold, and mildew is one of the best home improvements to make before your baby's arrival. Left unchecked, mold, mildew, and pest droppings can be toxic and present significant danger to your baby.
"Mold exposure can cause health symptoms in some people such as allergic reactions including stuffy nose, eye irritation, rashes, and wheezing, and possibly fever or shortness of breath," MotherToBaby writes. Unfortunately, your baby is especially prone to these symptoms, as their immune system is new and still developing.
Whether you have mold from water in your basement or a leaky roof, talk to water damage cleanup experts about cleaning it up properly and thoroughly. Proper cleanup should leave floors, walls, carpets, and ceilings dry and eliminate any mold and mildew that has begun to form.
Similarly, pests can provide a significant danger to your baby. If rodents enter and nest inside your home during the cold winter months, for example, these rodents can carry illnesses that can cause harm to your baby. If exposed, they can leave your baby with a fever or an infection that needs to be treated by a doctor right away.
Note that some experts recommend avoiding pest control treatments that are overly caustic during pregnancy and when your baby first arrives. Talk to pest control services about pest control options that are safe for pregnant moms and newborn babies.
DIY Projects For Your Home and the Baby's Nursery
Finally, among the best home improvements to make are ones that will create loving memories for you and your family, and particularly your newest addition. Add some personal touches to your baby's nursery. Here are some of the most popular DIY projects for expecting moms and dads.
First, you can build a wooden baby gym. "[A] hand-crafted wooden gym by looks just as sleek as any store-bought option but — bonus! — lets you switch out the toys and even use it as a play tent frame," The Bump writes. You can find step-by-step instructions to make your own on the web. If you are feeling extra ambitious, crochet the toy attachments for a full DIY undertaking.
Another idea is building a wooden rocker. Many moms, healthcare professionals, and doulas say that rocking motions help babies sleep. For a low-cost addition to your baby's nursery, build a DIY wooden rocker.
Finally, you can build a custom growth chart. It is simple to make a growth chart using just a piece of wood, sandpaper, markers, and paints, according to The Bump. Personalize the growth chart to match your baby's nursery and keep track of your baby's growth over the years.
Home improvement is popular no matter what your personal circumstances may be. They are especially popular in the months leading up to the birth of your baby.
Experts suggest having the nursery ready at the 36-week pregnancy mark just in case the baby comes a little early. Consider having your home improvements done around the same time — or, ideally, even sooner — to give you plenty of time to unwind before having the baby.