How to Choose the Right Roofing Material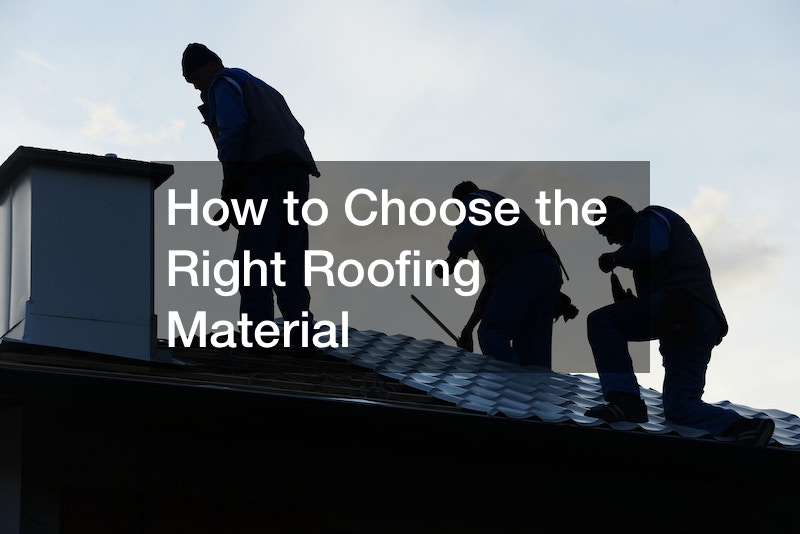 If you are looking to do a roof replacement or install roofing in a new home, you may be surprised to know there are more than ten types of roof materials for homes in the U.S. The roofing industry has steadily grown as more people erect new houses and replace roofs. According to IBIS, the roofing industry grew by 2.7% between 2015 and 2020, thanks to the demand for various roofing materials.
With such diverse options available for buyers, you may be overwhelmed choosing a roofing material that matches your needs. Roofing performs more than a functional role. It can improve the aesthetic appeal of your home and increase energy efficiency. So you might want to consider all factors before choosing a roofing material.
Further, roofing is a long-term investment. You want to ensure you get value for money and a good return on investment should you choose to sell your home. Luckily, local roofers can help you pick the right material for your home. But first, read this guide on the various types of roof materials for homes so you can choose the one that fits your needs.
Types of Roof Materials for Homes: Pros and Cons
You probably have seen asphalt shingles and clay tiles on roofs in homes around you. But did you know more than ten types of roof materials for homes are available in the United States? Such a variety means you can get one or two materials that are suitable for your home.
Before calling a roofing contractor, acquaint yourself with the various types of roof materials for homes and their pros and cons. You could even mix two types of roofing materials if they're compatible. Here's an extensive guide on the most common roofing materials.
1. Asphalt Shingles
According to Investing News, 80% of U.S homes have asphalt shingles. That makes asphalt shingles the most popular roofing material. But why is asphalt shingles so popular? Asphalt shingles are quite economical compared to other types of roof materials for homes. They are easy to install, lightweight, and customizable.
On the flip side, asphalt shingles have a shorter lifespan than other roofing materials. Once the mineral granules start disintegrating, the whole roof might need replacement because the composite weakens and becomes vulnerable to harsh weather conditions. Even with such drawbacks, asphalt shingles are easy to maintain.
2. Metal Roofing
Another popular roofing option is metal. You can have metal panels, corrugated sheets, or shingles. The metal can be copper, aluminum, iron, or tin. It can also be an alloy such as steel. Shingles are more popular because of ease of installation and aesthetic appeal.
One of the biggest pros is durability. They can last 30 to 50 years, with some metal roofing types lasting above 75 years. But that's not all. Metal recycling is possible once the roofing has run its course. In addition, metal is fireproof and a preferred option in areas with heavy snowfall, while metal shingles are customizable to give the same aesthetic appeal as asphalt shingles.
However, metal roofing installation requires more specialized training. Additionally, standing seam metal is less aesthetically appealing. Metal is also relatively more expensive than asphalt shingles. Furthermore, some metal types are prone to rust.
3. Baked Clay Tiles
Clay tile is not as common in the U.S, but it is a natural roofing material made from earthen clay. It's molded into bricks and then fired. Clay tiles are popular in some parts of the world, like Spain. They are suitable for hot climates such as deserts. Also, they do not absorb moisture, hence suitable for hot coastal regions.
On the flip side, clay tiles are one of the most expensive roof materials for homes. They are also relatively heavy and thus strain the house's structure. Despite being relatively durable, they are fragile and thus hard to install. They might not be suitable for regions that experience heavy rainfall or low temperatures.
4. Solar Shingles
Solar panels are gaining popularity because of their environmental benefits. According to the U.S. Department of Energy, there were eight billion square meters of rooftops in 2016, which is suitable for solar panel installation in the United States. Solar roofing has multiple advantages, including producing renewable energy. Most roofing consumes energy and thus contributes to a high electrical bill. On the other hand, solar roofing protects while contributing to green energy.
Solar roofing takes longer to install and is quite expensive. It's also relatively fragile to handle and requires more expertise in installation. Lastly, it may not be suitable for shaded regions or regions that receive less sunlight.
5. Membrane Roofing
Have you heard of membrane roofing? It's one of the newest types of roof materials for homes. It's made with a rubber sheet material – ethylene propylene diene monomer(EPDM). They are typically installed on low-pitched or flat roofs. Membrane roofing is lightweight and durable. It is also easy to install on a roof without HVAC and boasts easy repair. Membrane roofing is used more in commercial buildings rather than residential ones.
Despite its multiple benefits, membrane roofing tears easily, and small gaps between seams can allow water to sip. Puncturing is highly likely during installation or repair. With proper maintenance, membrane roofing can last between 25 and 30 years.
6. Concrete Tiles
Concrete tiles are similar to clay tiles in installation. It costs less than clay tiles but offers similar advantages. It's made from a sand mix and is customizable by color. Like concrete floors, concrete tiles can have a finished coating. Concrete tiles have a long life expectancy of up to 50 years, can withstand high-speed wind, and are thus quite durable.
Like clay tiles, concrete tiles are quite heavy and thus put a heavy strain on the building's structure. They are not suitable for areas with freezing temperatures. Concrete tiles are also more expensive than asphalt shingles.
7. Slate Roofing
Authentic slate roofing comprises thin sheets of stone. Slate binds in thin sheets that are easy to quarry. Slate is one of the most durable roofing materials available in the U.S. It can last between 75 and 150 years with little to no maintenance. Slate roofing gives a home a luxurious natural feel and look.
On the flip side, slate is quite heavy, and a home needs a strong structure to maintain the integrity of the building. They are expensive to quarry, install and repair. Moreover, you need expert roofers to install them, while repair can be challenging.
8. Wooden Shingles
Wooden roofing is one of the classic types of roof materials for homes. Like any use of wood in a building, wooden tiles leave a rustic finish. They are also quite durable and energy efficient. Wooden roofing has been around for centuries and still gives a home a unique look.
However, wooden roofing is quite expensive to install and maintain. Maintenance is quite necessary but labor-intensive and time-consuming. In addition, wood is not fireproof, and multiple building codes restrict it because of the ease of catching fire. It can also rot and get damaged easily.
While there're other types of roof material for homes, such as green roofing, the above eight are the ones you are likely to find in American homes. Asphalt and metal roofing are the most common. Which roofing material has the advantages that match your needs?
Factors to Consider when Choosing the Right Material
1. Local Climatic Conditions
A roof's primary functional role is protecting you and your family from weather conditions such as sunshine, rain, wind, and snowfall. Therefore, it would be best to consider local climatic conditions before settling on a roofing material. For example, clay tiles might be unsuitable for regions that experience heavy rainfall and freezing temperatures.
You might want to choose a material that's not vulnerable to roofing storm damage. Other roofing materials, such as asphalt shingles, can work in diverse climatic conditions. You could also use climatic conditions to your advantage. For example, if you live in a place that receives plenty of sunshine, you could have solar roofing
2. Purpose for Roofing
When looking for suitable roofing material, ask and answer the following question: What's the purpose of my roofing material? Do you intend to install it in your garage? Do you want to improve your home's curb appeal? Do you want protection from heavy rainstorms?
Having a purpose in mind will make choosing a roofing material and roofing services easier. Your needs may change with time. You may realize that durability is more important to you than curb appeal. So you may forego wood for metal roofing to get durability. Alternatively, you could get metal shingles to reap the benefits of durability and aesthetic appeal.
3. Life Span of Roofing Material
Different materials have different life spans. Authentic stone slate has the longest life span, followed by metal. Asphalt shingles have a relatively shorter life span. Since most homes can last 100 years or more, you can consider how long you want your roof to last without replacement.
You may also discover that other values, such as sustainability and curb appeal, are more important to you as a homeowner than durability. Some roofing materials will require proper channeling of water to prevent rotting. A plumbing contractor could work with a roofer to extend the lifespan of your roof by channeling the water properly.
4. Your Budget versus Roofing Material Cost
Doing a roofing install is a cost-intensive process. According to Forbes, the national average roof replacement cost is $8000. The cost might increase if you install the roof for the first time. Like most other purchases and investments, cost should be a factor to consider.
You could dig deeper into your pocket to have slate roofing and lower maintenance costs and an extremely low likelihood of doing roofing replacement. Or you could pick asphalt shingles for their curb appeal and lower cost. Also, factor in future costs such as maintenance and repair when calculating the cost of roofing.
5. Roofing Material Weight
Some types of roof materials for homes are quite heavy. So, it's best to consider potential roofing materials before construction begins. That way, you can build a structure supporting a heavy roof. However, if you choose the material much later, you should consider the roofing material's weight.
For example, concrete and clay tiles are quite heavy. On the other hand, membrane roofing is quite light. Find the right balance between the material's weight and other qualities such as durability.
6. Local Building Codes and Regulations
Local building codes and regulations could prevent or encourage you from choosing a specific roofing material. For example, some building codes restrict wood tiles because they are not fireproof. On the other hand, some roofing options, such as solar roofing, can make you qualify for government rebates.
7. Maintenance Requirements
Some roofing materials, such as slate, require little to no maintenance. Others, such as wood, require regular maintenance. So, it would help to consider how much time and resources you are willing to allocate to maintenance.
If you don't want to keep spending resources on maintenance, you can choose a low-maintenance option such as asphalt shingles. Make sure to follow the manufacturer's recommendations on maintenance to keep your warranty.
Final Thoughts
You now know different types of roof materials for homes. Each has its advantages and disadvantages. It would help if you considered the purpose of roofing before settling on a roofing material. For example, you might need a particular roofing material for agricultural houses and a different one for a commercial flat-roofed building.
Choosing a roofing material doesn't have to be complicated. Once you know the materials available, you can filter by factors such as cost, durability, and maintenance. You could then ask your roofing contractor for more information on specific types of roofing material. Either way, you could take your time to settle on a roofing material since it's a long-term investment.