How to Spend the Holidays at Home: COVID Edition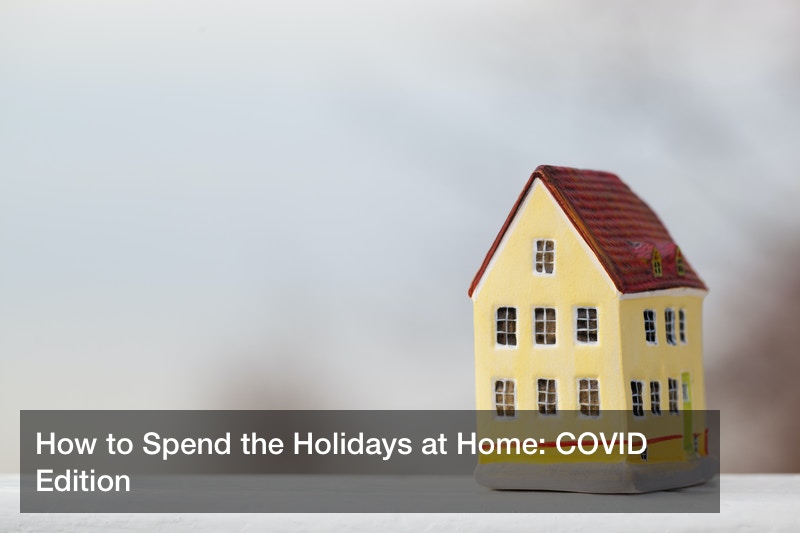 There's no denying it: the COVID-19 pandemic has literally changed the world, and almost no one has gone unaffected. Any hopes of having the pandemic sufficiently under control to return to normal living by Christmas have long since disappeared. To many, it feels like this year has been filled with nothing but one stress-inducing crisis and bitter disappointment after another.
It can be encouraging to remember that humanity has faced countless problems in the past, many of them no greater than what we're up against now. Things will be difficult for a while, but eventually, even this pandemic will be nothing more than a subject for the history books.
Of course, that may not be much consolation when you're deciding how to spend a holiday at home — a time you would normally spend celebrating life with your closest friends and family, many of whom you might not even get to see this year. With the way things have gone this year, you may even prefer not celebrating at all.
But just because the world isn't the same as it was doesn't mean you should let the gloom overrule your entire life. You still deserve to have fun and enjoy yourself. And if you have little children in your family, you definitely want them to have a good holiday this year, even if it can't be like other years. The question is, what's the best way for how to spend a holiday at home?
That's what we're going to be answering here. In this article, we'll go over some ideas you can use to bring the holiday spirit back into your life for a bit. Some of the items on this list will involve some work, such as household chores you may have been putting off, but you'll feel more like celebrating once things like this are taken care of. Whether you live alone or have a family to entertain this holiday season, keep reading to learn how to spend a holiday at home.
Take Care of Any Home Repairs First
If you've ever tried to enjoy a relaxing weekend in a messy room, you know that having unfinished chores lingering around the house can make celebrating difficult. But when home or appliance repairs need to be made, it can be difficult to enjoy being in your house at all, since you'll keep running into things that aren't working right.
In 2018 there were roughly $394 billion in home improvement sales in the United States. But with the pandemic keeping many people stressed and distracted, chances are you have some significant home maintenance projects that you've been putting off. To make the most of your holiday at home, start preparing now by looking around your house for repairs that need to be made.
Maybe one or two of your household appliances haven't been working correctly. You'll want everything in good working order when you start cooking, so get those checked out. Or perhaps you need heating repair to get your home up to a consistently comfortable temperature. Or there might be little things that are broken around the house, such as missing outlet covers or simply burnt-out lightbulbs. Of course, if you haven't winterized your home or car yet, you've no time to lose — do some research to find out how to best prepare your home and vehicles for winter weather and get that taken care of.
The more of these little chores you get done beforehand, the more you'll be able to enjoy your holiday. That's why home maintenance is one of the first steps in how to spend a holiday at home.
Make Your Home Look its Best
Similar to getting needed repairs done, it's important to have your home looking nice and feeling comfortable. As we mentioned earlier, it's hard to relax in a house that's cluttered, dirty, or in poor repair.
If it's been a while since you've cleaned or organized your home, maybe you could get this done before the holidays arrive?
Think about how your house looks from the outside, too. Has your lawn been mowed and your trees trimmed in preparation for winter? What about your siding or garage doors? Would they look better with pressure washing or a new coat of paint?
Of course, if this all sounds like too much work, don't worry about it too much. Getting stressed out over the state of your house defeats the purpose of learning how to spend a holiday at home. The important thing is to feel comfortable and at ease in your home for the holidays.
Get Someone Else to Do Your Chores for You
Did you know that one of the best ways to increase overall happiness is to outsource work you don't want to do? Usually, when people think of spending money on things that make them happy, their first thought is buying a new outfit or device. But spending money on things like housekeeping or meal preparation services can be much more satisfying since you'll save time that you can now spend on things you enjoy. And if you have a lot of chores you'd like to get done before the holidays, hiring outside help can be the best way to get those things done stress-free.
While there are certain restrictions in place that regulate what people can and can't do during the COVID-19 pandemic, you should still be able to find a professional cleaning company that will clean your house for you. And for small repairs and maintenance, there are probably several handymen and contractors in your area who would be grateful to have your business.
Decorate Just for Fun
Once you have your home and yard clean and looking their best, what do you do next? You decorate, of course! Just because you're stuck at home doesn't mean you shouldn't make your home festive for the holidays. Not only will decorating get you or your family in the holiday spirit, but it will probably cheer your neighbors up too.
Make your landscaping look even more beautiful with some tasteful outdoor decorations. Don't feel like you have to be extravagant here. Whatever you put up must eventually be taken down, so it's a good idea to keep it simple. A few strings of lights and a wreath on your door are all you really need to make your home look festive for Christmas.
Since our options for outside activities are limited this year, you could take an excursion to a local Christmas tree farm for a tree. You may even be allowed to harvest your tree yourself if you know how, or someone may do the tree cutting for you once you pick one out. Either way, this is an especially great activity if you have kids, and it's something you can do while easily practicing social distancing.
Cook Something New and Creative
Whether you're deciding how to spend a holiday at home or not, food is an essential part of every celebration. Don't forgo your holiday dinner just because you aren't celebrating with extended family. Special meals and snacks are an important part of making the holiday feel festive. If you've spent a holiday by yourself, it's even more important that you do whatever you can to make it as special as possible.
As you think about the foods you might make or buy for the holiday season, you should consider doing meal planning in the weeks to come. It doesn't have to be a super detailed plan, and it's okay if you stray from it — spontaneity is an important part of having fun, and if you wake up one day in the mood for something new, you should definitely try making it. But without a meal plan, you run the risk of taking the easy way of every meal out by default, and just eating microwaveable food every day.
Buy and Wrap Gifts to Send to Loved Ones
One of the most exciting things about spending Christmas with family is being able to see your loved ones open the gifts that you bought for them. The long process of brainstorm, choosing, and then wrapping presents for the people you love is something many people get very passionate about.
If this is part of the holiday season that you always look forward to, you can continue the tradition this year. Just mail the gifts you buy to your loved ones instead of delivering them in person. You can even wrap them in special gift paper and ornate ribbons first if you like.
Get Some Extra Sleep
Whether you're due for a staycation or just wondering how to spend a holiday at home, you should make it a point to get extra sleep while you're off work. Everyone needs to give their brain and body a break now and then, and this year has been even more exhausting than most. If you've been under a lot of stress or simply spending a lot of late nights working, the holiday season is a good time to unwind and catch up on sleep.
As a side note, it's a good idea to go to bed earlier than you normally would, and not just to sleep in every morning. There's nothing wrong with sleeping in once in a while (although you should be careful not to mess up your sleep schedule if you have to get back to work soon). But going to bed early instead could be better for you.
Catch Up on a Book or TV Show
Normally when you're celebrating Thanksgiving, Christmas, or New Years Day, you can expect to be surrounded by friends and relatives who all demand your attention. Of course, this year things will be a little different, but that means you'll likely have lots of time to yourself. What better thing to do with all that time than catching up on a novel or TV show you've been putting off?
There are hundreds of amazing television shows on streaming sites like Netflix and Hulu. However, many of these shows require a significant time investment to finish, and time is a scarce commodity in our busy modern day. Take advantage of the quiet holiday season and catch up on one or two shows you've been wanting to see.
Alternatively, you could read a book or series on your reading list. With the prevalence and popularity of games and movies, it can sometimes seem like reading is a lost art. Go back to some good old fashioned entertainment and brush up on your reading skills at the same time this holiday season.
Experiment With Arts and Crafts
Arts and crafts aren't just for kids — though if you have kids, crafting is a great way to keep them entertained. Either way, why not spend your time off this winter learning a creative art form?
Maybe you love to take pictures, and you'd like to learn how to edit them professionally. There are countless free and low-cost courses on sites like Skillshare and Udemy that can teach you everything you've ever wanted to know about photo editing. If you feel like you're on your computer too many hours of the day as it is, why not go old-school and learn to paint or draw? It's not as difficult as it sounds, and you can find beginner-friendly tutorials on YouTube for free, as well as many online course websites.
If these traditional forms of creative expression sound a little too artsy for you, you could instead brainstorm ways to redecorate your house when the weather warms up. Image sharing sites like Pinterest are great for finding inspiration for things like a new bathroom or kitchen design.
Spending time creating something new is one of the most satisfying and fulfilling activities you can pursue. If our other ideas for how to spend a holiday at home don't really appeal to you, doing something creative can be a sure-fire way to break out of the wintertime blues.
Set Goals for the Coming Year
Sometimes when you're stressed or discouraged, it can seem like there's no light at the end of the tunnel. This leads us to the last suggestion for how to spend a holiday at home: set goals for your new year and think about how you'll achieve them.
When things are going hard or you're down in the dumps, imagining how things might get turned around for the better can be really encouraging. Even if you feel right now like there's no point in even trying, just taking 10 minutes to write down on paper what you'd like your life to look like can instantly boost your mood. And the more you think about what you'd like to accomplish, the more achievable it starts to feel. From starting your own side hustle to using water distillers for your health, coming up with ideas and strategies to improve your life is a popular and invigorating holiday activity.
From getting light repairs done around the house to making the most of a holiday alone, you now know how to spend a holiday at home. But this list is by no means exhaustive — you can come up with your own ideas for how to spend a holiday at home. Hopefully, this article has inspired you to do just that.