Tips for DIY Home Projects for 4 Areas of Your Home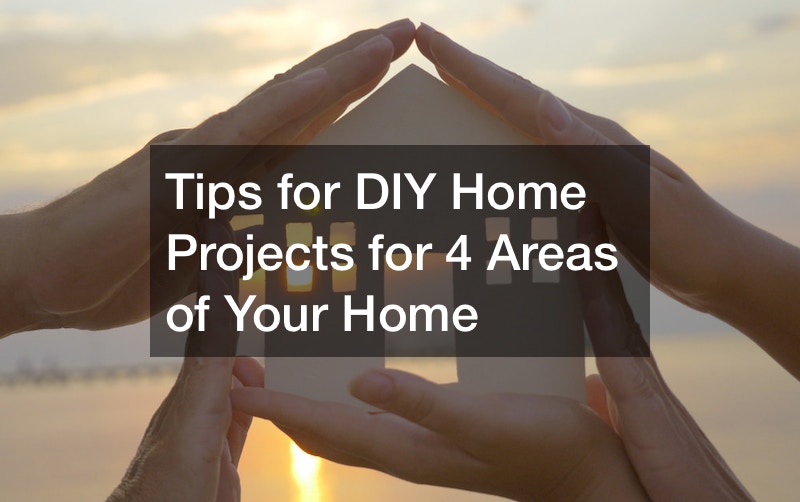 You have probably come across some DIY home ideas on the internet or visited a friend's house and were fascinated by the changes they have made to their house using DIY home ideas projects. You want to take a chance to tackle a few DIY home projects like a pro, although you doubt yourself and think you won't manage to pull it off. DIY home projects are doable. Here's a list of tips for DIY home ideas for different areas to give you insights.
1. Home Office
Whether you have the luxury of an extra room or just a little nook with enough space for your laptop, desktop, desk, office chair, and a few stationary, carving out a dedicated spot for working at home is a great way to get your creative juices flowing and boosting your productivity. Whatever the case, you can make your home office look good with DIY home ideas full of elegant and creative decoration choices. For a start, consider painting, which will completely change the outlook and feel of your home office.
To add a jolt of personality to built-in cabinets, try a trendy color like mint or bring drama to your home office by painting the room in a moody hue or mini mural. You can also use removable wallpaper or peel-and-stick options like murals to weave luxury into your layout. Ensure the wallpaper matches your scheme.
Place your home office with your desk facing outside to enjoy natural light and nature. This will remind you of the priceless benefits of working from home. If you want to avoid the hustle of opening and closing the blinds, you could get an office window tinting service provider to tint your windows.
Lights play a vital role in home offices. The good thing is you don't need to break the bank when lighting up your space. There are plenty of amazing and affordable lighting options available. Add plants to bring life and create a greener area.
You can use upcycled furniture to express your style. You can upcycle almost anything with a bit of creativity, from wood pallets, worn shutters, tattered clothing, and cardboard packaging, including old toothpaste tubes. For instance, you can convert the old bricks that have been sitting in your backyard into rustic planters and turn your wine corks into decorative vases or adorable bottle stoppers.
To reduce your home waste, you can turn disposable items into home office decor, functional light fixtures, or modern home office furniture. You can minimize the quantity of discarded materials in landfills and reduce the need for additional production by turning your trash into treasure. For example, wrap repurposed tin cans with colorful yarn, decorated papers, or rope to store tools like pens, scissors, thumb drives, clips, etc. Make sure to place it within reach on your home office desk. Remember, even if you're taking the DIY route, you can still consult office installers for advice.
2. Kitchen
Painting kitchen doors and cupboards is one of the most satisfying DIY kitchen remodel projects. Although it takes time and requires patience, the good news is you can do it even if you are a DIY novice. You will save a lot of money by painting your kitchen's custom cabinets, doors, and cupboards and getting creative with your kitchen's look and finishes.
To transform the look of your kitchen without necessarily beginning from scratch, you can replace kitchen doors or get custom cabinet installations. Replacements are always cheaper. Many big kitchen names sell single-door fronts for their standard cabinets, or you could get new doors to fit your current kitchen carcass.
You will be surprised how much of a difference it can make to replace handles and knobs for your kitchen cabinet, drawers, and door. You can look for cupped-style handles or T-bar handles. Additionally, you can tile the splashback of your kitchen to add color and texture to your space or cover your existing splashback in tile stickers.
If you want to give a different look to your cupboards, you can apply a few coats of chalk paint to give a modern appeal. For DIY novices, consider using eggshell paint as it is easier to apply and gives you a professional look finish. It isn't easy to work with glossy paint, as brushstrokes will show. If your kitchen cabinet doors are beyond repair and can't adhere to paint, you can remove them and replace them with stylish curtains.
If you have a granite countertop, you can try several DIY home ideas. You can cover them with contact paper. Utilize your kitchen space by introducing freestanding pieces to add storage or wall shelves and a rail to make your kitchen feel more permanent.
If you are lucky to have enough backyard space, you can make it useful and functional by adding hardscaping. You can implement different DIY hardscaping features in your home, including garden structures, patios, fire pits, water features, retaining walls, play areas, and pathways. If you want to make an extension of your home, hardscaping is the way to go.
When adding hardscaping, there are a few steps you need to take to account. The first step of a DIY hardscaping home project is to plan. Planning entails measuring the space, assessing existing features, pointing out what to keep and do away with, and deciding on your desired functional areas, including the dining zone, seating area, kitchen spaces, and play areas, choosing an aesthetic style with the help of a deck builder you prefer to help you narrow down materials and most importantly setting a budget.
Patios define your seating, entertainment, or cooking areas. They create an elegant focal point and can be made using several materials like brick, concrete, brick, or natural stone. You can design an outdoor dining area using unique furniture and seating pieces. Combining stone patios with outdoor kitchens that feature shade like gazebos, umbrellas, and pergolas will enhance the space, making it user-friendly and comfortable.
You can use a retaining wall for functional and aesthetic purposes. It can help you maintain your backyard's soil and define your space better. You can use different materials to build a retaining wall, including stone, brick, timber, or concrete. To add visual interest, bring the natural element to this hardscaping feature by designing it with plants within or on the walls.
4. Front Yard Landscaping
Your front yard is among the first things you and your guests interact with. So be sure to give it some TLC. A water feature is a great way to add interest to your landscaping design.
It can be in the form of a fountain, waterfall, or a small pond. Using stones around the fountain or pond will give it a natural appeal. Another way you can design your water feature is by stacking bricks or pavers with clean, fine lines. You can also include aquatic plants in your fish pond to give it a more natural outlook.
You can use hardscaping materials for walkaways, like moss pathways, which are helpful for wet and muddy areas. You can opt for different walkway materials, including flagstone, brick, and gravel. Apart from having a straight path, you can be creative by designing a meandering curved trail that looks appealing to the eye. Invest in custom landscape lighting for your pathways. You can add the lights on either side of the path regardless of size to highlight at night and make it easier to follow the steps.
You can add a functional kitchen to your outdoor space with cabinets, storage, or a barbeque area where you can put your grill. When paired with outdoor dining areas, outdoor kitchens allow you to cook, eat, and get refreshments and entertainment in one spot. You can use stones, brick, or other hardscaping materials to build up around cooktops, cabinetry, and grills. You can include a fire pit in your outdoor kitchen on either a fire table or can be built-in or portable.
To add an exciting feel to your backyard, you can add trellises, arbors, and pergolas to your list of DIY home ideas. Usually, they're wood, but you can find ones made of stone or other types of hardscaping materials. You can use such garden structures for shade, vertical gardening, or climbing plants, bringing a visual impact to your backyard.
With hardscaping, you can design trampolines, playhouses, and swing sets to look inbuilt and custom. You could also include a border wall or different space-defining ideas. Ensure that hardscaping is installed safely and smartly to avoid injuries. For instance, you don't want your playground to be on a hard surface to avoid putting pressure on the feet and knees.
Ensure your design includes proper grading and drainage system to prevent water pooling. That said, avoid creating runoffs. Instead, use permeable surface materials to allow water absorption. Be sure to install an irrigation system if incorporating a garden into your design. With the latest technology, you can get newer irrigation systems with smart features like weather-based controls. For this, consult a landscaping contractor.
Go for native plants as they require less water and fertilizer and are low maintenance. If you are an animal lover, planting native plants will attract them to your yard. If you plan to set up a garden, consult with gardening experts or local nurseries to learn which native plant species thrive within your soil and area's climate.
Consider including window boxes in your front yard landscape. You can plant your favorite flowers in the window boxes to give your home a breathtaking feel. You can purchase window boxes from landscape supplies stores.
Replacing your old mailbox with a new one is another great addition to your list of DIY home ideas. You can either purchase or DIY and install it. Come up with something outstanding that says a thousand words about your home. Consider hanging up a birdhouse if you have trees in your front yard. It's not time-consuming and could take one afternoon or less to complete, even when building from scratch.
To maintain your DIY hardscape, you must do several things. These include removing debris, dirt, and leaves and regular sweeping. Pressure washing is also a good idea.
It'll help you remove stubborn stains and algae growth. Perform seasonal tasks like inspecting for cracks, checking irrigation systems, and resealing surfaces to ensure proper functioning. Dont allow minor issues to grow into significant problems, which will be costly in the long run.
Your front yard needs interesting details to make it special. So, as part of your DIY home ideas, set out baskets of flowers, add throw pillows to your seating areas, and a place to relax on the lawn or the porch. These small special touches will make your visitors feel at home at first glance before they enter your house.
Fences will never go out of style. Installing a fence is one of the best DIY home ideas because it creates a safe place for kids and pets to play. Surround your front yard with an aesthetically pleasing and functional fence for a fresh look that upgrades your home.
When looking for hardscaping materials, go for durability to ensure you get the most service out of the life span of your home project. Materials like natural stone and concrete are resistant to wear and tear. Consider low-maintenance materials like stain-resistant tiles and sealed pavers.
These will make cleaning easier. Synthetic turf or gravel are great alternatives to natural grass. If you want to enjoy optimal savings on water and time, consider coverings.
It would be a good idea to watch some DIY tutorials focusing on kitchen remodels before diving into the project. You can find plenty of great videos on YouTube. DIY enthusiasts are always ready to share tips and tricks on getting things done efficiently and effectively.
You'll learn about the tools and supplies other homeowners use to bring their DIY home ideas to life. Besides that, you can also connect with other DIYers, who, if they're willing, you can ask to help you with your project. Taking on home projects as a homeowner is one of the most fulfilling things you can do. You get to put your personal touch in your home, other than funding it. So when you say your home is yours, the meaning behind it will be on a whole other level.