DIY Project Ideas for 7 Rooms of Your Home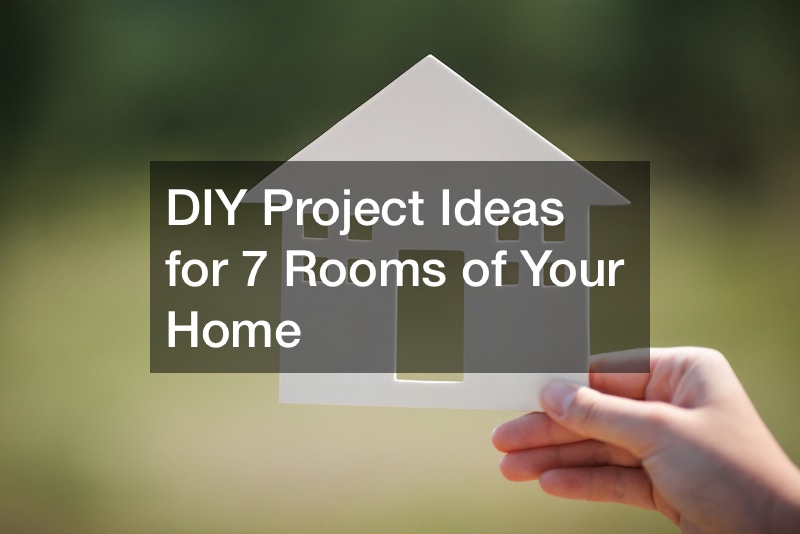 Your home is a space for unrestricted creative expression. There, you can play around with your sense of style. Your decor makes your vision a reality, whether it's a modern aesthetic, a rustic feel, or a tranquil atmosphere.
Fortunately, you can create unique home decor items yourself. There are DIY home ideas for every room in your house, whether you want to remodel your living room, garage, kitchen, or basement. We're providing you with tons of inspiration by sharing these DIY home ideas. Let's dive right in!
1. Kitchen
Don't let the thought of a huge expense discourage you from taking on a kitchen remodeling project. There are lots of quick, easy, and reasonably priced small cosmetic projects you can complete to give your kitchen some flair. SoFi conducted a survey and found that 44% of homeowners believe that any upcoming projects are primarily cosmetic.
You can create a custom kitchen design without spending much on costly remodels. Start by installing under-cabinet lighting. It takes proper lighting in the kitchen to prepare food. With overhead lighting creating shadows, it can be challenging to read recipes and see ingredients. Under cabinet lighting solves this issue and can produce pleasant ambient light.
One of the most annoying things about kitchens is when cabinet doors refuse to stay closed. But changing the rolling latches will take care of this quickly. All that's needed to keep the doors closed is to mark and drill holes for the new latches. Self-adhesive backsplashes are an inexpensive (and simple to install) alternative. In addition to the striking color and texture additions, cleaning will be simpler.
A small kitchen appliance repair is another option. A broken toaster or an uncooperative coffee maker can disrupt your morning routine. Maintaining them or your blender, oven, kettle, toaster, and garbage disposal can be inexpensive and empowering. You can also learn how to maintain your juicer. These appliances may be experiencing minor issues that you can quickly check and potentially troubleshoot.
2. Living Room
In most houses, the living room serves as the social hub. That gives you even more motivation to put in more effort to make it outstanding. There are many surprisingly complex do-it-yourself projects available, regardless of your preference for doing things yourself or your budget.
If there isn't one already, adding a fireplace to a living room is one of the best DIY home ideas. Building a built-in DIY electric fireplace can greatly increase the value and atmosphere of your house. You can also include a gallery of handcrafted wall art. You can create a gallery wall that looks curated and reflects your personality by combining your artwork with items from thrift stores.
Consider installing new windows to add more light. New windows recover a healthy 70-75 percent of their initial cost, according to Window and Door Magazine. Installing weathertight windows will save you money and energy. There's nothing better than natural light streaming through your windows when it comes to creating the feeling of living in your living room.
But you can also install or replace window blinds for better privacy and light control. Unlike curtains, blinds usually don't take up much space, and you can completely contain some within the window frame. You can also operate blinds remotely, so you will not have to worry about someone else being able to open and close them. When looking to add elegance to any room without the added expense of wood shutters, wood blinds are a great alternative.
3. Garage
According to Forbes, a new garage door install is one of the best home improvements for raising value, but the replacement cost can range from as little as $500 to as much as $2000! Does your house need a new garage door, or can you make the current one better? There are several cost-effective ways to improve the appearance and curb appeal of your garage door.
For example, you can achieve the appearance of a faux wood door for a fraction of the price of an actual wood door if your painted aluminum garage door has lost its shine. Just give your garage door a thorough power wash, wipe it down with vinegar and water, then apply a gel stain. You can finish this project in less than a day.
Consider insulating your garage door as well. Without a doubt, insulated garage doors cost more than non-insulated ones. On the other hand, an insulated garage door will reduce noise from the street, lower utility costs, and help you regulate the temperature in your garage and any adjacent rooms. Fortunately, it will only take a few hours of work for you to complete this update using rolls or strips of fiberglass batt insulation.
Consider adding a smart system to your garage door to improve the overall security of your house. With a smart garage door opener system, you can check your garage door's condition and adjust its opening or closing remotely. Without a physical house key, friends and family can enter your home with the help of a smart garage system. A system like this will also give you complete peace of mind because you won't ever have to worry about whether you closed your door while you were miles away.
4. Basement
If your basement still needs to be completed, a little work will go a long way toward providing you with the extra space you require without paying the astronomically high cost of a home addition. Prepare your basement for the investment by cleaning it out and ensuring there are no active leaks before purchasing insulation and framing walls for your basement renovation. A moisture test is a great place to start.
Ensure the foundation is sound before starting any basement DIY home ideas. Crack repair and waterproofing are two examples of do-it-yourself basement foundation repairs. You can fix a damp basement in several ways, such as installing a sump pump, dehumidifier, or complete basement waterproofing. The severity of the issue dictates your course of action. Expect to spend around $2,300 and $7,575, according to Bob Vila.
Now that it's ready, it's time to decorate. The good news is that you don't have to spend a fortune updating the design of your basement. Consider hanging some of your favorite pieces so your basement can serve as a private gallery for maximum impact on a tight budget. Adding wood cabinets to your basement can help you organize and create much-needed storage space. Utilize them to store seasonal goods and tools or set up a small entertainment area or bar.
If your basement's primary purpose is to entertain, include a full bathroom, lots of seating, and areas for unwinding and watching TV. Don't forget about the lighting. Since basements are often underground, there may not be much natural light. Fortunately, a fresh coat of paint can simulate the appearance of a lighter basement. A room without windows will feel cozier and more welcoming if it is kept light-colored. It could feel like a dungeon if it's overly dark.
5. Bedroom
Among all DIY home ideas, a bedroom's decor can get pricey. A standard bedroom remodel will cost around $4,000, according to HomeAdvisor, while converting an unfinished attic or basement into a bedroom will cost around $40,000. The price of a new bed can reach thousands. So, how can I update such an important area without going bankrupt? You ask.
With a little DIY work, you can achieve a luxurious look for your bedroom. First, add a little whimsical touch with a homemade bed canopy. Use handmade copper corner rods and sheer curtains to give the room a more personalized, less store-bought feel.
Put some lyrics-printed pillows in your modern decor. This will give it a playful, modern touch. The best thing about this idea for bedroom decor is that it's so affordable that you can frequently switch out the sayings or lyrics. Consider also transforming your bedside tables with contact paper. Marble contact paper is one of the newest craft supplies to try to make things appear more expensive than they are.
Wall art is another simple way to give your bedroom a distinctive touch. It is also an effective way to fill the space above your headboard. Remember to paint your room a fresh new color. The simplest and least expensive method of giving your bedroom a brand-new feel is paint. To reduce distractions and enhance your sleep, use calming hues, off-white tones, and soft pastels. A color for your bedroom wall should ideally be calming and blend into the background of your thoughts rather than standing out as soon as you walk into the room.
6. Bathroom
Although most homeowners use their bathrooms to start and end, they often forget them when considering home improvements. According to Forbes, the average cost for a bathroom remodel ranges from $6,624 to $16,920. But, there are some inexpensive tasks you can carefully take on, whether you're a novice do-it-yourselfer or a little more experienced in bathroom renovation.
For most people, painting is the easiest do-it-yourself project, which applies to bathrooms. But you must ensure that the paint you have chosen for the bathroom is the best fit for the task. When you use a bathroom, much moisture is in the air. Therefore, using specialized bathroom paint can help stop moisture from seeping into the walls, which can cause problems like mold.
Installing shelves is another DIY project among DIY home ideas that's easy to do. The process for a bathroom is the same as it is for any other room; just make sure to use a stud finder or multi-detector to make sure there are no pipes or wires hidden before drilling into the wall. That's a slightly different story, though, if you need to install a shelf on a bathroom's tiled wall. You will need to use a tile-appropriate diamond-tipped drill bit for this.
A glazed shower screen can completely change a bathroom, and all you need is your best cordless drill and a little do-it-yourself expertise. Bad grout and sealant can give the impression that a bathroom is much worse than it is. Fortunately, you can fix this yourself – that is, if the best grout cleaners don't leave your bathroom feeling revitalized. However, be ready to put in some elbow grease, as this is a laborious and demanding task.
7. Dining room
Another area you can easily include in your DIY home ideas is the dining room. It's a place to get together with loved ones, whether it's for a quick weeknight meal or a lavish dinner party. Decorating your dining room should be your top priority, particularly if you enjoy hosting guests. According to Home Advisor, the typical cost to build a dining room in your home is $80 to $200 per square foot.
Choose a somber color scheme for your dining room paint, with walls painted in deep blue or green for an air of understated luxury. Painting the ceiling the same deep color as the walls will create an intimate, enveloping look, but keeping it bright white will prevent the room from appearing too gloomy. For maximum flexibility, consider choosing banquette seating ideas rather than chairs.
Pick a large, circular dining table to make it the center of attention in the room. This style also makes it easier to have conversations while eating. Dining room lighting DIY home ideas such as an eye-catching pendant or chandelier hanging precisely above the middle of the table draw the eye even more to the table. Layer up textures to create a rustic contrast so that such a classic look fits in well in a country home.
Purchase the finest tableware within your budget, but resist the temptation to acquire extra pieces – just what your entertaining style requires. Choose items that serve two purposes; for instance, you can use a soup plate for pasta. Above all, pick what you adore and take your time collecting. In this manner, you will always appreciate your tableware.
Make your living areas more attractive and let your creativity run wild with these inexpensive DIY home ideas. Custom kitchen designs, living room renovations, garage upgrades, and basement renovations are all ways to make your house more aesthetically pleasing and functional. You can begin working on your DIY home ideas immediately if you grab your tools and get some inspiration. Your dream house could be just a project away!