Top Tips For Flipping Homes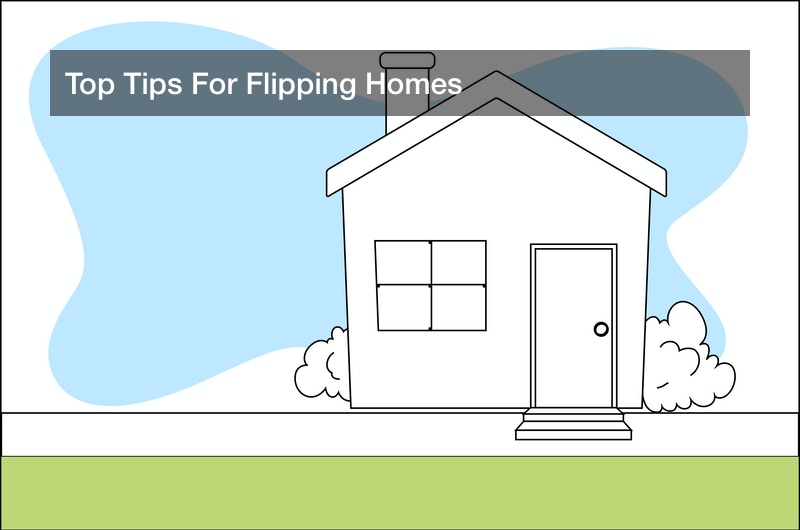 Did you know that flipping homes make up about 11% of all homes sold in the United States? Flipping homes can be a productive hobby, or even a full time job depending on how seriously you want to take this home improvement project. There are many benefits that come with flipping a home, but many first time house flippers rush into the redevelopment process before learning about everything they need to consider when buying a house to flip. This can end up being a costly mistake. If you have ever considered taking on a home renovation project like this, check out these nine things to consider before you start.
What Is House Flipping?
This popular home improvement method is a do it yourself (DIY) lover's dream. This process involves buying a home and making improvements to increase the property's value. Then, after you have completed the renovations, you resell it at a higher price than what you paid for it. The key is to ensure that you don't spend so much money remodeling the house that you can't get all of your money back when it comes time to sell.
Residential Sales And Leasing
If you are interested in finding a house to flip, but you aren't sure where to start, consider consulting with a residential sales and leasing provider. This type of business specializes in managing properties, and helping match buyers with the right property. It is also likely that they would have connections in the community for resources to help with your project, so consider letting the representative know that you plan on flipping the house. This could also help you sell the property after the home renovations have been made.
Real Estate Services
Another route you can take when looking for a home to flip is looking for a real estate services provider. Similar to the previously mentioned service, real estate service providers help manage properties. The additional benefit though is that they also work with the various homeowner associations for the properties they manage. This can help you get some leeway with your home improvements if you choose to flip a house that is within a homeowners association. Being within an association could also be more attractive to potential buyers as there are many perks the association provides. These can include community recreation areas, a swimming pool, lawn services, and assistance in settling neighbor disputes. It is important to note, however, that you will need the approval of the association before you make any major renovations to the exterior or interior. Failure to do so could cost you money in HOA fees.
Landscaping Needs
Once you decide on a method for finding a property, it's time to find a good house to flip. The first thing you should consider when finding a potential home to flip is looking at the outside of the house. For example, will you need to pursue tree removal services? Are there any signs of erosion or other foundation problems? Has the foliage become so overgrown that it would be expensive to remove? These are all questions to be asking yourself as you asses a property because it will directly affect the likelihood of you being able to sell the home, and the amount of profit you will make off the flip. The home improvements you make won't matter if no one wants to look at the inside of the home because the landscape is so atrocious.
In addition to assessing the landscape of your potential new property, look at the condition of the paint on the house. Most experts agree that a house should be repainted about every five to ten years depending on the quality of paint and local climate. You may decide that you will re-paint the building regardless, but damaged or extremely old paint could indicate that other aspects of the house have also been neglected. If you are unsure of the condition the paint is in, contact a residential painting service. They will be able to accurately assess if the house needs to be repainted, and they will be able to advise you on the different paint options you have to choose from.
Pest Control Services
As you inspect the quality of the home's paint job, you also want to keep an eye out for pests and other vermin. Homes that require you to hire pest control services maybe also have foundation issues caused be these pests. Signs to look for include damage to wood caused by termites, nesting, damages to plants that surround the foundation, grease trails left by mice, feces, and damage to the property such as gnawed holes or chewed up wiring. Depending on the severity of the infestation, this may be a very manageable problem. However, in extreme cases, this could cost you thousands of dollars in repairs and extermination charges. This service could increase the value of the home, so make sure you consider pest prevention as part of your investment.
Home Remodeling
Once you decide on a property to flip, it is time to workout the specific home improvements you want to make. The most common home improvements are in one of the following five categories:
Kitchen Remodeling
Kitchen remodeling is one of the most popular home improvements being made. An updated kitchen will not only raise the value of your property, but it can also increase your storage space and promote a cleaner environment. Modern appliances will also make your kitchen more energy efficient, with the added benefit of giving your space a modern look. You could take this renovation a step further by getting new dining room furniture and matching dishes.
Bathroom Remodeling
Another easy way to jump start your home improvement project is remodeling your bathrooms. A modern bathroom will be more attractive to home buyers, and will increase the value of the overall property. Buyers will also enjoy the additional benefit of being more eco-friendly as modern bathrooms are more energy efficient and can save them money in monthly water costs.
Basement Remodeling
If you decide to flip a home that already has updated bathrooms, simply adding an additional one can attract more buyers. The best place to add a new bathroom is usually in the basement, and it can be easily integrated into your basement renovation plans. This type of home remodeling is one of the most versatile projects of the five types of home remodels you can make. A bathroom can be turned into an extra bed room, a kids play area, an office, an entertainment space, or any combination of these spaces. The largest benefit in choosing to remodel a basement is that can you get a huge return on your investment if you decide to make the home improvements yourself without hiring other workers.
Garage Remodeling
Depending on the space you're working with, remodeling the garage can be just as attractive to buyers as remodeling the basement. Similar to the basement, the garage is extremely versatile. A simple remodeling can include adding more storage space like cupboards and cabinets, or removing storage spaces to make the garage bigger. If you would prefer to turn the garage remodeling into a more extensive project, you can turn the space into an extra room with a bathroom. This would significantly increase the value of the home, and draw a larger crowd of potential home buyers. Just make sure there are other parking alternatives if you decide to turn the garage into a living space.
Landscape Remodeling
Many first time home flippers may overlook the option of increasing the property's value through making the outside of the home more attractive. If you are in a warmer climate, a nice patio or deck paired with an in-ground pool would provide a nice space to relax. For colder climates, you may choose to opt for a hot tub and fire pit. Other options to consider, regardless of climate, are installing a shed, planting a nice garden, building a kid's play set and swing, making a gazebo, or planting a nice tree like a weeping willow or cherry tree.
Home Audio Solutions
Once you are satisfied with the design and layout of the home, you can start thinking about additional improvements that will enhance the comfort and security for the next buyer. The easiest place to start is with home audio solutions. The most popular options include:
Home Security
Installing a security system is a cost efficient way to increase the value of a home because many buyers, especially buyers who have children, want the peace of mind that comes with a secure home. In addition to having alarms linked to the outside doors and windows, parents can also be notified when their children arrive home safely from school via a notification on their phone.
Whole Home Audio
A whole home audio system pairs perfectly with a freshly renovated basement, as it is the perfect accessory when entertaining guests. It gives owners the ability to play music throughout the home, and to project movies, all while being controlled from their smart phone.
Home Theater
If you decide that a whole home audio solution may not be the best fit for the house you're flipping, another great alternative is to create a home theater. Having an immersive entertainment environment with surround sound is perfect for buyers looking to entertain guests, or for families who want to spend quality time with each other.
Estate Planning
Estate planning can seem unimportant, but it's always good to be prepared. When you purchase a house to flip, consider how you will want this asset to be divided just in case anything happens to you. It can also be convenient to have a plan ready to transfer your assets in the event that you decide to keep property after you make the home improvements. After all, you may do such a good job that you fall in love with the newly designed spaces and end up moving in yourself.
Have A Backup Plan
One of the most overlooked aspects to flipping houses is have a next best alternative. It is easy to believe that you will be able make beautiful home improvements that will earn you a nice profit when you flip the property. It is important to know, however, that there are some factors out of your control when flipping a house. For example, buyers may not be able to afford your property at the price you are asking because you raised the value too much. This is why it is important to know what you will do if you can't sell the property before you begin making improvements. You may find that the best backup plan is to have a team helping you with the renovations. Whether it is professional or personal connections, these people will be able to help you finish the job quickly, and to make sound remodeling decisions. Speaking with a realtor before you begin renovations can also save you money. Realtors are the experts when it comes to assessing a property's value. They can also advise you on what renovations to make, so that you can still make a profit when it comes time to sell. Working with a realtor from the beginning of the project may also benefit you when it comes time to sell, as they can talk to buyers about the renovations that were made, and help them understand the amount of work you put in.
Final Thoughts
Flipping a home can seem like an overwhelming project to take on. You have to search for the right home, decide if the property is in good enough condition to be renovated, decide on which specific home improvements will be made, and even assess the likelihood that the project will earn you more money than you spend on it. If you assess the neighborhood and keep an ideal home buyer in mind, you can cater the home to what that person might want. For example, a pool might not be a good fit for a family with young children. That family may instead prefer a renovated basement and home security system. House flipping is a completely customizable project, so make sure you take the time to learn what options will work best for the property. If you follow the above tips, you will be flipping your first home in no time.