What Are the Best Home Investments for Resale?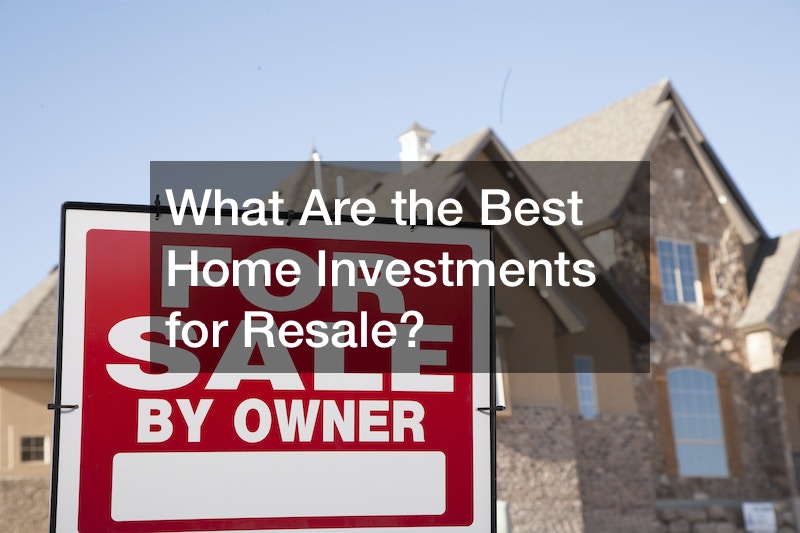 As you prepare to renovate your home, you ought to know the best home investments for resale. Why? Because the real estate market is a lot different than it was even as recently as a couple of years ago. There are a couple of things buyers deem mandatory for houses to have. However, investing in a home for resale isn't cheap; according to a report from The Harvard University Joint Center for Housing Studies, residential maintenance and repair costs rose by 22% between 2020 and 2021 due to supply chain problems and a shortage of raw materials.
But that doesn't mean you shouldn't invest in your home when selling because, in the same period, real estate performed very well. According to a report by corelogic.com, real estate values appreciated by 32.2% compared to the previous year. Therefore, in this review, we have compiled a list of the best home investments for resale. These recommendations will help you make better decisions on the areas to spend on and those to neglect.
Invest in Your Central Air System
Investing in a new central air system is considered one of the best home investments for resale. According to spurkhvac.com, installing a new air system can increase your home's value by roughly $3,000, or 10% of the total value. If the central air system is working properly or you replaced it recently, you can call an AC repair service to undertake maintenance. But if you need a new system, consider the following tips to get the best one for your home.
Go Green
New homeowners are looking for energy-efficient homes to help them save cash and reduce their carbon footprint. Getting an energy-efficient air conditioning unit is one of the best ways to make your home greener. It will help attract more buyers once you officially list your property on the market and increase your bargaining power.
Size
When buying a new central air system for your home, you need to consider the size. Get an air system large enough to cool your entire home, including the basement.
Type
Experts advise homeowners against buying window air systems because they're more expensive to maintain and can decrease a home's value. If you have a window air conditioning unit, consider swapping it for a newer model. If you're having a hard time deciding which is the best system for your home, talk to an expert to get some advice.
Replace Old Plumbing
Replacing old plumbing features is among the best home investments for resale. While potential buyers might not notice the condition of plumbing in your home immediately after they walk in, they will eventually know when an inspection is done and will most likely back out. If you want to sell your home quickly, call plumbing services for the following repairs:
Fixtures
The first thing potential clients will notice about your home's plumbing is the fixtures because, unlike pipes, they are mounted in clearly visible areas. If you have a stainless steel sink with a standard faucet, maybe replace it with a beautiful farmhouse sink with a hose faucet. This is a new trend in the market that's likely to be appreciated by many buyers.
Piping
Old piping is a ticking time bomb regardless of how well you have maintained it. Potential buyers will ask about the age of the plumbing, and if it's old, they know they will incur costs shortly after buying the property. No buyer wants to buy a home only to start getting problems with leakages, odor, and water pressure. Therefore, if you don't replace the plumbing, it will affect their buying decision or make them ask for a massive discount.
Water Heater
A water heater has a limited useful life, so if yours is old, you should replace it before listing your house for sale. If you don't replace, you risk repelling potential buyers. Why? Because they consider an old heater a ticking time bomb and energy inefficient.
Give Your Cabinets a New Coat of Paint
Revamping your kitchen is one of the most expensive renovation projects you can undertake in your home, and replacing cabinets can account for roughly 40% of the total cost. According to thespruce.com, replacing kitchen cabinets costs between $14,000 and $38,000. What's the alternative? Cabinet painting. This is one of the best home investments for resale because you can DIY, and also, it's very cheap; you can implement it for roughly $200.
If the finishing coat on the cabinets is clear, consider stripping down the finish. This makes the cabinetry bare, which is best for repainting. The benefit is that there is no adhesion problem between the old coat and the new one. Stripping is ideal for perfectionists but not always necessary. You can thoroughly clean the cabinets, lightly sand them, and then apply a fresh coat of paint to make them look new.
Replace Your Furnace
If your home is a bit old, replacing the furnace is one of the best home investments for resale. A buyer with concerns about an old furnace may quote a substantially lower price or ask you to cover a part or all of the closing costs to help offset the cost of buying a new furnace. But is getting a new furnace worth it? According to a 2019 remodeling effect report by the NAR (National Association of Realtors), homeowners who replace their furnaces prior to selling their homes can expect to recoup roughly 85% of the cost.
This means that replacing your home furnace is worth it, although homeadvisor.com states that the average cost of buying a new furnace is over $4,200. But, if your furnace is working correctly or you recently replaced it, you can hire a furnace repair company to come in and service it; a two-year-old working furnace won't repel potential buyers.
Insulate Your Attic
Most homeowners depend on their air conditioner to heat or cool their home in the summer and a furnace for heat during winter. However, there are a couple of things that can make heating and cooling easier, such as attic insulation. This is typically a barrier between the external and internal temperature. The better the insulation, the more your home can stay warm if it's cold and cool if it's hot. A home that doesn't have adequate attic insulation requires the air conditioner or furnace to run more, meaning a significantly higher power bill and decreased equipment life span. A house lacking attic insulation will repel potential buyers.
Fortunately, installing attic insulation costs about $1,500 for a 1000-square foot attic which you should recoup when selling your home, making this one of the best home investments for resale. There are several attic insulations you can install, including:
Blanket-type Insulation
This attic insulation type comprises rolls of fiberglass batts designed to fit between typical attic framing. You can DIY by rolling out the batts at the right angles over the framing.
Blow-in Insulation
When installing this attic insulation type, a machine shoots a stream of loose-fill cellulose over the attic framing. You need to hire a contractor for this job.
SFP (Sprayed Foam Polyurethane)
SFP is a good option if you intend to revamp your attic into a room. Rather than insulating the attic framing, you should insulate the roof.
Keep Your Roof in Optimal Condition
A roof is one of the most vital elements in any home, making it one of the best home investments for resale. Not only does it protect a home from weather elements, but it also improves its curb appeal. If your roof is in a bad state, it can repel potential buyers because they may be concerned about additional problems underneath.
They may also wonder which other part of your home you've neglected. Fortunately, you don't have to replace your roof to keep it in optimal condition; call a roofing service company to repair and replace missing elements. Even if your roofing contractor recommends you replace the roof, you can recoup the cost when you sell the house. According to a report by Remodeling Magazine, the ROI on asphalt and metal roofs was over 70% in 2020.
Install New Fences
The first impression buyers get when they see your house is very crucial. When a potential buyer approaches your house, the first glimpse can decide whether or not they will make an offer on your home. This makes new fence installation one of the best home investments for resale because it will add some much-needed pizazz to your home.
Different fence materials can offer different impressions. For instance, a chain link fence is industrial, while an ornamental fence offers sophistication. A wood fence can provide a homier feel, while a vinyl fence offers the look of wood without the required maintenance.
When thinking about how a new fence can affect your home's value, you should consider a couple of things, including your neighborhood. Do other homes in your neighborhood have fences? If so, which fences do they have, and what condition are they in? If your old fence doesn't appeal to you or you don't have one at all, a new fence can be worthy. Also, consider intangible benefits such as increased privacy and security as well as visual appeal. A new fence can help make up for various flaws and make your home seem more secure.
Invest in a New Floor
Flooring can be a substantial make-or-break element when it comes to selling a home. Buyers love to visit homes with brand-new flooring that's easy to maintain. If they don't like the floors in your home, you're much less likely to get offers, and if you do, they will make less-than-ideal offers. Fortunately, you can recoup flooring installation costs.
According to thisoldhouse.com, investing about $1,000 in flooring will typically return about $2,200. There are several areas buyers want to see with new floors, including:
Entryway
Buyers establish their first impression of homes by looking at the curb and entryway, so it's important to revamp the flooring in the entryway. Whether it leads to your kitchen, lounge, or mudroom, you should revamp the floor in your entryway.
Kitchen and Lounge
Another area whose floor you should revamp is the kitchen and lounge. If they're combined, you can use one flooring type, but if they're separate, use different types of flooring. Potential buyers focus on these areas a lot.
Upgrade Your Bathroom
Upgrading your bathroom comprises expanding it, relocating and replacing the tub and toilet, and replacing the faucets and sinks. Other things that you should change include the lighting and shower cubicle; you can install a custom glass shower door.
Start at the bottom by replacing the old floors with new tile or marble stone. Ensure you buy new tiles just in case of some breakages during installation. Consider giving your bathroom mirrors a facelift by swapping them for extensive vanities. Additionally, change the countertop and cabinetry below to give your bathroom a fresh look. If the bathrooms in your house are small, you can use a couple of tricks to make them seem larger such as installing many mirrors. Additionally, consider suspending the cabinetry and sinks.
Restore Your Siding
If your home's siding looks dilapidated, you should call a siding contractor to replace it. Installing new fiber-cement or vinyl siding can be costly, but according to homeadvisor.com, you can expect to recoup up to 70% of the total cost when you sell your house.
If you don't know which siding you should use in your house, you can contact your realtor; they will give you helpful advice as to which siding you can install not only to make your home's exterior pretty but also to impact the resale value positively.
In conclusion, numerous home upgrades are considered the best home investments for resale, including the ones listed above. Before you start remodeling, consult a real estate agent to learn which home improvements are valued in your area and work on those.