3 Common Types of Gutter and Their Materials

One of the most ignored parts of any home is the gutter system. Gutters can significantly impact the functionality of your home. It's important to give them the attention they need because you should understand the different types of materials a gutter company can install so you don't have to worry about water accumulating on your roof and damaging your property.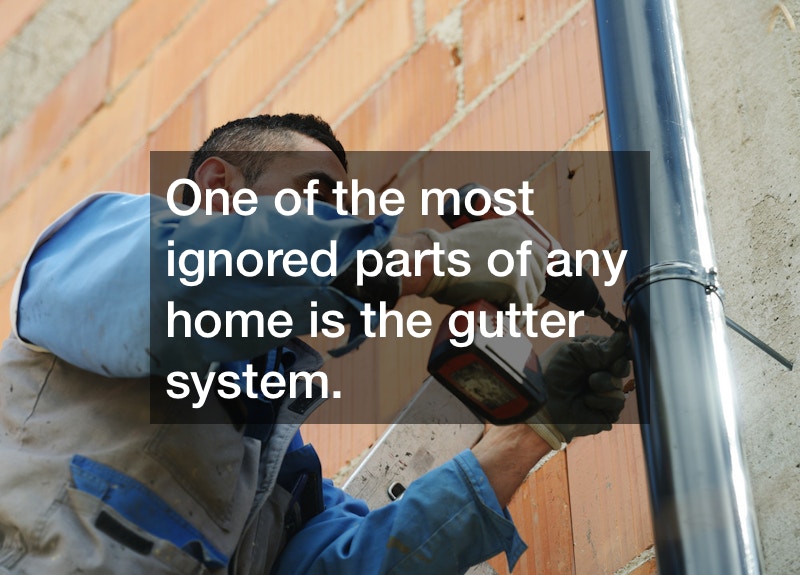 All gutter systems look the same to an untrained eye so most people just pick whatever works best or is cheaper to have installed. They forget about it for years until there's a huge issue. However, understanding all the materials and aspects, such as the gutter profile and the gutter saver, will prevent trouble in the long run. You'll know when to call for emergency repairs and how to pick better options when you have to install new gutters.
You don't have to become the most knowledgeable person in the industry, but researching and getting a general idea of how seamless gutters are made or how to pick gutters for curved roof will keep your home in top shape and increase its value. At the end of the day, a house is the biggest investment in most people's lives, so it must be cared for. Let's find out more about gutters!
Maintaining your property entails installing all the essential features that not only enhance its aesthetic appeal but also functional. Gutters are such a part of your property. Among the primary gutter uses are protecting your property's foundation from water damage, avoid basement flooding, and protect the windows, doors, and siding, as well as the landscaping. With such contributions, it is recommendable that your gutters be cleaned at least twice a year.
If you are in the market for gutters, you may be overwhelmed by the choices. Below is a look at the most popular gutter types and materials to ease your search.
Three Common Types of Gutter
K-Style Gutters
K-Style gutters are the most popular types that you will spot on most modern properties owing to their versatility. The name is not deduced from their shape but rather the numbering following SMACNA's (Sheet metal and air conditioning contractors national association) alphabetic listing. If you live in a place that rains a lot, K-Style gutters would be your ideal choice since they hold more water than the other types.
Half-Round Gutters
Much like the name suggests, half-round gutters are half-round tubes that are installed with the open half facing the roof. They are much common in older properties, and if you are looking for a sleek but not overly flashy design, then half-round gutters are your go-to option.
Fascia Gutters
If your property doesn't have a fascia board over the rafter rails, then your favorite gutter option would be fascia gutters. As they conceal the rafter rail's edges, fascia gutters double as gutters and fascia board.
Five Gutter Materials
Aluminum
Aluminum gutters are quite common these days and with good reasons. Aluminum gutters are lightweight and easy to install. Moreover, you can easily match your aluminum gutter to the color of your property's exterior as it comes in different colors and can be painted to match your needs. With aluminum, regular gutter repair due to corrosions affecting the looks and integrity of your gutter won't trouble you as aluminum doesn't rust. Aluminum gutters are also cheaper compared to other materials.
Copper
Copper gutters are exceptionally striking, and they are commonly used in high-end residential properties and historical restorations. Copper gutters don't need to be painted, and with time, they develop a patina that adds an aesthetic appeal to your property. As copper gutters don't rust, they are durable. However, since they require professional gutter repair and installation and are more expensive than aluminum, they are not a common choice for most homeowners.
Galvanized Steel
Galvanized steel is simply steel covered by a zinc layer to protect steel. Among the main advantages of steel, gutters are that they are strong, can be painted to match your color taste, and resists last for an extended period. However, since steel gutters are heavy, DIY installation is not recommendable meaning you have to hire professional gutter repair and installation services. They are also pricey compared to aluminum gutters.
Zinc
Although it may seem to be an expensive option, zinc gutters are durable and strong. Zinc gutters can last up to twice the period aluminum gutters lasts, making them an ideal choice if you intend to use the property for an extensive period. Zinc gutters are made from a combination of small amounts of titanium and copper, and they don't need to be painted as they develop a patina over time.
Vinyl Gutters
Vinyl gutters are commonly used in homes and commercial properties since they are light, easy to install, and an inexpensive option. If you hire a professional to install them for you, the cost will most likely be less as compared to copper and aluminum. Another advantage of vinyl is that it is made from PVC and therefore does not corrode or dent as metals do. Painting is also not necessary since scratches are not easily noticeable.
Gutter repair, installation, and maintenance can be challenging, but with professional assistance, you can keep your gutters in good condition, ensuring that you get the most out of your investment.