Fresh Ideas for Fixing Up an Old House On a Budget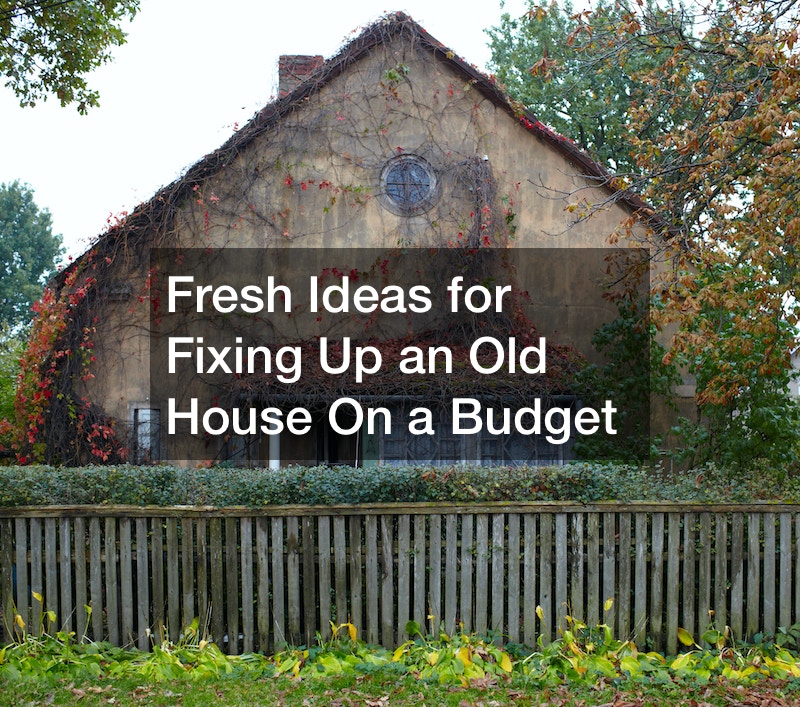 Most people think that selling an old house is the best solution instead of fixing it. Others would rather buy a new home expensively instead of an old one that needs a little fixing for a fair price. Fixing an old house on a budget is possible. It allows you to keep your home, the heritage, and the memories that cannot be bought elsewhere even if you have all the money in the world. Here are several things you can do to improve an old house on a manageable budget.
1. Repair Your Roof
House roofing can last for twenty-five to fifty years, depending on the material and maintenance. It keeps the structure in good shape, provides shelter from the elements, and enhances the look of your home. Roofs will get damaged from time to time due to weather elements and other factors. It will require repairs to keep serving you. Most old houses can do with the replacement of a few sections of the roofing or an entire replacement. The cost of roof repair ranges between $150 and $1500 for minor repairs.
Major repairs cost between $1500 and $7000. Improve your house by fixing the roof based on an affordable budget. Work with a professional roofing contractor to get the best deal and advice. Consider re-roofing if you must replace more than half of your old house roof. It will save you money and improve the market value of your home. Roof replacement and repair is one of the best solutions for fixing up an old house on a budget.
2. Give Your Exterior a Facelift
An old house can have a dilapidated outdoor environment that worsens the general outlook of your home. An exterior facelift is a great way of fixing up an old house on a budget. Trim the bushes in and around your compound and plant flowers and grass. Redo your walkways and ensure the compound is properly cleaned. Painting the house walls is one of the best ways to complete the facelift.
Adding color is a good idea you should try out. It is durable and provides a great-looking exterior finish. The exterior walls should be stucco repainted every five to ten years to remain in top condition. It will prevent the formation of hairline cracks and keep already formed ones from widening, which weakens walls and makes the house ugly. It will cost you around $4500 for stucco painting a 2000-square-foot home. Smaller houses cost $3500 or less. The costs will vary depending on your area, but the average is $1.80 to $3.60 per square foot. Consider painting as a solution to fixing up an old house on a budget.
3. Care for Your Hardwood Floors
Hardwood floors are a statement of style. They provide the proper heat and sound insulation. However, they must be well maintained and taken care of, especially if the home is old, regardless of the hardwood flooring material. These floors share some basic maintenance routines to last long and serve you well. Owners should remove grit promptly and clean frequently. The floors also require re-coating from time to time and spot repairs when there is a need. Owners should also avoid staining and scratching the floor to maintain its appearance and condition.
The average cost of floor refinishing is $1800, and professionals will charge between three dollars and eight dollars per square foot. You can avoid this cost by vacuuming weekly, using furniture pads to prevent scratches, sweeping dust daily, and using a wood floor cleaner monthly. Refinish the floors after three to five years to maintain the quality and condition. Floor maintenance is a good way of fixing up an old house on a budget that you can do easily.
4. Update Your Backyard
Your backyard is an important part of your home. A few improvements and proper maintenance can make a difference. You can build a DIY patio, add a beautiful outdoor rug, create a stone path, or construct a tree bench with minimum cost. You can also invest in far ambitious projects such as building a fountain or a pool.
Adding an outdoor kitchen is another smart way of fixing up an old house on a budget. It will cost you between $1200 and $2000 per linear foot to construct one from scratch, but it is worth every penny. Outdoor kitchens are becoming popular with homeowners, and experts believe they significantly increase property value. They have a return on investment of between 100% and 200%. Furthermore, it will only take you three weeks to four months to construct a kitchen in your backyard. Consider investing in a good one today to reap the immense benefits.
5. Beautify Your Property
Your outdoor landscape can make a difference in how good or horrible the home looks. Many invest in house renovation and assume landscaping with devastating results. Add a touch of greenery to make your house the focal point. You can also paint the house interior or add decorative mirrors and remove clutter to give furniture more room. Working with a professional landscaper or an interior designer is a great idea though you can save on costs if you do most of the remodeling work yourself. You can also add paintings and hang family portraits on the walls when looking at ideas for fixing up an old house on a budget.
6. Get Your Pipes Inspected
Residential plumbing needs to be inspected once after every two years. It ensures the systems don't degrade. Pipes need maintenance because they wear out from use like other equipment within the home. The extent of wear and damage is more pronounced in an old house. A pipe inspection is a good place to start when looking for a way of fixing up an old house on a budget.
You can prevent worst-case scenario issues by identifying hidden damage and correcting small problems in time before they become costly plumbing disasters. The average cost of a burst pipe ranges from $250 to $850, and you can prevent it by doing an early inspection. The inspection prevents drain blockages for the pipes to operate efficiently. It will also allow the property owner to establish the piping layout of the home, which is vital when doing a future renovation. Inspections help old-house owners to keep the home in good condition by identifying potential problem areas and dealing with them on time to save time and money.
7. Care for Your Carpet
Carpets add color, warmth, insulation, and comfort to the house. They are a great way to improve the interior aesthetics of any room. However, poorly kept carpets can make a house look older than it is, spread allergies, and cause accidents and diseases. Caring for a carpet does not require professional help, and most homeowners with time and skills can do it themselves. Think of your carpet's condition when you are looking for a way of fixing up an old house on a budget.
Vacuum it weekly, remove spills instantly to avoid ugly tough stains, and get rid of furniture dents. Shoes should be kept far from the carpet to avoid dust, dirt, and damaging the carpet fibers. As much as vacuum cleaning will do most of the job on your carpet, using a carpet spot cleaner is the best way to get rid of spot stains. Spray the affected area with a cleaner to soak the stain, then use paper or dry, white clothes to transfer the stain and rinse with cold water. You can repeat the process as much as is necessary.
8. Clean Grubby Tile Grout
Cleaning tile grout is an effective strategy for fixing up an old house on a budget. Dirty tile grout makes your floor look old and uninviting. You can do it or contract a tile grout cleaning company depending on the budget and the amount of work needed. To clean it, use a soft towel and hot water to remove dirt. Add a hydrogen peroxide, soap based remover to the grout. Let it settle on the grout for five to ten minutes, then scrub the grout lines with a gentle brush and wipe clean.
9. Replace Broken Utilities
Broken utilities are every homeowner's worst nightmare. Ignoring replacement and attempting to repair damaged ones leads to more disasters. The cost of replacing a sewer line is between $50 to $150 per foot, but it is better done than informed. Replacing a sewer line will keep your home and family safe. You can also call in experts to carry out water heater install upgrades. Consider replacing them if the repair costs of the old ones in your home cost 50% of their value. Consider repair also if you are spending money on constant repairs to keep the one on your old house working to save money.
Water heater installation is not a DIY project because it requires skills in plumbing, ventilation, carpentry, electrical systems, heating, and knowledge of local building codes. It may also require special permits and inspection by local authorities. Avoid the drama by hiring an expert for as low as $815. They will give you value for money. Installing water heaters is a good way of fixing up an old house on a budget with huge returns on investment. Installation takes two to three hours.
10. Contact a Realtor If You Want to Sell
When you have done enough upgrades to your home or found a better deal and think moving out is your best option, look for a realtor instead of trying to sell the old house yourself. You may think that doing the sale yourself will give you more money because you are paying no one else, but the reality is different. Going that route may be costlier and more difficult. Approach realtors when you start saying, "I think I want to sell my home."
Most real estate marketing sites may not show For Sale by Owner advert. They are a business and earn commissions from selling houses which you will deny them if you sell yourself. Your pricing can also be unrealistic by industry standards to buyers and real estate professionals.
They may also not display your sales ad to safeguard their clients from scammers, even if your case is genuine. They stand to lose more business than you and may deny you a platform to protect their customers and brand. Get the best price and abide by the law to cushion against legal suits to stand a better chance. Hiring an agent is still better than going through all that when you want to sell your old house.
Agents will also help you to avoid selling your house based on emotions. They have no positive or negative attachment to your house and will sell it at the right price based on the market value. They will not overprice or underprice your house, which is a mistake you will mostly make when being guided by emotions as you try to sell. You will also avoid dealing directly with rejection from clients, which may hurt you deeply, even after successfully selling the house.
Real estate agents are in full-time professionals, unlike you. They will dedicate their time and pay full attention to the task. They will answer calls and queries instantly and professionally, which you may not do. They are experts at marketing homes and will do it better than you can ever try. They also have access to large networks and information. They can list on multiple platforms cheaply and easily to increase the chances of selling the house. Experience helps them to weed out unqualified buyers which you may not tell when trying to sell on your own.