Is Do It Yourself Pool Construction Possible?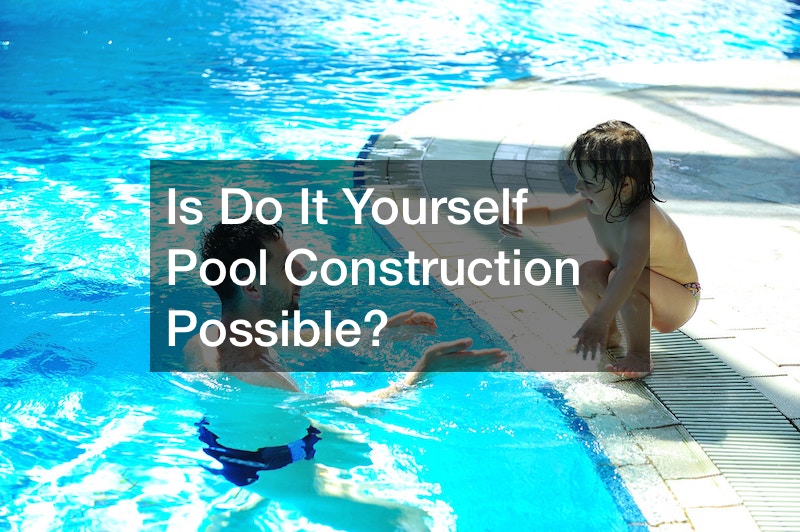 Installing a pool allows you to escape the hot weather without leaving your property. The only decision is to build the pool yourself or employ an inground pool construction company. Building a pool in your backyard is possible. However, you need to follow the right steps to construct a pool that will serve you and your loved ones for a long time. If you haven't excavated or built an in-ground pool previously, the task can be daunting, taking several weeks and costing thousands of dollars.
Homeowners considering building a pool have a lot to think about before digging a hole. This is a major construction initiative, so ensure you understand what you're doing to avoid surprises or extra costs. Whether obtaining the necessary permits, organizing tools, or selecting a location with few obstacles, specific skills and knowledge help ensure everything goes smoothly. If your backyard has complex setups or conditions, this can also increase the final cost. Initiating a do it yourself pool construction without the help of an expert may lead to substandard results. There's a lot to consider when learning how to construct a pool, and if you're ready to do it yourself, this guide will help.
Tips for Building a DIY Pool
1. Concrete pools take the longest to install of any type.
2. A vinyl lining can be punctured by pets, pool toys, or sharp objects.
3. Prices vary depending on the residential location, water circulation system, soil conditions, and the type and size of the pool.
4. A do it yourself pool construction is subject to zoning laws, and permits must be obtained before work can begin.
Considerations for Safety
1. Pool lights not only add to the atmosphere of nighttime swimming but also make the pool safer.
2. A safety fence, frequently included in basic contractual packages, ensures that the area around the pool is secure. Local construction departments frequently require Fences to obtain permits.
3. A safety coat can help prevent users from accidentally falling into the water.
4. Electrical safety is a major concern, and wiring malfunction can increase the potential for electric shock.
Other Factors to Consider
1. The best location for a pool in a yard is determined by where the sun shines, a location that blocks winds. Additionally, you may need a site away from telephone wires and electrical equipment, and a high and dry site to avoid flooding.
2. It's best to build the pool close to your home so you can keep tabs on swimmers inside your home.
3. Consider different types of filtration and disinfecting to keep the water clear and clean. Many homeowners choose chlorine.
The Ultimate Guide to Constructing Your Own Pool Choose Your Site, Pool, and Any Additional Accessories, Attributes, or Extras
One of the first steps is to determine the location of the pool. Any fencing or trees determine the location. The size of the yard determines how large a do it yourself pool construction can feasibly fit in the space. Decide on the type and shape next. Fibreglass, Concrete, and vinyl pools are available in square, circular and rectangular shapes. Each type has advantages and disadvantages. Fibreglass is usually low-maintenance but not as configurable as Concrete, which is more expensive and requires more maintenance but is entirely customizable. Consult a contractor about options such as several entrances, depth, lighting, and extra features.
Plan Your Pool and Get the Necessary Permits
Most cities and towns demand residential construction permits to build a pool. The Department of Building and Safety specifies the exact specifications and requirements that homeowners must adhere to. A landscaper is required in this phase. The landscaping service will ensure proper maintenance of your outdoor area prior to the excavation phase. After that, you can start bringing your outdoor vision to life. When thinking about do it yourself pool construction, bear in mind that sophisticated designs are more expensive to build.
Begin the Excavation
Some homeowners first conduct soil tests to ensure that the ground composition is consistent and ideal for supporting a pool. These conditions can be influenced by salts, sand, gravel, organic matter, clay, and silt. Following that, heavy-duty equipment is used to dig. This process can generate a lot of waste dirt. A specialized removal company may be required to remove the waste.
Lay the Foundation and Connect the Plumbing and Power
Once the hole is drilled, the water and power lines must be installed. Building a device pad to house the filter and pump systems is part of this phase. The plumbing can be hidden below the surface in Concrete or on the pinnacle of a pad. If the do it yourself pool construction includes extra features such as water, lights and spas, the configuration process may take longer.
Place the Molded Fiberglass or Steelwork Pool Shell in Place
Now that everything is in place, it's time to concentrate on the shell. A gunite pool requires a steel reinforcement bar skeleton and takes a bit longer to construct. Concrete pools take almost one month to set fully. Because the shell is made off-site, transported, and installed directly, fibreglass or vinyl do it yourself pool construction takes less time. As you install the shell, ensure it is level with the surface and that the edges are straight. The levelling procedure may necessitate several adjustments.
Add the Final Touches to Your Pool
Following the completion of the pool base, a contractor will construct a surface-level deck surrounding it and implement the pool finish. Installing extra hoses and landscaping is also possible at this point. The look is completed with decorative finishing touches. The design's complexity determines the length of time required for installation. Extra features, such as zero-entry points, waterfalls, lighting hot tubs, and stone, raise the price but provide more personalized options. Dive boards, decks, slides, and heaters are the additional features.
Fill Your Pool With Water and Add Chemicals to It
The pool can be filled now that the inside has been completed. You may have to acid-wash it a day before so a pool technician can fill it. After the water is pumped in, chemicals are added to keep the water swimmable and clean. Chemical sanitizer aids in the elimination of organic pollutants in the water, including bacteria and algae. In do it yourself pool construction, three disinfectants are commonly used. They include bromine, chlorine, and PHMB.
What You Need to Know Before Constructing A Pool Choosing the Most Appropriate Pool Patio Materials
Many pool companies prefer inexpensive pool patio materials such as stamped concrete because they are easier to install. However, there are some drawbacks to concrete. For instance, it will ultimately crack. Ensure you get the best stone mason contractor to help you out. They will likely offer stone services for a pool that will last long. However, artificial pavers are not always the best option for something as exclusive as your pool patio.
Pool Features Contribute to Overall Enjoyment
Pool aspects like Waterfalls, pool lighting, infinity, swim jets, and spas are more than just 'extras'. They can make or break your entire swimming experience. These pool features enable you to spend more time in your do it yourself pool construction and enjoy it to the fullest. Getting the best landscaping company will ensure your lawn is well maintained. They also make it easier to enjoy sitting around the pool. Elements such as lighting and different water features transform the pool into an 'oasis' where you can sit and relax.
Selecting the Wrong Pool Expert Can Lead to Disappointment
Finally, when it comes to things to think about before constructing your swimming pool, the most important thing has confidence that you've chosen a firm that will set you up for success. When the pool is completed and ready for use, the last thing you wish is to be unimpressed. In this situation, picking the ideal pool contractor is crucial. You want a meticulous professional for a vital pool deck resurfacing and repair task. Find a business that recognizes that every single detail counts, no matter how small it may seem.
The Advantages of Constructing a Pool in Your Yard
People are contemplating pools and beach trips as summer approaches. Having a pool in your backyard would be convenient for planning some fun in the sun without travelling anywhere!
It Improves Your Health
When you think of having a pool in your backyard, you might envision yourself in a lounge chair, drinking a margarita in the centre of the pool rather than getting some cardio in. However, having your do it yourself pool construction means you can enhance your heart health by swimming a few tests runs every day. Swimming is a low-impact exercise, so you can get a good cardio workout without waking up with swollen muscles and feet the following day. You can also increase your strength and focus muscles that a regular workout would not allow you to reach.
You will most likely exercise more muscles than you would with a powerlifting session if you include certain moves and strokes. If anyone in your household requires aqua therapy following an accident, having a pool in your residence allows you to have your treatment program rather than a local gym or community pool. Any therapeutic process is always more comfortable in a more private setting.
Pool Parties and Get-Togethers
Your house could become the destination for the year's biggest pool party. You can throw the perfect house party with all of your guests eagerly anticipating the next party. A party venue with drinks, food, and a pool to cool off in is ideal. You can install lounge areas in your area for your guests to rest when they want to take a break. Outdoor pools are an excellent way to bring people together and bond.
You Can Initiate Swimming Lessons at Any Time
If you have children who do not know how to swim, this is an excellent opportunity to teach them. Early exposure to water will help children feel more at ease around it. They will have no trouble going to larger water bodies, swimming for exercise or working around water as they age. Access to a swimming pool allows your kids to practice and learn swimming. You can also hire someone to teach them to swim.
It Increases Your Home Value
An inground pool installation can increase the value of your property. If you go the extra mile and build a mini dreamland in your yard, potential buyers will be very interested if you choose to sell your house in the future. If your peers have pools and you don't, installing one will also benefit you in the long term. You could also get a better deal if you sell at the same period as neighbouring residents.
It Enhances Bonding Time
With so many obligations, work, and the increasing cost of living, it's no surprise that most families struggle to spend sufficient time together. Because everyone is forced to turn off their electronics to swim, there is additional time to converse and bond with loved ones. You can organize family pool weekends where you can play pool games, race, or relax and converse about your week.
Beyond drilling a hole and trying to fill it with water, there's a lot to think about when deciding how to construct a pool. It's a relatively costly project requiring heavy machinery and experts to handle electrical and plumbing installations, as well as any additional features you desire. Once finished, the do it yourself pool construction will require regular maintenance to keep it tidy. While you might be able to do this project yourself if you have the appropriate equipment, hiring a professional will ensure you have the necessary permits and no problems with digging, installation or wiring. A specialist can also relieve the stress of figuring out how to construct a pool and enable you to concentrate on enjoying it.