Moving States: A Guide to Selling Your Home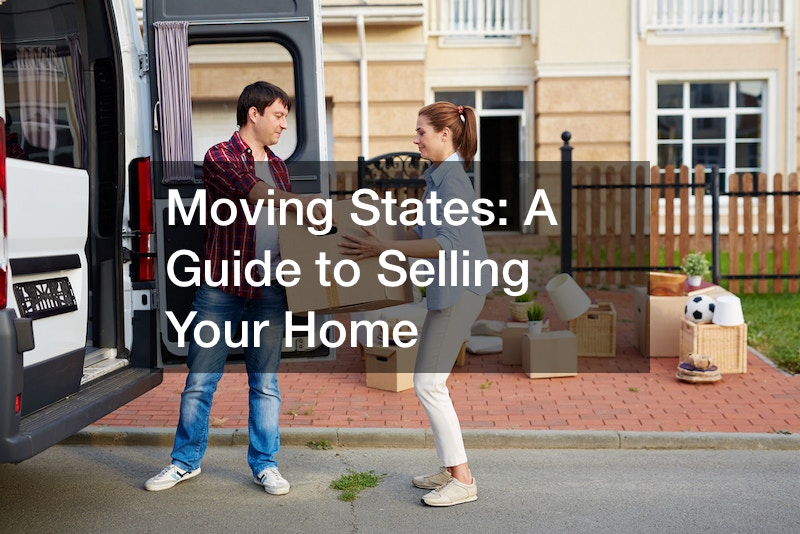 Moving is one of the most stressful events for people. According to one survey of 2,000 participants by energy company E.ON, 60% of respondents voted moving as the most stressful life event ahead of a divorce. The stress could multiply if you are simultaneously moving while selling a home and buying another one.
Here is the point. Moving states is overwhelming but it doesn't have to be. A guide to selling your home can help you prepare better, and the whole process will be a breeze. Who wouldn't love that?
That's why we curated a guide to selling your home and moving states so you wouldn't be overwhelmed. The more informed you are, the less overwhelmed you will feel. Furthermore, you will be able to incorporate insights from other people who have successfully sold their homes and moved states.
Before we give you a guide to selling your home, you may wonder if listing your home for sale is the only option when moving states. No, it's not. You could opt not to sell and repurpose your home. For example, you could list it on Airbnb, leave it as a vacation home or lease it.
One of the most practical reasons to sell is to get the finances to buy a new home in another state. Moreover, it might be strenuous to maintain two properties, especially if one of the properties does not have enough cash inflow to take care of maintenance expenses such as backyard landscaping and swimming pool cleaning. A vacant home is also vulnerable to risks such as unwelcome inhabitants and break-ins.
If selling your home makes financial and practical sense, it's time to sell it. But if you want to sell your home successfully, you need to prepare your home for sale. Of course, maintenance and fixing will be minor if you ardently maintain your home. For example, if you have regularly engaged local septic tank companies, your tank will work well anytime. Here's a guide to help prepare your home before putting it on sale.
Make a Plan for a Home Sale
Most successful projects begin by having a good plan. Selling a home when you are also moving states can be hectic. A plan can help you reduce tension and the likelihood of costly mistakes. If your move is sudden, you may not have much time, but you can mentally note the necessary things to do before putting up your home for sale. Note things that haven't been working in the house lately and settle on a date for putting the house on sale.
Decide Early on What to Fix
If you have grown accustomed to certain aspects of the house not working, it may be overwhelming to think of everything you have to fix. But some of the fixings may not give you any ROI. Doing repairs haphazardly without a plan will eat into your pocket without promising any return on investment.
Therefore, it's best to decide earlier on what to give priority. If your roof has a serious leak, you might need to call a local roofer, and if you have had a serious pest infestation, it would be critical to call pest removal services. Other problems, such as Wi-Fi connectivity, are not a priority.
Prioritize the Most Noticeable Aspects
When it comes to real estate property, first impressions are lasting impressions. Buyers judge a book by its cover. A buyer will easily notice problems on their first interaction with the property. Of course, you should never lie or give a false impression. But problems such as a shaky doorbell are tell-tale signs that you haven't maintained your property. A leaky rusty faucet screams loud for attention, so call plumbing companies before it turns a potential buyer away.
Prioritize Improving Curb Appeal
Curb appeal is people's first impression of a property. In other words, the exterior design of the house matters. While you may not do a total overhaul, you can ensure it is pleasing to the eye. Call cleaning companies to do a thorough house cleaning. A spotlessly clean property looks fresh and maintained.
A 2018 National Association of Realtors report showed that home sellers recoup 100% of landscape maintenance and tree care costs. So, call tree and stump removal services to do tree care and lawn care providers to do professional landscaping. You will get a good ROI and sell your house faster.
Make Low-Cost Tweaks
You could also do small makeovers and tweaks to give your house a fresh look. Electrical service could help fix exposed wires, and painting can cover minor cracks. In addition, you can water flowered pots, so they sprout again, and have ac repair service providers clear filters and ensure the AC works well enough to keep the room temperate. Small to mid-cost tweaks can improve your house without costing you a lot.
A Guide to Selling Your Home
If you are looking for a guide to selling your home, you would probably want recommendations on the sequence of selling your home. There are two options. The first is to sell your house and then buy a new home. The advantage of such a sequence is you will have the finances to buy a new home. However, you can opt to sell and then leave like a tenant, paying monthly rent.
The second option is buying a new home, moving into the new home, and then selling your old home. This option only works if you have the financing or don't mind paying two mortgages. The advantage is that it will be easier and more convenient to move and sell your older home. Regardless of the sequence you choose, you will still sell your home. Here is a guide to selling your house successfully.
1. Hire a Real Estate Agent
While you can sell your home through other methods, it is advisable to use a real estate agent. They have a better footing in the market and experience selling homes. If you are moving states, it may be even more essential to have a real estate agent to hasten the process. Make sure to get trustworthy and helpful professionals who will make the process easier and more convenient.
2. Price Setting
Settling a price for your home can be more challenging if you are in a hurry. You could set the price a bit higher than other competitors and then allow for negotiation to a lower price. Alternatively, you could have a lower price than the competition. Engage your real estate agent to guide you on pricing strategy and bestselling points.
3. Get an Attorney
Once your house gets offers, you must draft a contract and ensure a legal transfer of ownership. You will need a solicitor to draw up the contract. You can have a name in mind before a sale goes down, so you won't have to rush at the last minute. Ask for recommendations from friends and colleagues, and then ask the prospective attorney for a quote.
4. Advertise Your House
Once your home is ready and you have a real estate agent, it's time to advertise it. Ensure your house is ready for photos, for example, by ensuring the best lighting. Hire a professional photographer if you are going to list your home online. You can use advertising as a drum-up to the final house opening, where you receive house offers.
5. Drafting a Contract after a Suitable Offer
A guide to selling your home is incomplete without guidance on contract drafting. A house is a valuable asset. So you need all the necessary documents to ensure the process is legal. Your lawyer will help you draft a contract. Once a prospective buyer receives it, you might enter into negotiations. Having someone with you through negotiation is best to ensure you only get the best deal.
6. Closing the Sale and Transferring Ownership
After you agree with the prospective buyer, they will sign the contract. Your lawyer will guide you so you follow laws governing contracts. Once the contract is signed, you are no longer the house owner. However, you can agree with the new owner on moving-out dates. If that takes some time, you can agree on a property owner-tenant agreement to allow you continued stay until you move out.
Moving States: 5 Tips
After reading a guide to selling your home, you are now equipped to sell your home successfully. But what is next? You need to move. Moving in itself is no small feat. If you are moving states, it's even more complicated. But it doesn't have to be, especially if you hire a moving company. Here are five tips that will help you move successfully.
1. Have a Moving Checklist
Having a moving checklist is critical in ensuring a successful interstate move. A moving checklist highlights what is being moved and its contents. A checklist can ensure nothing gets left behind or lost.
A good strategy is to color-code boxes and label them on all sides. Instead of having a box with labels, you can use numbers to assign a label on the moving checklist. For example, number '5' is 'stationery' or all red boxes are clothes. Color and number coding will help you during unpacking.
2. Have a Moving Expenses Budget
Have a moving budget to avoid expenses ramping up. It will also help ensure you do not use more than planned. Keep in mind that moving states is more expensive than local moving. Hiring a moving company will help you consolidate expenses into one. If you realize your budget is too high, you can reduce it by self-packing
3. Move Light
Moving light is the pro-tip anyone who has moved successfully will likely give. A move can help you get rid of clutter and unnecessary items. For example, you can donate some clothes. You can also hire a storage unit if you plan to sell some of the items. If your children have left the nest, you can give away anything without sentimental value.
Another good strategy would be selling your furniture and then buying new furniture once you have moved. It is much cheaper to buy new furniture than to move, since moving companies charge by weight.
4. Prepare a Moving Day Kit
Unless you have another home you will be spending after moving, it's best to have a moving day kit ready. Include snacks, toiletries, and any essential items. A moving day kit will be helpful, especially because you might take some time before unpacking. If you have young children, you probably want to access their essentials even before unpacking easily, and thus, the kit will be handy.
5. Do Some Tasks in Your New Home Before Moving in
One of the tips that can save you some hassle once you have moved is preparing your new home for your arrival. For example, you can have locks and alarms set before you arrive. If you aren't renovating, buy some supplies and keep them in the house. If possible, register your car and look for essential service providers.
Final Thoughts
If you were looking for a guide to selling your home, we hope this has helped. Although selling a home may look like a job only real estate gurus can pull off, you can sell your home and move states with proper planning and strategizing. Moving can also be simplified by good planning. Hopefully, you will move states without much hassle after following the above tips. Best of luck!